Our Products
We specialize in providing some of the highest-quality awnings and shades in Central Texas. You'll be able to create a year-round living space with your choice of products like these.
Explore All Products
We're Here For You
Motorized Patio Shades, Patio Screens and Awnings From an Expert Shading Company
Transform your Texas home and patio into a space you can enjoy throughout every season with exterior shading products. At Shading Texas, we'll help you discover the products you need to regain your outdoor space.
We specialize in exterior shading products. Our professional team has over 60 years of combined experience helping people throughout the Austin and surrounding central Texas area. Easily achieve comfortable, cooler and more private outdoor spaces.
No matter which one of our motorized awnings or screens you choose, you'll benefit from professional installation. We also offer lifetime warranties on our shading components as well as a full five-year installation warranty, giving you the peace of mind you deserve.
When you trust the care of your home and patio to the experts, you gain advantages you can enjoy every month of the year, including:
Shade: Whether for your windows, deck or the patio of your home, our products provide ample shade.
Space: With an awning or patio enclosure installed, you regain use of your outdoor space regardless of the weather.
Comfort: Our products reduce patio temperature by up to 30 degrees in the summer and stop insects from getting inside.
Prevention: Install a patio enclosure to prevent bats and birds from nesting in your patio and from flying into your windows.
Savings: Blocking the sun's rays reduces the load on your HVAC system, extending its life and lowering your monthly utility costs.
Privacy: Shading products offer incredible privacy, blocking the view into your home or patio and helping you reduce natural light indoors.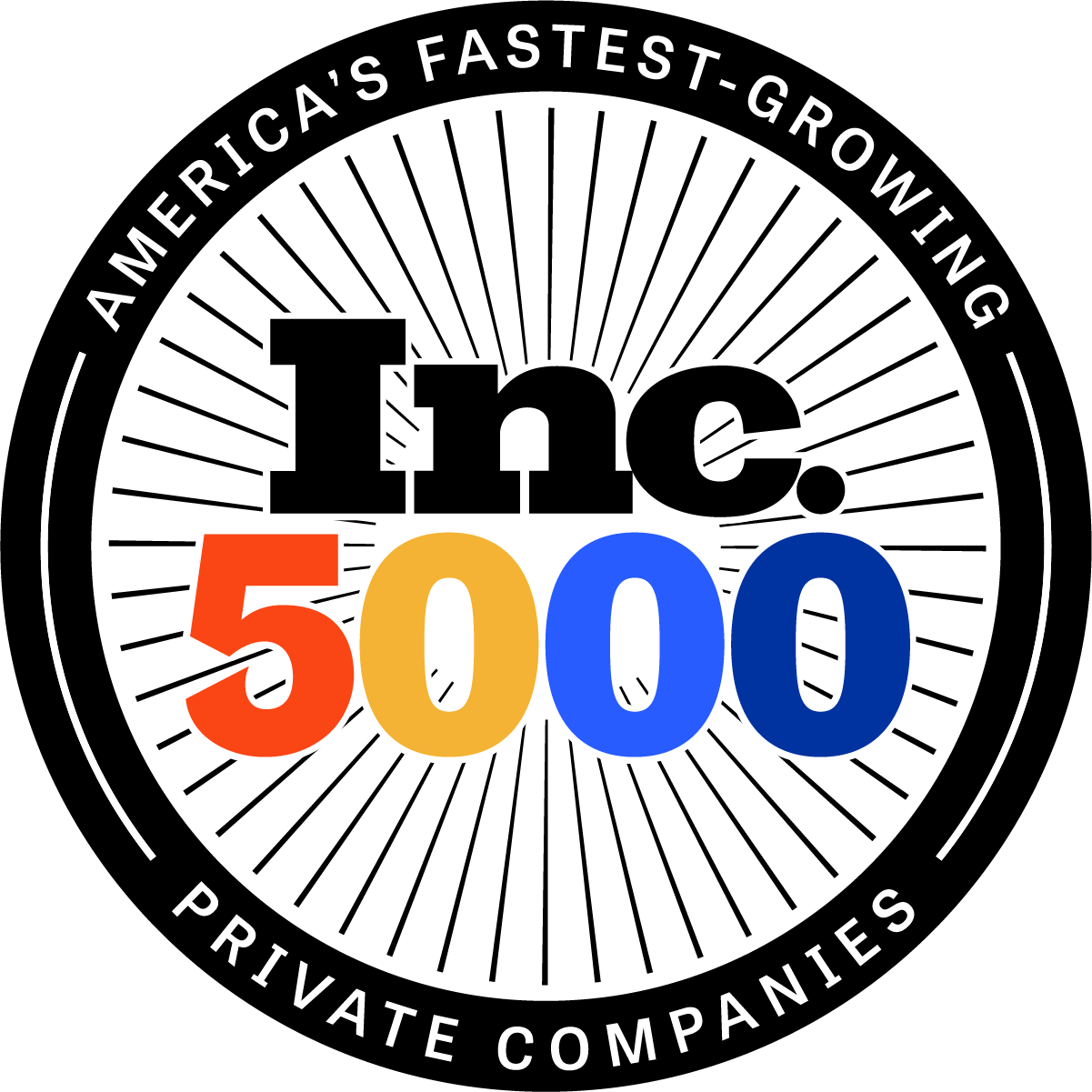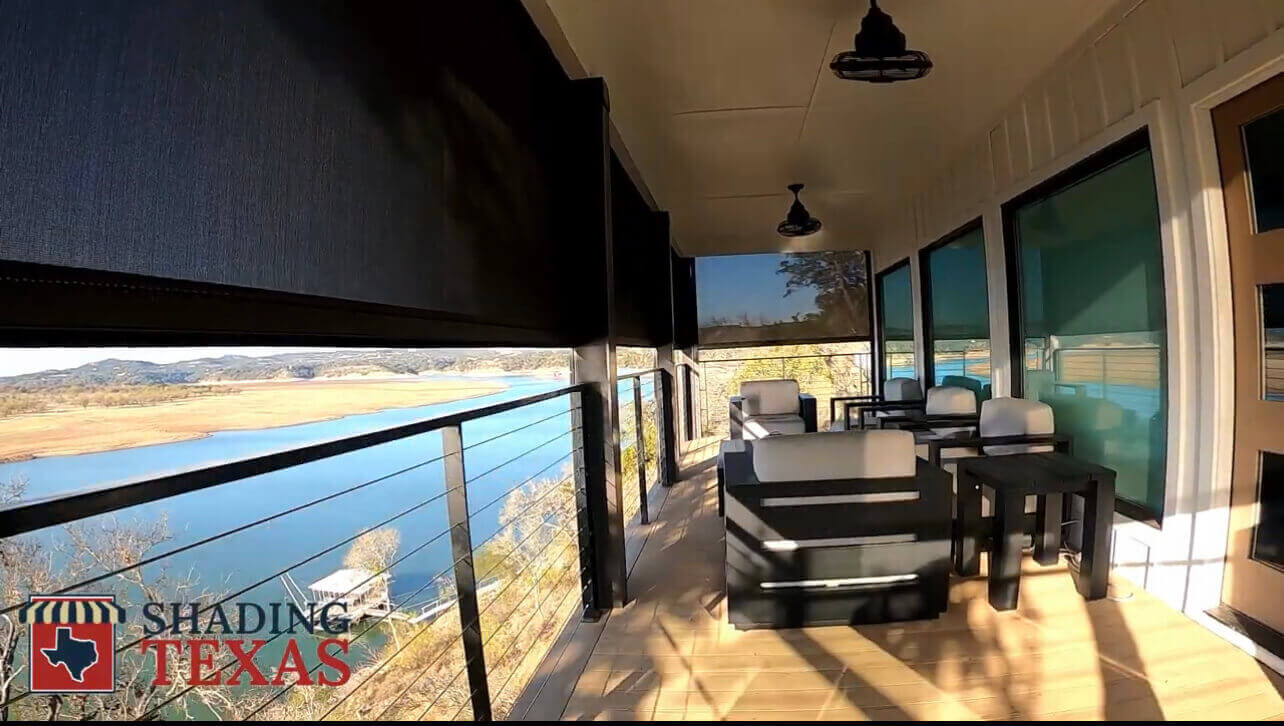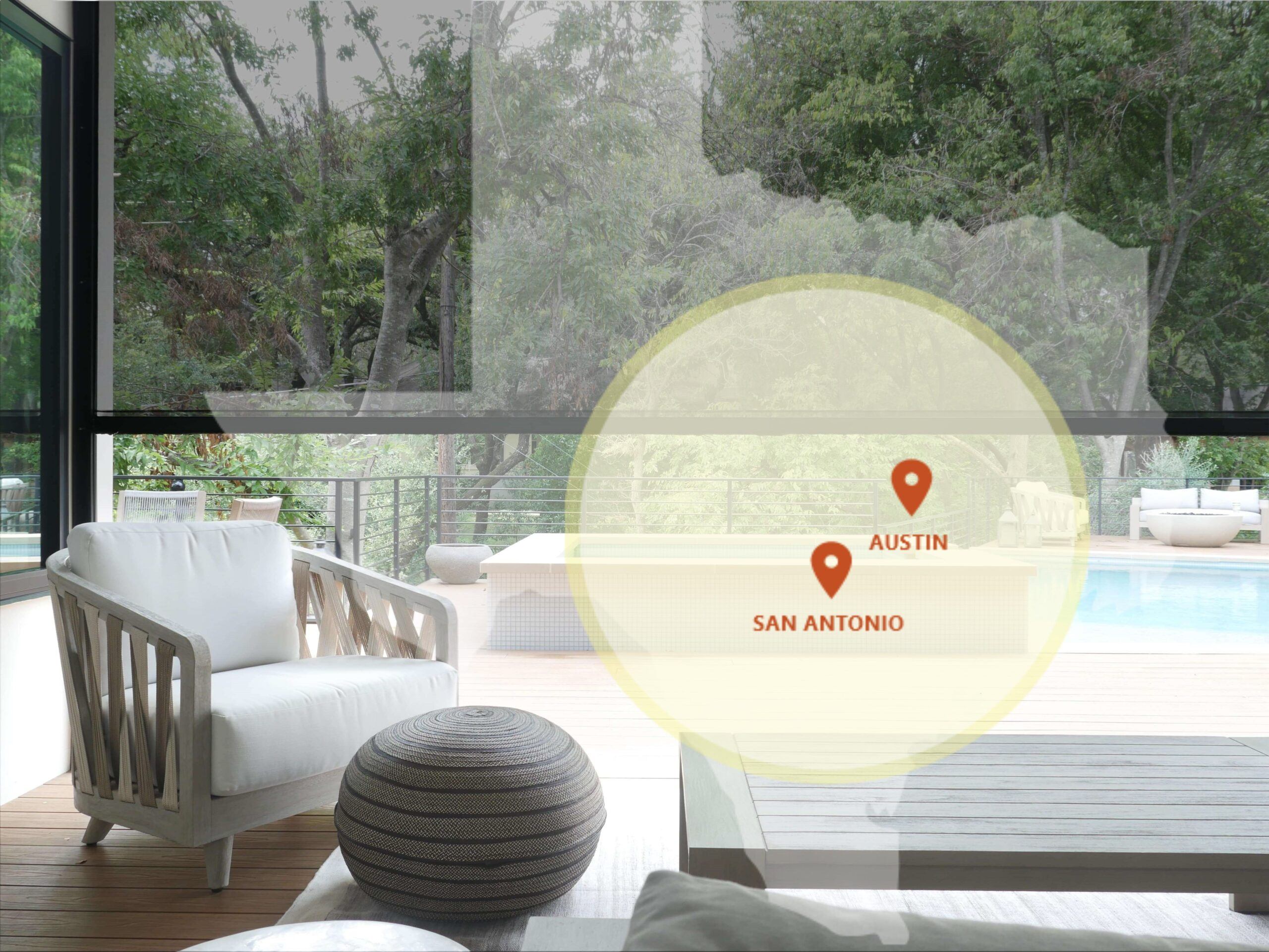 Our Service Area
Headquartered in Austin, Texas, we provide patio shades, screens and retractable awnings to homeowners and businesses throughout Austin, San Antonio and all of Central Texas.
We proudly serve the following areas: Austin, San Antonio, Texas Hill Country, Georgtown, Lakeway, Westlake, Cedar Park, Dripping Springs, Leander, Pflugerville, Round Rock, Bastrop, Bee Cave, Lago Vista, Driftwood, New Braunfels, Marble Falls, San Marcos, Horseshoe Bay, Spring Branch, Bulverde, Fredericksburg, Canyon Lake, Kyle, Wimberley, Comfort, Kingsland!
Our Locations
Patio Shades, Screens & Awnings in Austin & Central Texas
By using the highest quality motorized awnings and screens, our company's main goal is to enable our customers to use every part of their home and patio without worrying about the hot Austin & Central Texas sun and annoying insects.
We know how hot Texas summers can be. That's why we're all about awnings and shades in Austin, San Antonio, & all of central Texas.
You can trust our knowledge of the local conditions and depend on our awnings to protect you from the Texas sun, keeping you and your property cool and shaded.
All of our patio screens are equipped with the Tensioning Track System, which allows our screens to reach up to 30 feet wide without a broken seam or break in the fabric. Also, each of our retractable awnings and screens comes with the best warranty in the business!
Our Process
Easy & Convenient Installation
At Shading Texas, we specialize in exterior shading products. Our professional team has over 40 years of combined experience helping people throughout Austin and the surrounding central Texas area achieve cooler homes and comfortable patios.
We've designed a simple, convenient process to help you achieve the ideal outdoor living space.
Testimonials
What Our Clients Say
Hear what our customers have to say about us. We guarantee our products and back them all with powerful warranties.
Shading Texas did an excellent job of putting a motorized screen on my patio to seal it from the winter weather and keep my plants safe. They arrived on time and completed the job professionally and quickly. I will use them in the future for other projects.
No sales pressure, product speaks for itself, so they don't have to push. Fast delivery, fast install with absolutely no mess, and working with a VERY pleasant Matthew made this a WOOHOO experience!
Our Gallery
Get Inspired!
See for yourself the beauty of our awnings and screens. These are actual photos of our products being used in the field. Take a look and talk to Shading Texas to get covered today.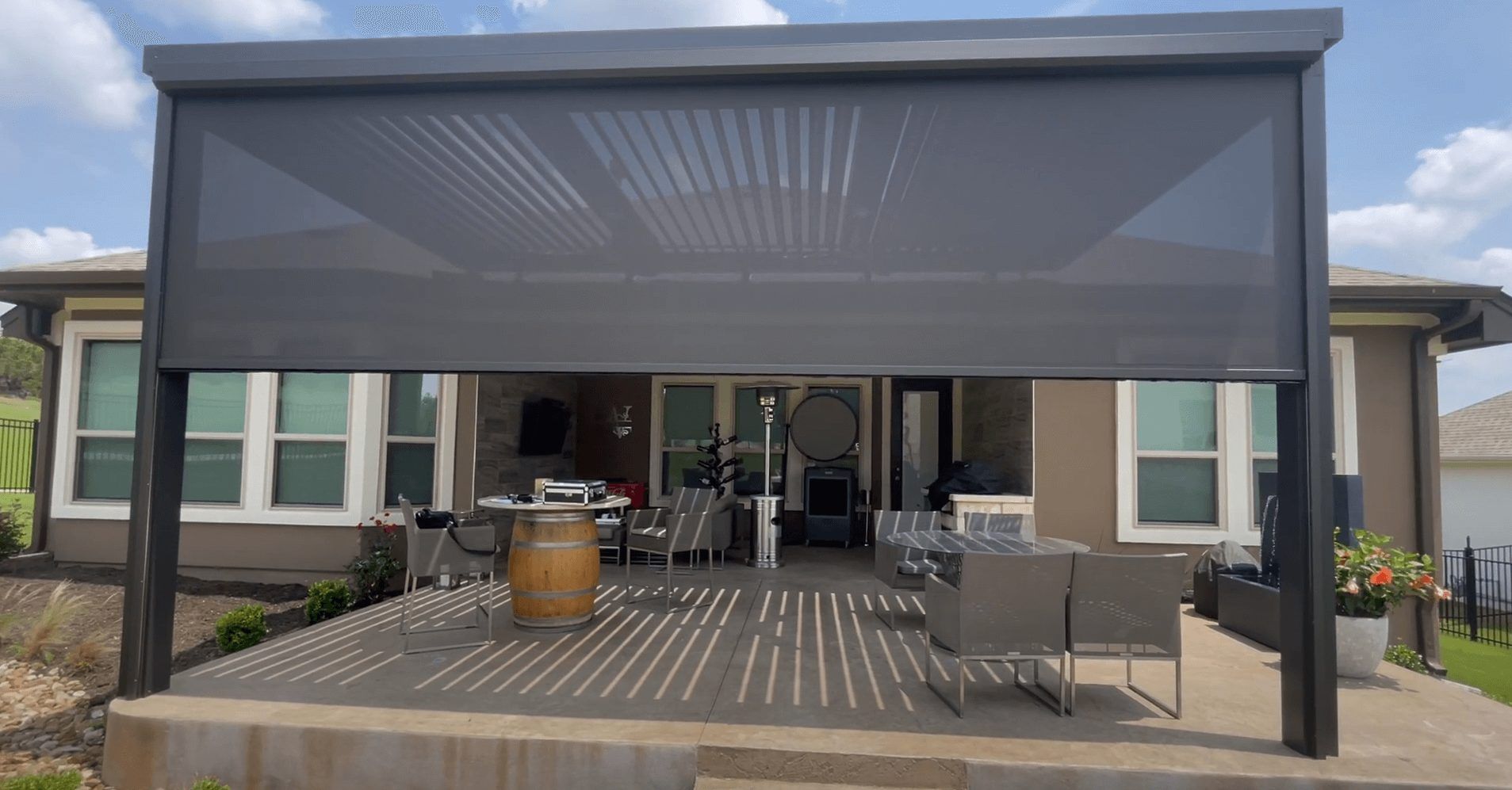 Keep the Elements Out
In central Texas, spring inevitably brings high winds and heavy rains that can batter your patio. In the summer, sunlight and heat also cause damage, making it almost impossible to enjoy going outside. Our shading solutions offer year-round protection for you, your home and your patio. These products keep the elements out so you can spend more time outdoors.
Our enclosures provide an excellent patio solution, encasing your space with a durable fabric rated to block up to 77% of the sun's harmful UV rays from getting inside. Even during the winter, our patio screen enclosures will add a layer of insulation, keeping out the cold winter wind.
These attractive screens are engineered to form a complete seal around your patio, providing a layer of insulation for your home and preventing insects from spoiling your time outside. You won't have to worry about pesky insects or birds and bats nesting on your patio anymore.
These products are Texas-sized, made to accommodate patios up to 30 feet wide — a larger size than any other outdoor awnings and shades company in Austin and the surrounding central Texas area. A Shading Texas patio enclosure can be set up for significant wind shear reduction — our screens are warrantied to withstand wind damage up to 100 mph. These products all use advanced motorized technology for shades you can deploy and retract in a breeze.
Contact Us Today
Ready to start enjoying your outdoor space regardless of the temperature and time of year? Shading Texas can help you get started. Sign up for a free virtual or on-site estimate today!
CONTACT US TODAY
Are You Ready to Get Your New Awning or Screen Installed?