Shading Texas of Shavano Park
Specializing in Motorized Awning and Patio Screen Installations in Shavano Park, Texas
If your Texas home gets too hot in the summer, intense sunlight might make it harder for your air conditioning to keep up. Plus, heat and insects may make it difficult to relax on your patio. Patio shades, screens and awnings from Shading Texas can solve these problems. If you need a shading company in Shavano Park, our team can help.
REQUEST A QUOTE Call Us At 512-264-1500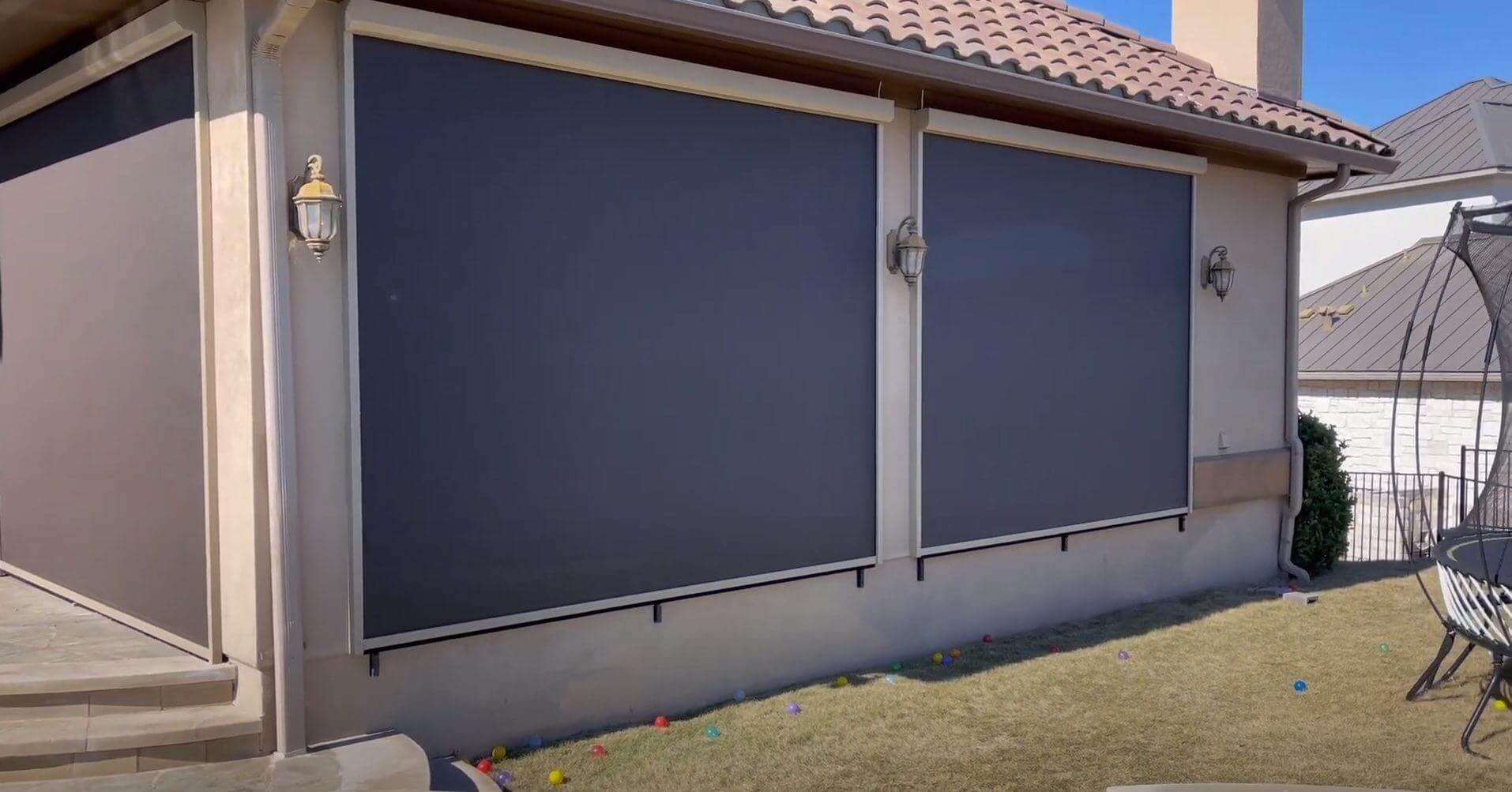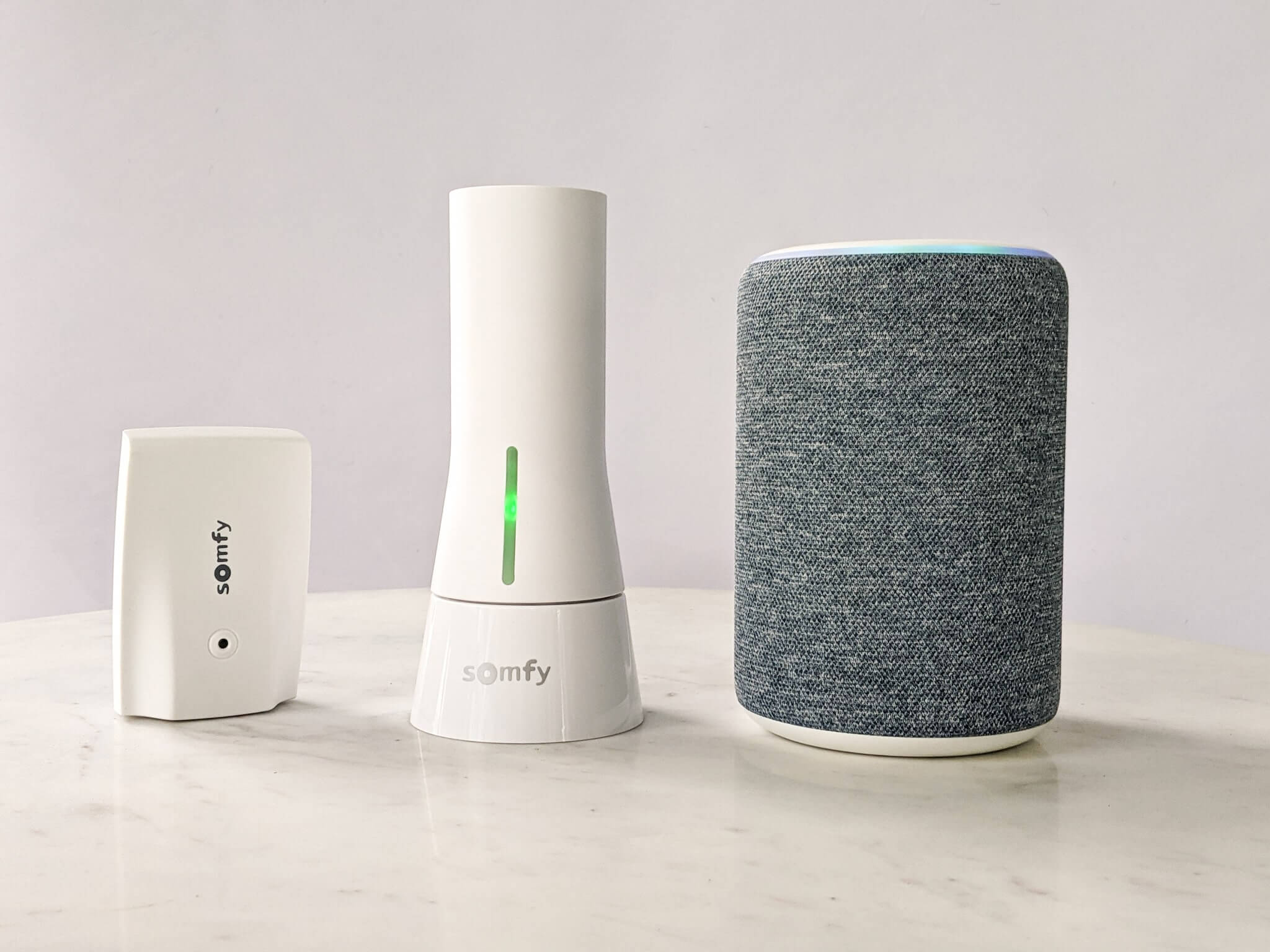 Limited Time Offer:
FREE Somfy TaHoma Upgrade ($550 Value) Compatible with Amazon Alexa & Google Assistant
Raise and lower your patio shades with voice commands or from your phone with the Somfy TaHoma smart shading system. Compatible with Google Assistant, Amazon Alexa, Philips Hue, IFTTT and Smart Things by Samsung. For a limited time, enjoy a FREE Somfy TaHoma smart shading system (up to a $550 value). Sign up for a FREE design quote today.
Critter and Weather Protection
Benefits of Shades and Screens from Shading Texas
Your home should be a sanctuary, offering relaxation through every season, but weather, close neighbors and bugs can disturb your peace. Screens and shades can help. These exterior home fixtures provide a wide variety of benefits for your home, including:
Privacy: If you have neighbors, shades over your windows can keep your space private from prying eyes.
Energy efficiency: By blocking the sun's rays, shades and screens can keep your home cooler, reducing energy bills.
Bug protection: By creating a completely enclosed patio, screens can block out bugs like mosquitos or flies.
REQUEST A QUOTE Call Us At 512-264-1500
Our Product Offerings
You can get the home solution you need from Shading Texas. The screens and shades we offer come in various colors and types to fit every use, from keeping bugs out to blocking light. Shades and screens also come with motorized features to make them simple to use. We can even add automation with Somfy MyLink™ to add to the usability. We offer these shade and screen products:
Retractable Awnings
We can install retractable awnings to provide shade and help keep the interior of your home cool. With a Sunbrella® fabric awning in Shavano Park, Texas, you can lounge comfortably, even in the heat.
Bug Screens
Relax on your patio without waving away flies and mosquitos buzzing around. Insect screens can provide total protection around outdoor living spaces while allowing a view and a fresh breeze.
Patio Enclosures
You can enjoy an open patio with added protection from the sun and bugs. Visibility can be completely see-through or more opaque, depending on your needs.
Sun Shades
Those east and west windows can provide beautiful views and lots of light. Sun shades and screens can reduce the heat your windows let in while preserving the view.
All we can say is their customer service is top-notch, Thanks guys! – STEVE & CINDY
Automate Your Patio Shades, Screens & Awnings
All Products Are Compatible With Amazon Alexa & Google Assistant
If you're looking for a way to easily open and close your patio shades, screens, and awnings, you've come to the right place. With our outdoor living products, you have full capability with Google Assistant & Amazon Alexa. Contact us today to learn more.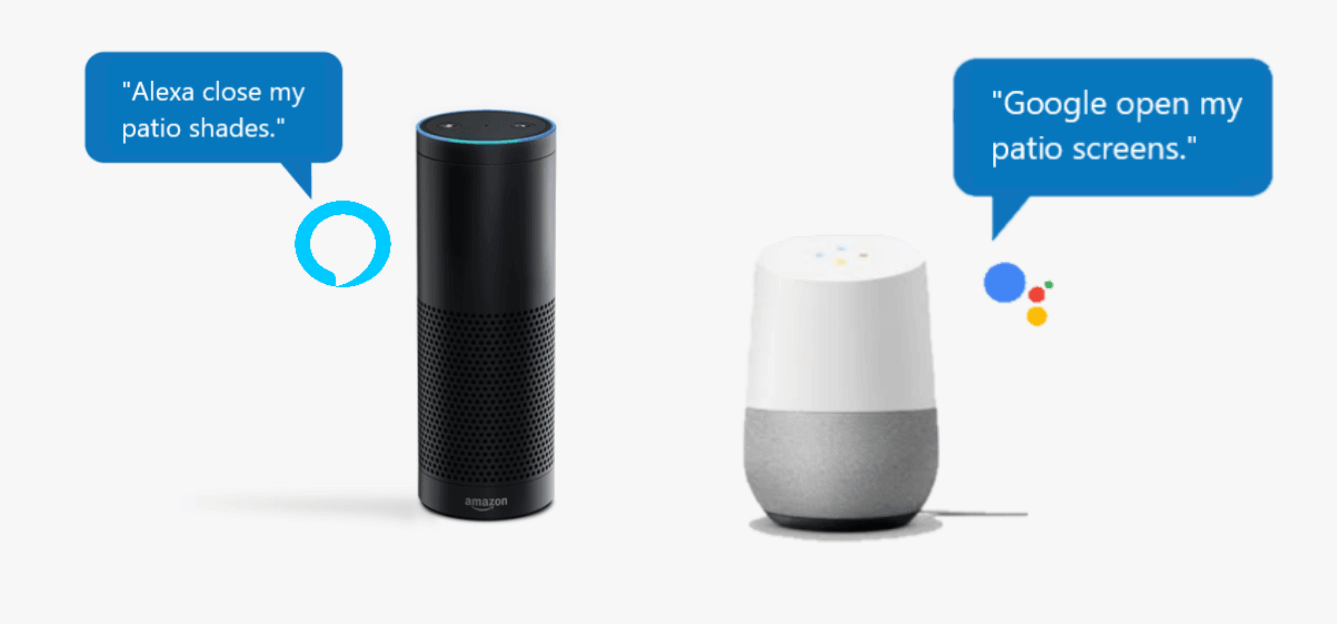 Our Service
Our expert team at Shading Texas is ready to equip your home with patio shades in Shavano Park, Texas. We'll help you find the best option for your home and professionally install your sun solution to ensure it lasts. Our installation process includes:
Consultation: During your free consultation, you can explain your needs, and we can help you select the best option. We use top brands like Sunbrella® awnings and Mermet® screens to give the best look.
Demonstration: We'll come to your house with color options and demonstrate how the screens and shades work so you can see what's available before you commit.
Personal quote: Based on the shade or screen size and the material options you choose, we'll give you a custom quote for shade and installation costs.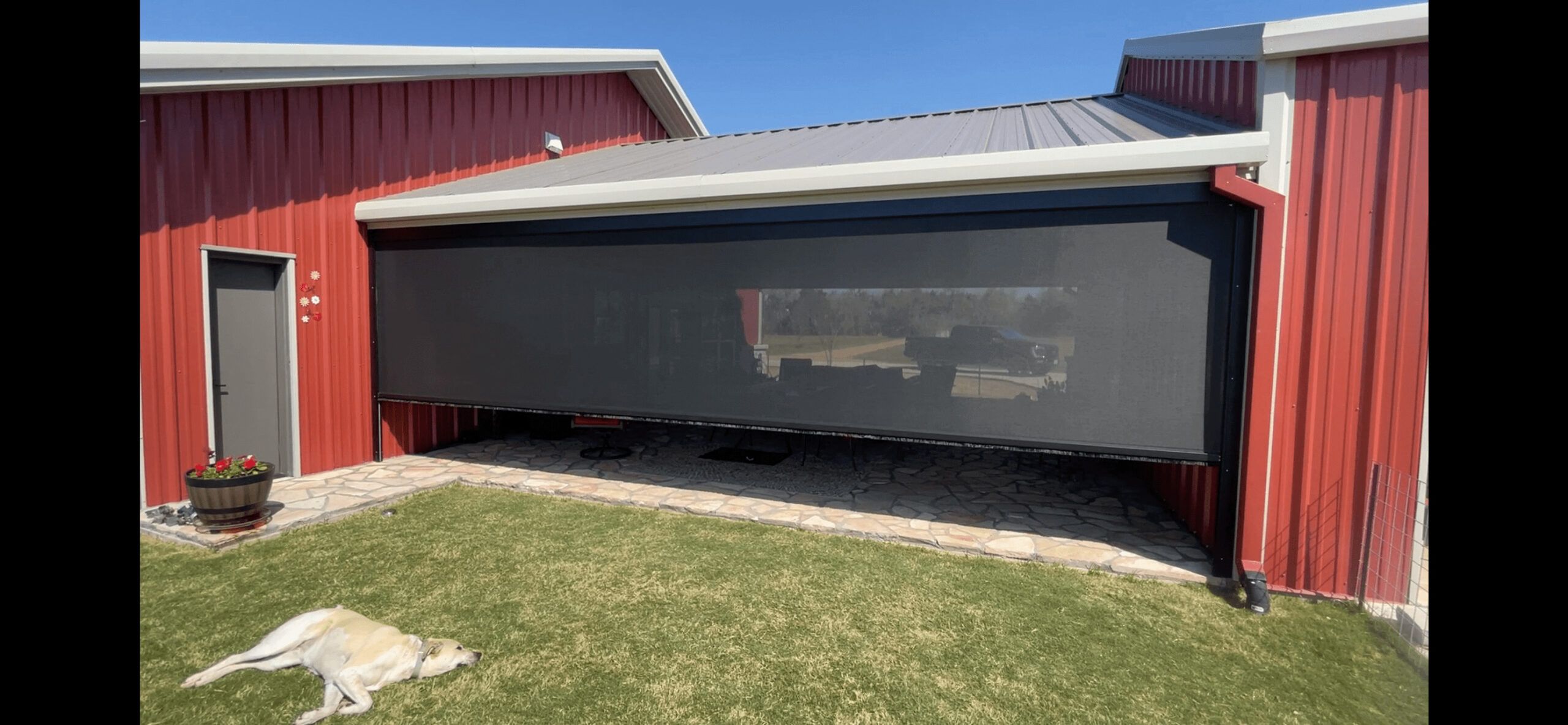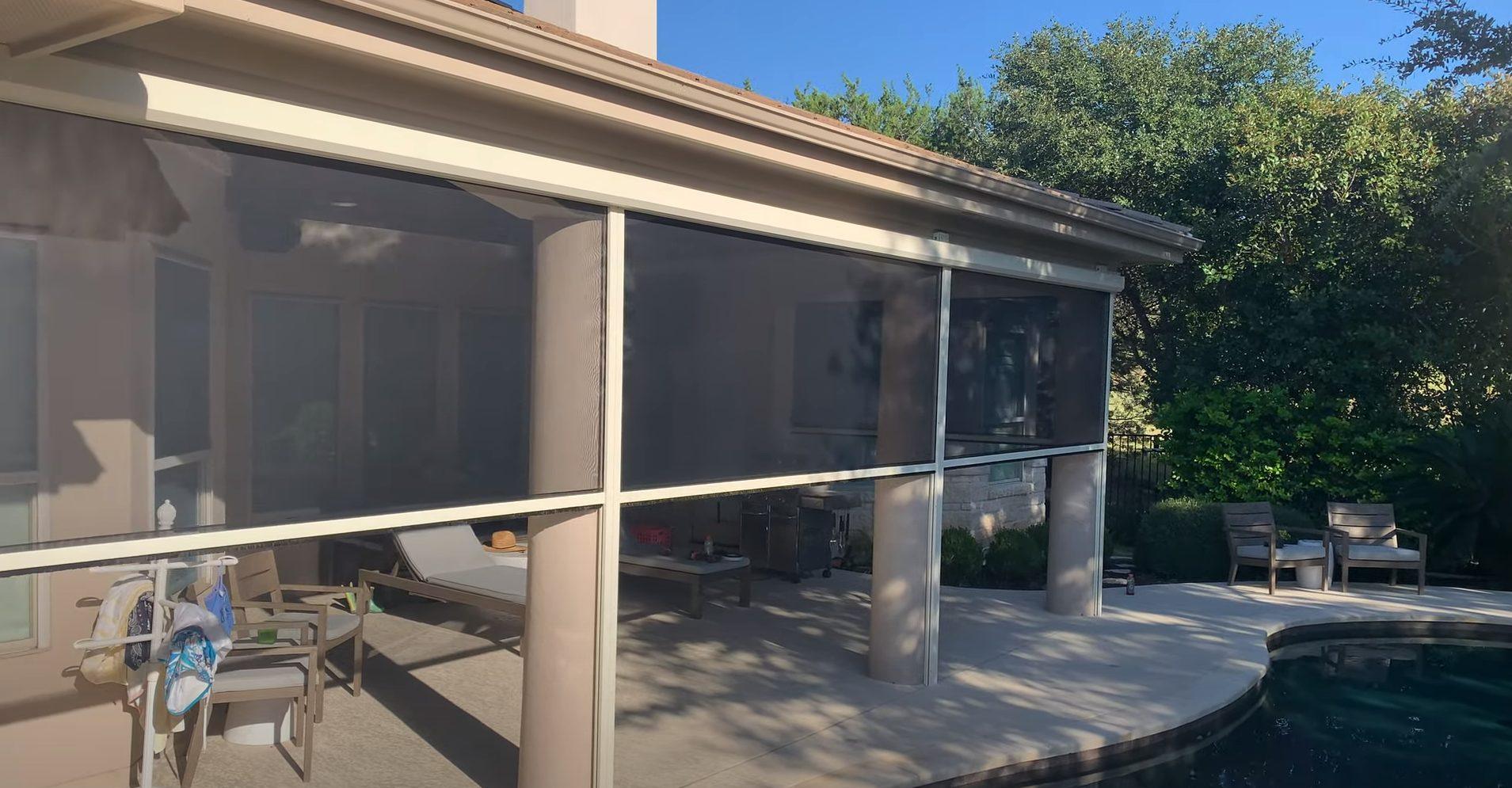 Add a Luxury Shade or Screen to Your Home
Shading Texas can help make your dreams of a usable patio space or a cooler home a reality with shades and patio screens for your Shavano Park, Texas, home. Fill out our form online to get in touch.
CONTACT US TODAY
Are You Ready to Get Your New Awning or Screen Installed?