Motorized outdoor privacy screens raise and lower at the touch of a button. They are perfect for keeping on-lookers at bay, shading you from the sun and protecting against bugs and other pests while you enjoy the outdoors.
If you want to make your backyard more private, try an outdoor privacy screen from Shading Texas. We have options to complement any property, and we can customize your screen to your exact needs.
REQUEST A QUOTE Call Us At 512-264-1500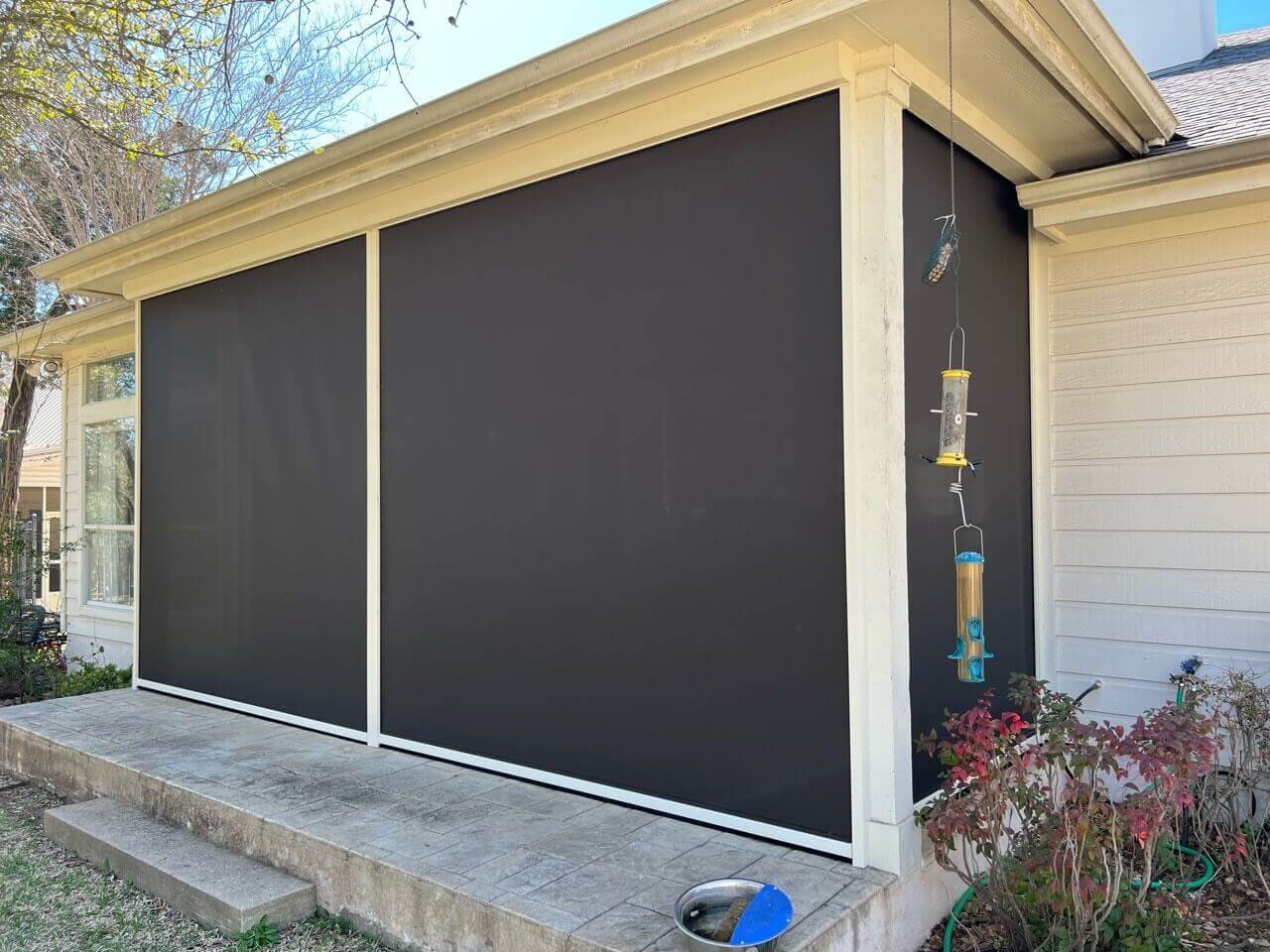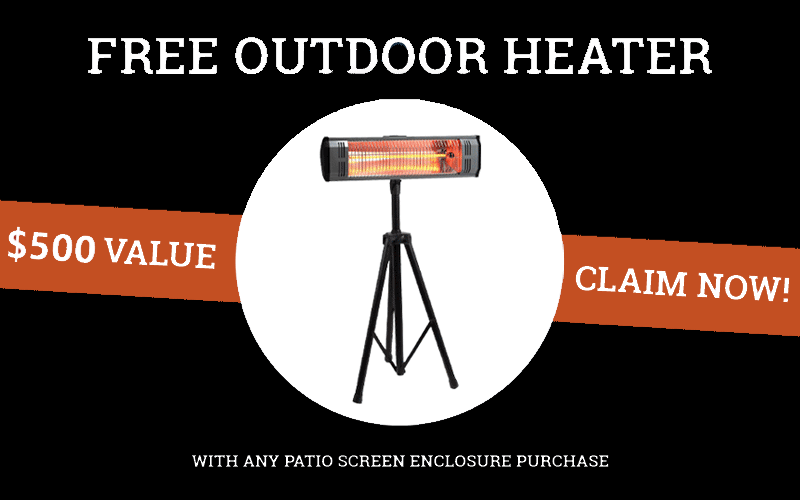 Limited Time Offer:
FREE Outdoor Heater ($500 Value)
Keep those pesky bugs away with our custom motorized patio shades, patio screens and patio enclosures! For a limited time, enjoy a FREE patio heater (up to a $500 value). Sign up for a FREE design quote today.
Why Choose Outdoor Privacy Screens?
Private patio screens help you take control of your outdoor environment. They offer many benefits for your home and family.
Year-Round Privacy
A privacy screen from Shading Texas keeps your protected area virtually invisible day and night, depending on the specific screen you choose. You can create a hidden oasis in your backyard by surrounding a hot tub, garden, deck, patio or another favorite spot with our privacy screens.
Whether you want a privacy screen to hide or block one side view or enclose an entire area, we can give you improved patio privacy from any angle.
Motorization
You can raise and lower motorized outdoor screens for privacy to your desired position. You have the freedom to decide when to take advantage of additional privacy and when to keep your screens secured.
A privacy screen operates using a weighted slidebar that runs between parallel tracks, ensuring the screen stays on course. We can install these tracks on the surface or hidden in your walls. For windows and open structures, we use a cable guide to give you the best performance.
REQUEST A QUOTE Call Us At 512-264-1500
Customization
Our outdoor privacy screens are available in a wide range of colors and styles to complement your home. We can also give your screen's slidebar and housing a woodgrain finish for the perfect decorative touch.
These screens are custom-made to fit your home. We configure them to fit in your outdoor space and maintain your design's integrity. We can integrate them with all building materials, including wood, stone, brick, concrete and stucco. We also give you maximum control over your privacy screen operation with wall-mounted switches and handheld remotes.

Automate Your Patio Shades, Screens & Awnings
All Products Are Compatible With Amazon Alexa & Google Assistant
If you're looking for a way to easily open and close your patio shades, screens, and awnings, you've come to the right place. With our outdoor living products, you have full capability with Google Assistant & Amazon Alexa. Contact us today to learn more.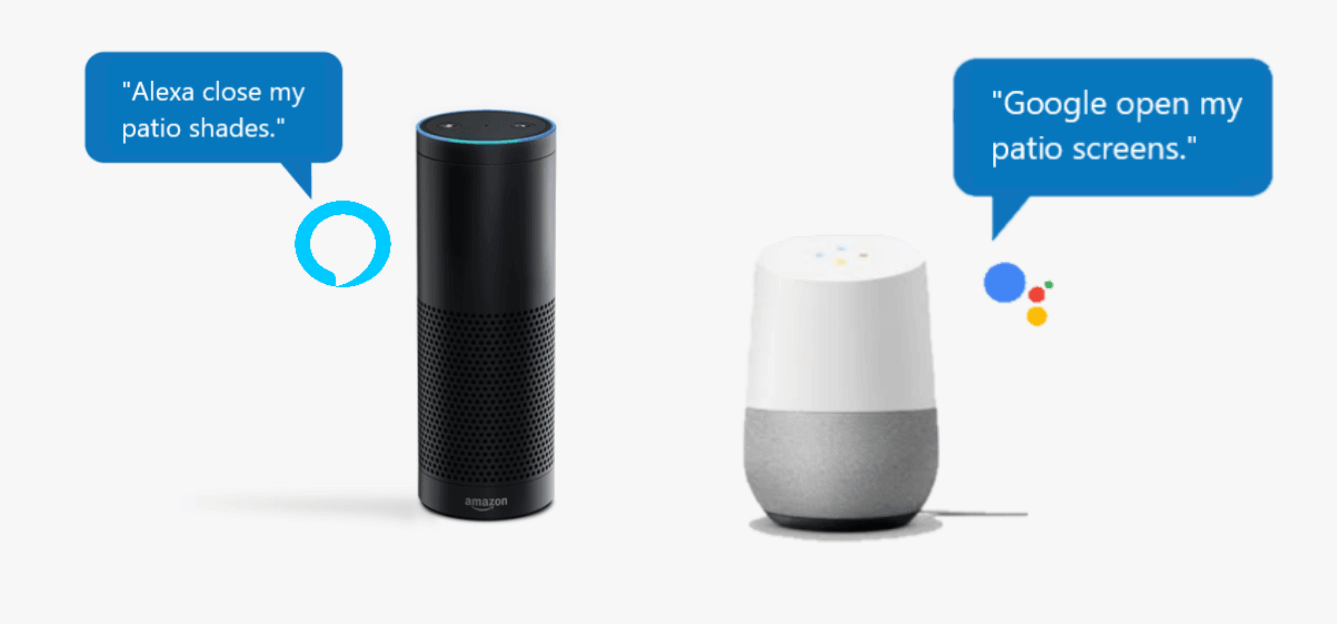 Choose Shading Texas
Shading Texas carries some of the most effective outdoor privacy screens in Austin and San Antonio, Texas. You can use them to hide anything in your yard while also benefiting from sun and pest protection.
We provide expert installation services. Our certified installers have over 40 years of experience installing outdoor privacy screens. We ensure you get a perfect fit and long-lasting performance from your new privacy screens.
When you choose our products and services, you'll get the best warranty coverage available. We offer limited lifetime warranties on all privacy screen products, plus an industry-leading five-year installation warranty.
REQUEST A QUOTE Call Us At 512-264-1500
Contact Us for Privacy Screens in Austin and San Antonio, Texas
Let the experts at Shading Texas help you find new ways to make your outdoor living space more private. Contact us today to learn more or request a free estimate.
CONTACT US TODAY
Are You Ready to Get Your New Awning or Screen Installed?