incredible shade for your home
Retractable Awnings in Austin & Central Texas
A retractable awning is the perfect way to provide shade without starting an expensive, messy remodeling project. Extend your living space just a bit further with the help of a retractable awning.
While Austin and the surrounding central Texas area have some of the best vistas in the country, the fierce Texas weather can prevent you from enjoying them. Go outside and finally enjoy the views you've always wanted in the comfort of a cool and shaded patio with the help of Shading Texas.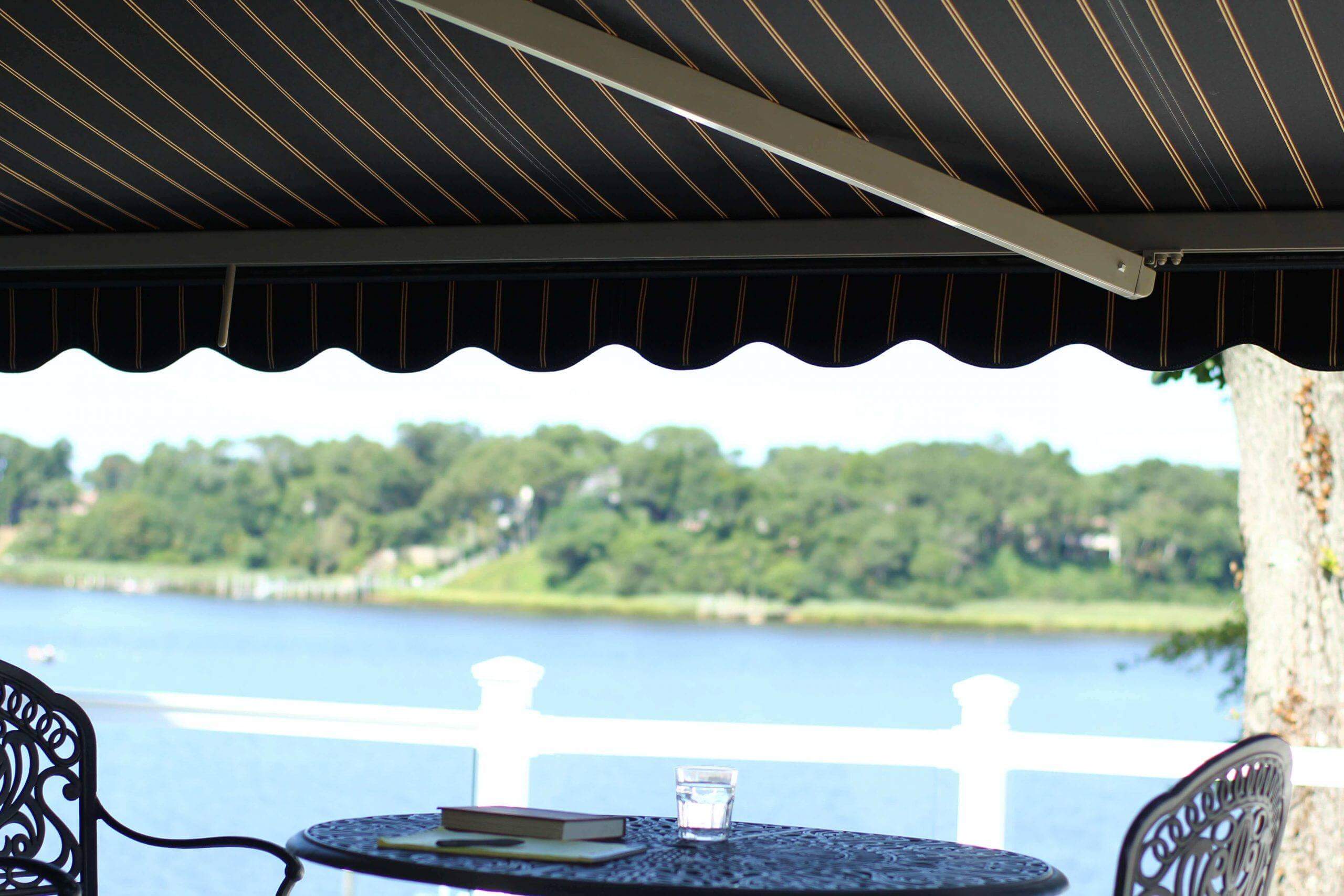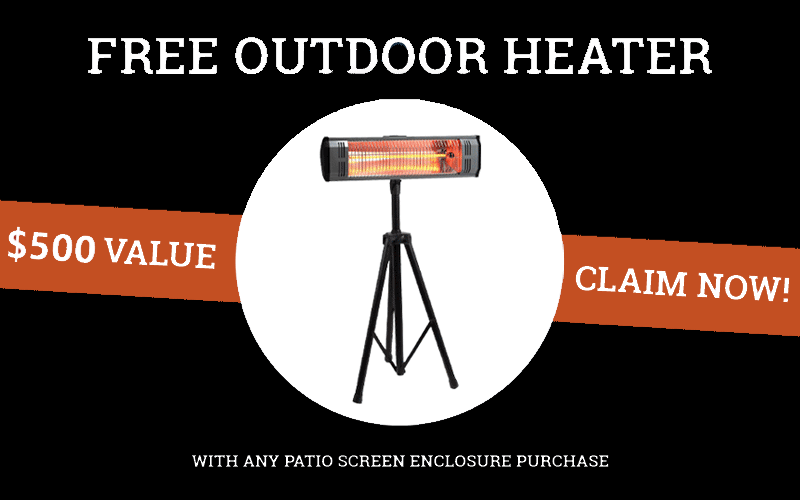 Limited Time Offer:
FREE Outdoor Heater ($500 Value)
Keep those pesky bugs away with our custom motorized patio shades, patio screens and patio enclosures! For a limited time, enjoy a FREE patio heater (up to a $500 value). Sign up for a FREE design quote today.
Options and Features of Our Patio Covers
Get the Right Awning Fabric for Your central Texas Home
Shading Texas has the right fabric awning for your home. Each home has a different set of patio requirements, which is why we've partnered with Sunbrella to bring you the options for your awning and patio cover needs.
We have awnings of all sizes to suit your needs. Shading Texas has options for simple awnings that provide simple shade. We also have models like the G250 awning, which withstands the worst that Mother Nature can throw at it. No matter how basic or heavy-duty your fabric awning requirements are, Shading Texas can work with you to provide the solution you need.
No matter how basic or heavy-duty your canvas awning requirements are, Shading Texas can work with you to provide the solution you need.
During your first meeting with us, we will have awning samples ready for you to choose from. Get a hands-on feel for the type of awning you want by scheduling your consultation now. If you're considering an awning, you can also upload a photo of your home and get a free rendering of how your new awning will look!
Choose the Correct Awning Frame
As your motorized awning installer in Austin, San Antonio and all of central Texas, we can attach a retractable awning to your home using metal frames (awning brackets). The correct awning brackets depend on the placement of your awning and can include:
Wall mounting brackets: Wall mounting brackets are versatile awning frames and the most popular style for bracket design.
Roof awning brackets: Roof awning brackets offer an alternative to wall placement, which is ideal for walls with a low height.
Bay awning brackets: If you have a bay window, we can attach an awning using bay brackets for excellent support.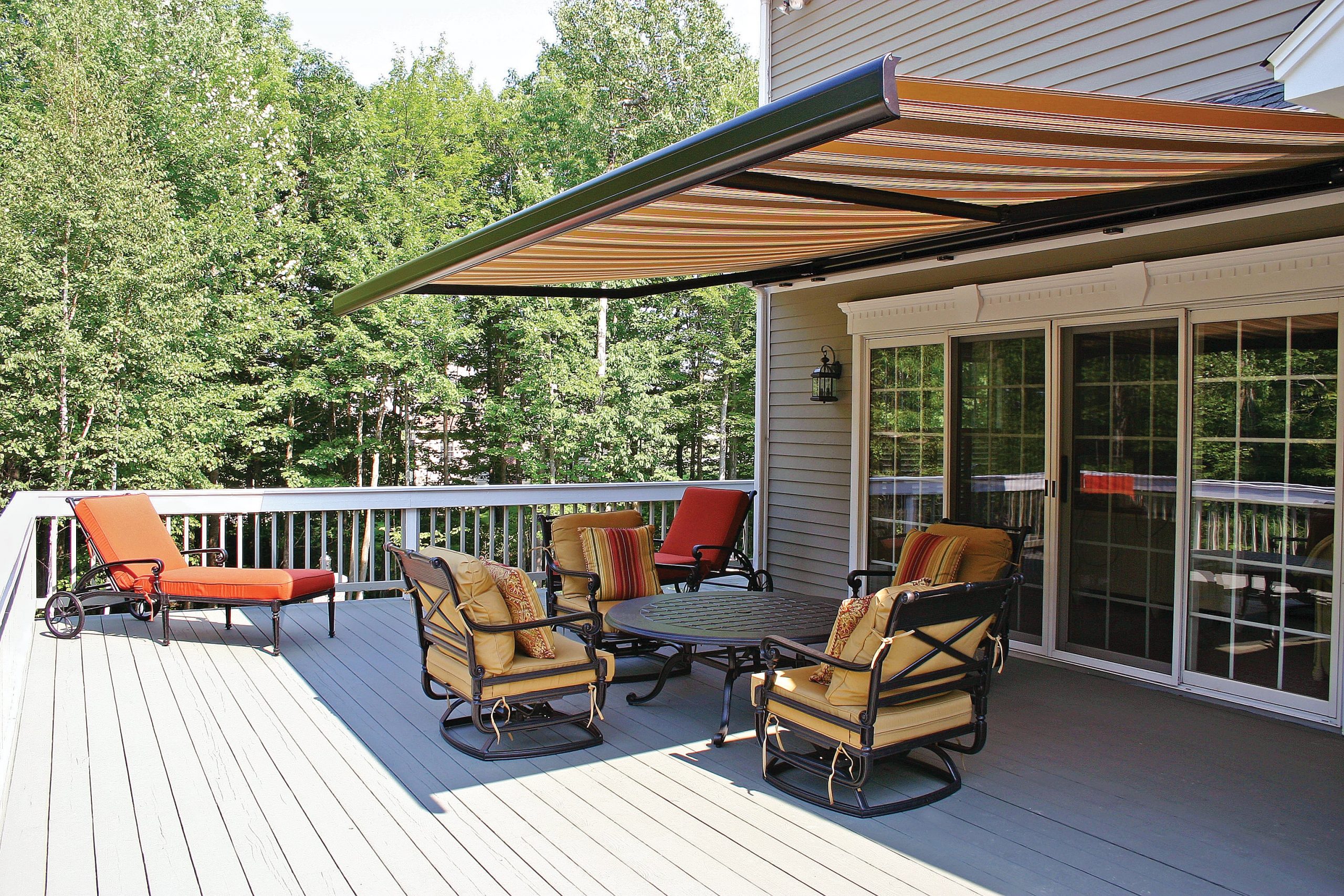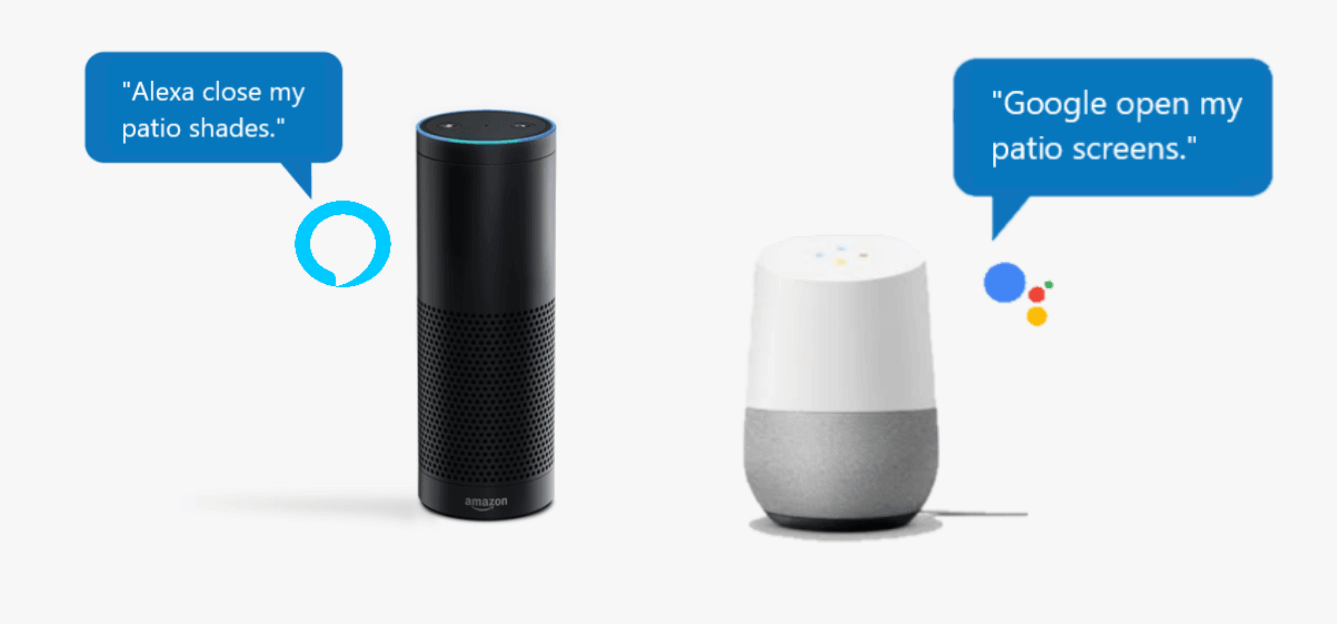 Automate Your Patio Shades, Screens & Awnings
All Products Are Compatible With Amazon Alexa & Google Assistant
If you're looking for a way to easily open and close your patio shades, screens, and awnings, you've come to the right place. With our outdoor living products, you have full capability with Google Assistant & Amazon Alexa. Contact us today to learn more.
REQUEST A QUOTE Call Us At 512-264-1500
Awning Motorization and Automation
Shading Texas is always adding new options to our retractable awnings. That's why we give each one of our customers an easy to use remote control. Deploy your awning from the comfort of your patio chair.
Also, we work with Somfy myLink to let you control your awning from your mobile device. The myLink app can be installed on both Android and iOS devices. Your Shading Texas team will help you with the app and your remote so you know how to use them. Unfurling your new awning will be a breeze.
Wind Motion Sensor Included on All Retractable Awnings
A strong central Texas wind can start blowing when you least expect it. Shading Texas wants to be sure your awning is protected when the winds get fierce. We include a wind motion sensor with all of our patio awnings at no extra cost to you! This helps keep your awning safe and undamaged.
Special sensors placed on the awning detect high wind speeds. If the sensor is triggered, the awning will retract into the home, keeping it safe from the high-speed wind. When the wind finally dies down, enjoy the outside again by redeploying your awning.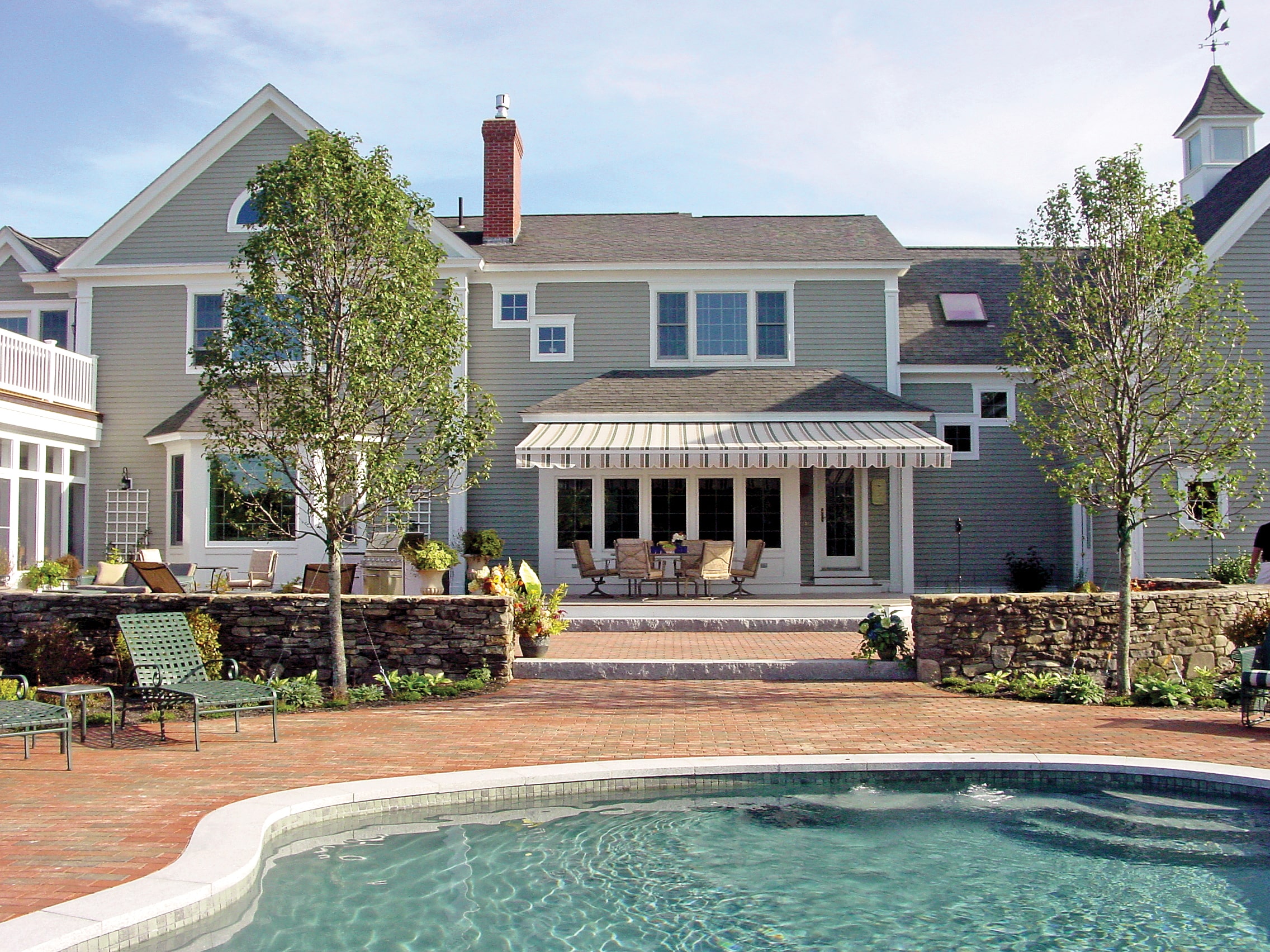 Awnings in Any Size
For Any Austin or Central Texas Home
When dealing with awnings, many awning companies have to leave gaps and breaks in the fabric to manage large projects. This creates openings that let in the wind, sun, and other types of weather while you are outside. Instead of settling for patched-up awnings, close the gap with Shading Texas.
We have options that will leave you covered without a single seam or stitch. Working with Sunbrella has given us access to a vast range of extra-wide awnings that can also extend far outside of your home. Expand your living space and look out on your vista with complete comfort.
Our fabric awnings are the widest in Austin.
Highest Quality Texas Awnings With the Best Warranties
The fabric awnings that Shading Texas uses are rated the highest quality fabrics in not just Austin and San Antonio but the world. We stand behind our retractable fabric awnings and our craftsmanship. If one of our services fails, then we take it personally. That's why we offer many different warranty options for our entire line.
Our world-class fabric awnings offer a 10 Year Warranty if they break or falter. Each awning that you get also comes with a lifetime warranty for the frame and arms. If the structure of your canvas awning breaks, we can cover it for you worry-free. We want to leave you covered.
Outdoor and Indoor Benefits of Retractable Awnings
Retractable awnings can create comfortable outdoor spaces all year long, and with a selection of fabrics to choose from, you're sure to find a pattern that matches your home. Our awnings are convenient solutions for extending the living area of your home without the hassle of a remodel. They're also simple to control using a tablet or smartphone. With a retractable awning designed to match your home and fit your space, you can retake control of your property and enjoy the outdoors as much as you like.
At Shading Texas, our retractable awnings offer the attractive, on-demand protection you're looking for while delivering a range of additional benefits you can enjoy both inside and outside, including: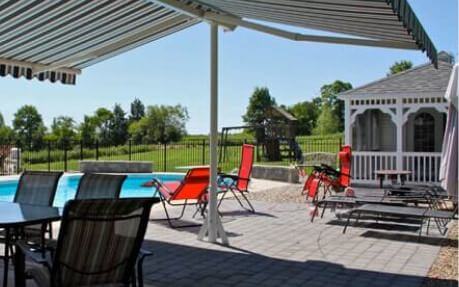 Savings on utility costs: When the summer sun is beating down on your home, your air conditioning system has to work overtime to lower the temperature. The more your AC system has to work to cool your home, the higher your utility bills will be at the end of the month. Fortunately, our selection of retractable awnings in Austin and the surrounding central Texas area can provide a wide wall of shade across the side of your home, stopping the sun's hot rays for a more comfortable environment — and a smaller utility bill.
Property protection: Our awnings will protect you from the elements, shielding your patio and furniture from the damaging effects of rain, hail and other severe weather. When the sun comes out, our retractable awnings block sunlight and ultraviolet rays to prevent fading and other sun damage, which will keep your grill, patio seating and other items looking like new. Inside your home, your wooden floors, curtains, upholstery and other valuables will gain shelter from the sun any time you extend your awning.
Family safety: Retractable patio awnings in Austin & San Antonio, Texas, are essential if you want to spend time outdoors during the summer months without putting yourself at risk. The sun's ultraviolet rays are linked to a wide range of health concerns in humans and animals, ranging from a painful sunburn to long-term issues like skin cancer (melanoma). Our patio awnings in Austin and the surrounding central Texas area can block all types of ultraviolet rays to keep you, your family and your pets safe and healthy any time of day.
Value for your home: A retractable awning will extend the square footage of your home and add value to your property by enhancing its aesthetic appeal. With our selection of fabrics from Sunbrella, you can choose from hundreds of colors to find one that matches the look of your home. With the right color fabric, a retractable awning is an aesthetically pleasing feature that prospective buyers will notice and appreciate. When it's not in use, our awnings retract for concealment until they're needed again.
CONTACT US TODAY
Are You Ready to Get Your New Awning or Screen Installed?