Adding motorized roller screens to your backyard is a great way to upgrade your outdoor living space. Roll-up solar screens offer unbeatable protection from the sun, pests and neighboring eyes.
At Shading Texas, we have motorized outdoor roller screens to complement any home in the Austin or San Antonio, Texas, areas. We can customize these roller screens to your unique space, giving you a convenient, hassle-free solution for spending time outdoors.
Why Choose Motorized Retractable Patio Screens?
Motorized outdoor roller screens allow you to enjoy your patio, deck, balcony, lanai or another outdoor structure with the touch of a button. Roll-up screens from Shading Texas offer a wide array of perks.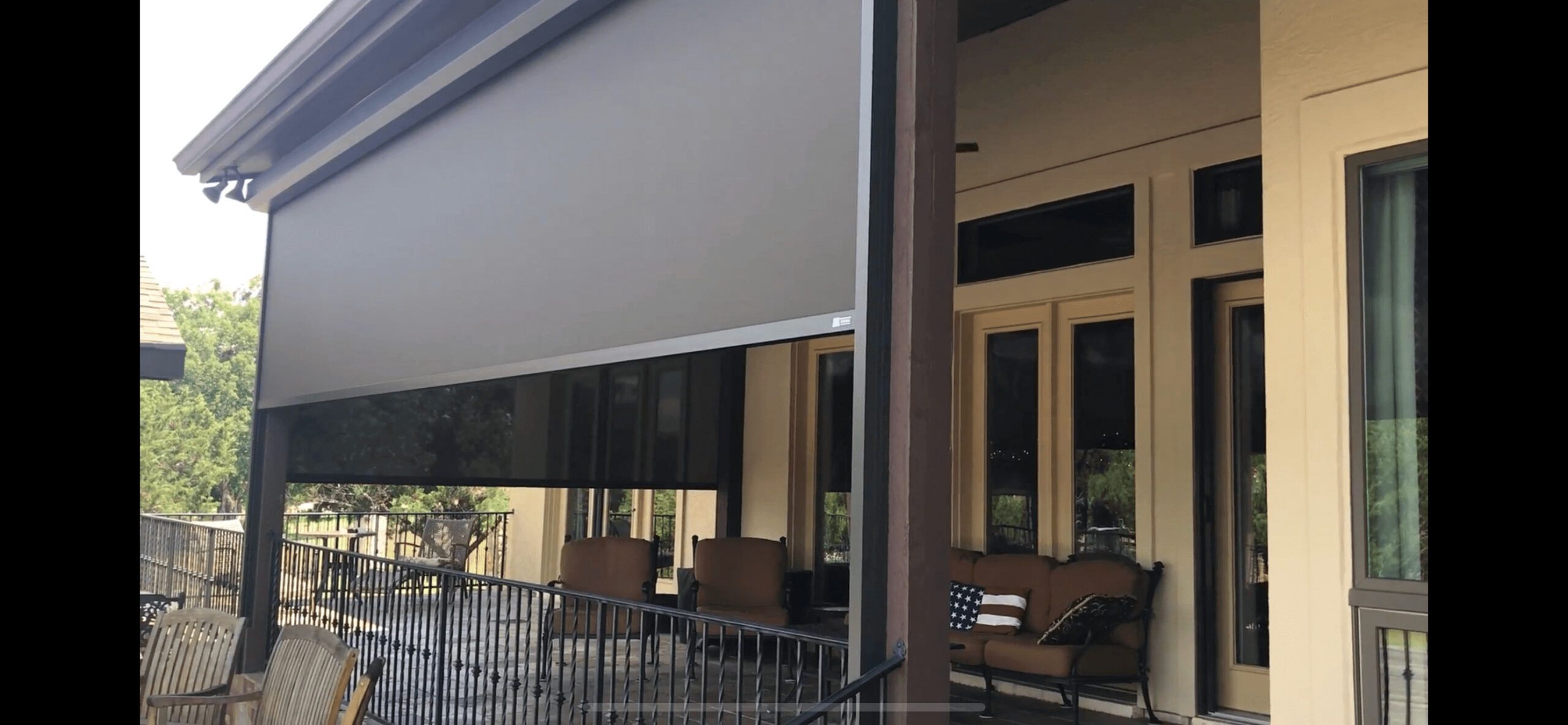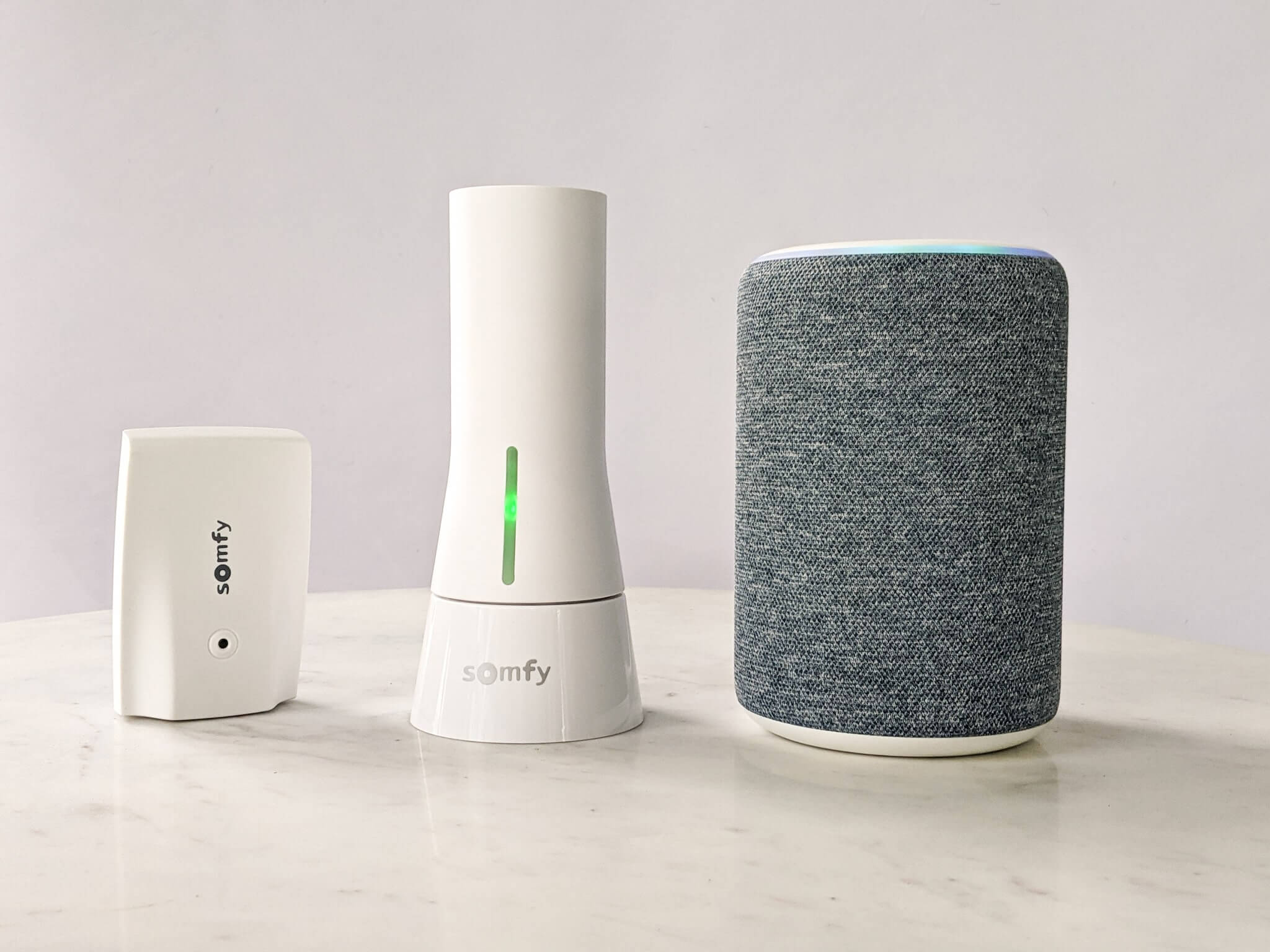 Limited Time Offer:
FREE Somfy TaHoma Upgrade ($550 Value) Compatible with Amazon Alexa & Google Assistant
Raise and lower your patio shades with voice commands or from your phone with the Somfy TaHoma smart shading system. Compatible with Google Assistant, Amazon Alexa, Philips Hue, IFTTT and Smart Things by Samsung. For a limited time, enjoy a FREE Somfy TaHoma smart shading system (up to a $550 value). Sign up for a FREE design quote today.
Constant Protection
Our motorized roller screens provide unbeatable outdoor protection. They block the sun's ultraviolet (UV) rays, keeping you comfortable and protecting your outdoor furniture and fabrics from fading. They also keep out insects and other critters so you can enjoy the outdoors without all the pesky pests. Roll-up screens offer exceptional privacy, rendering the screened area virtually invisible day and night.
Our motorized outdoor roller screens are also weather-resistant, so you can count on them to withstand the elements.
REQUEST A QUOTE Call Us At 512-264-1500
Automate Your Patio Shades, Screens & Awnings
All Products Are Compatible With Amazon Alexa & Google Assistant
If you're looking for a way to easily open and close your patio shades, screens, and awnings, you've come to the right place. With our outdoor living products, you have full capability with Google Assistant & Amazon Alexa. Contact us today to learn more.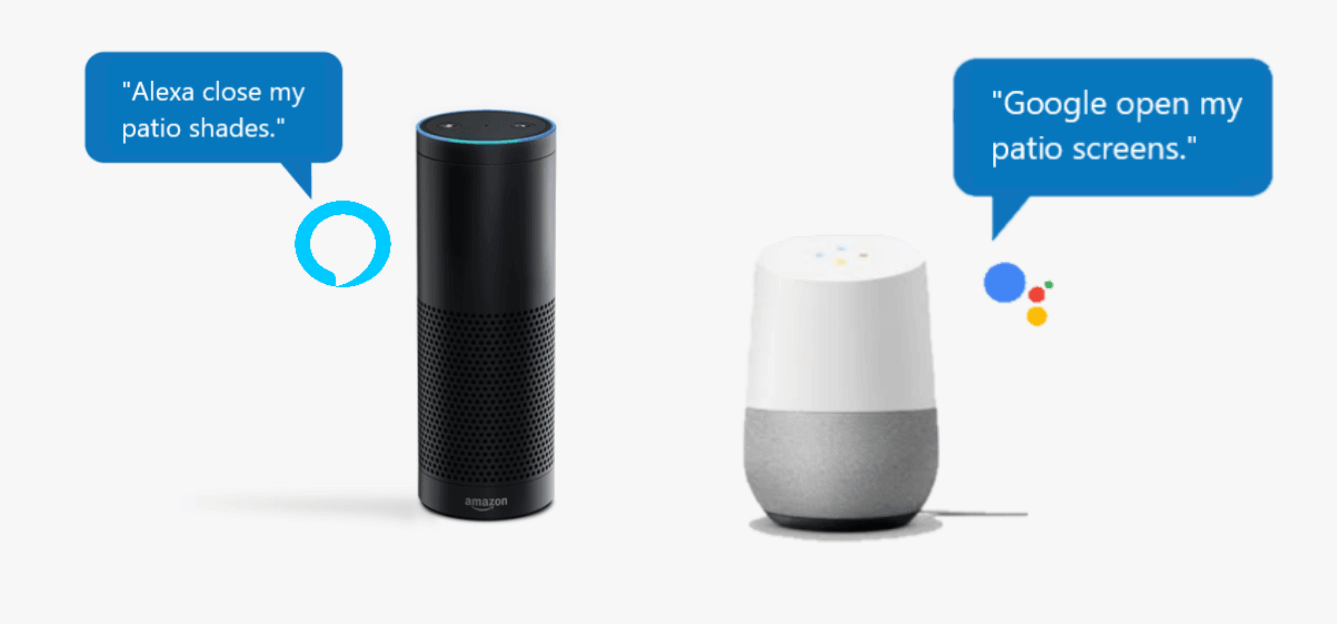 Motorization
Motorization allows you to choose when you want protection or to secure your screen. Lower it on a beautiful day when you want to enjoy the outdoors, and retract it in harsh weather to extend its lifespan.
You can raise or lower the screen to your desired height, giving you the exact amount of coverage you want. We also have timers and automation options to lower and raise your screen at preset times.
REQUEST A QUOTE Call Us At 512-264-1500
Customization
We offer numerous customization options to suit your specific needs and preferences. You can choose from multiple screen colors and frame finishes to complement your home.
We also custom-fit your retractable roller screen to your unique space. We can accommodate virtually any size area. Our selection includes extra-wide outdoor roller screens that go up to 30 feet with no breaks or seams — wider than options from any other shading company in the area.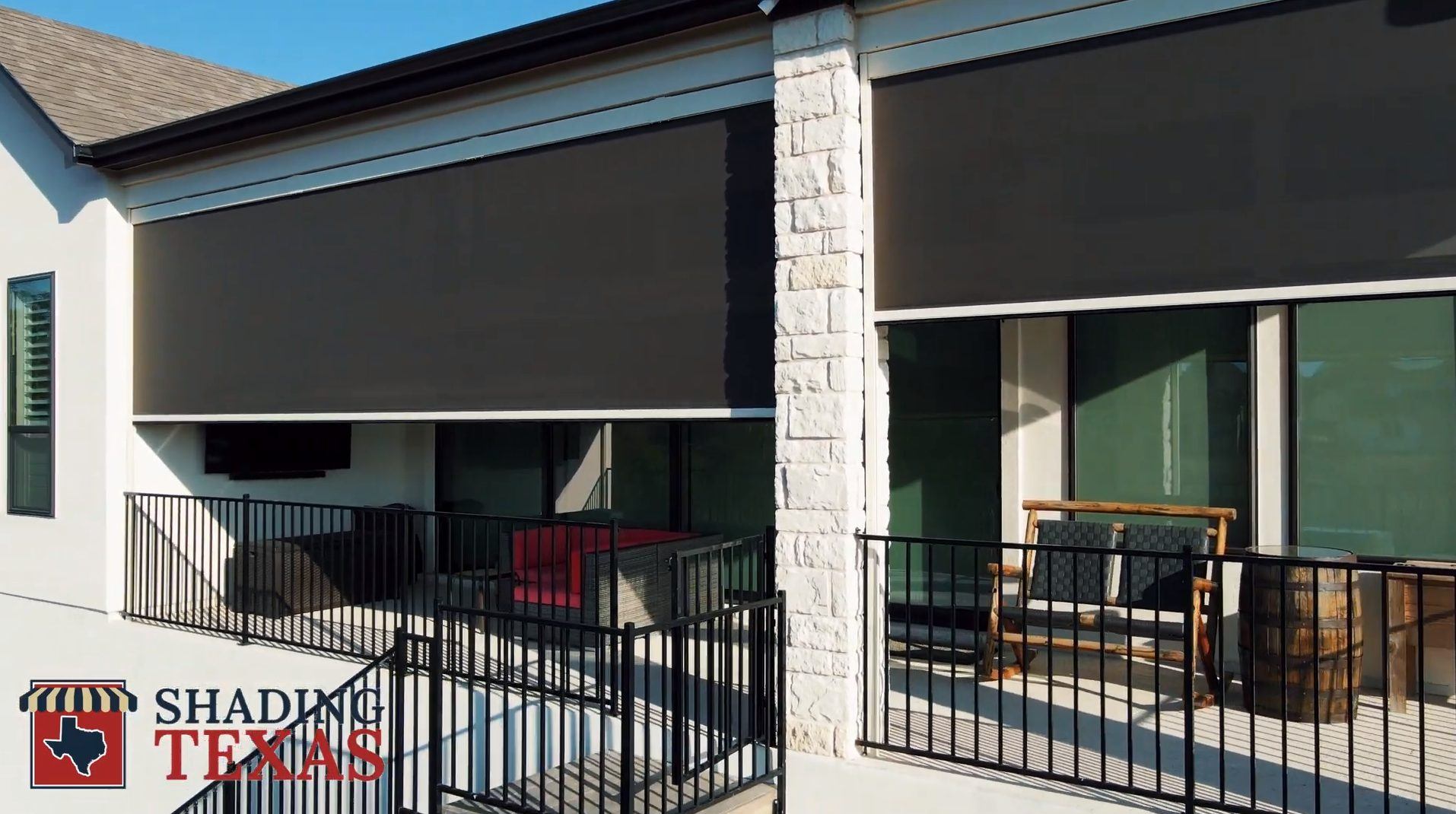 Benefits of Working With Shading Texas
Shading Texas is your trusted source for motorized retractable patio screens in Austin and San Antonio. We provide top-quality screens from industry-leading manufacturers to give you the best options on the market.
Once you find the right screens for your home, we'll get them installed quickly and efficiently. Our team has over 40 years of experience installing roll-up screens in the area. We ensure you get a perfect fit with shades that give you the look and functionality you want.
You'll also get some of the best warranty coverage available. We offer a limited lifetime warranty on all our products, plus a five-year installation warranty for industry-leading protection on your investment.
REQUEST A QUOTE Call Us At 512-264-1500
Contact Us Today for Motorized Outdoor Roller Screens
Get in touch with us today to request a free estimate or learn more about our motorized outdoor roller screen options for your Austin or San Antonio, Texas, home.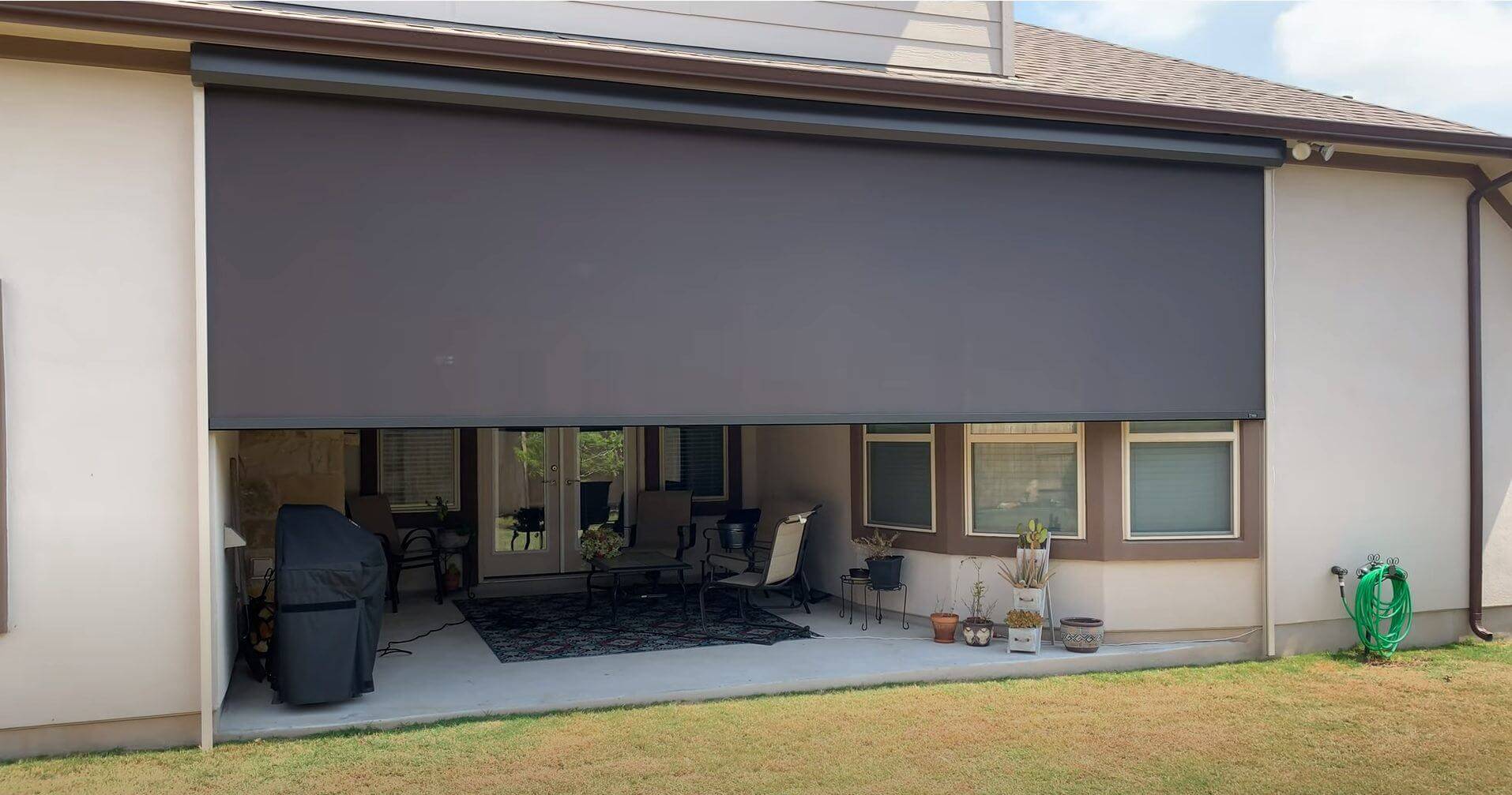 CONTACT US TODAY
Are You Ready to Get Your New Awning or Screen Installed?