incredible screens for your home
Motorized Mosquito Screens for Austin & Central Texas
In Austin, mosquitoes, and other insects, in general, are a constant nuisance thanks to our hot, humid summers and mild winters.
Retractable insect screens help you keep the bugs out while letting the sunshine in. They are made with dense fabrics that block more sun and keep insects from nesting in your Austin home or outdoor areas.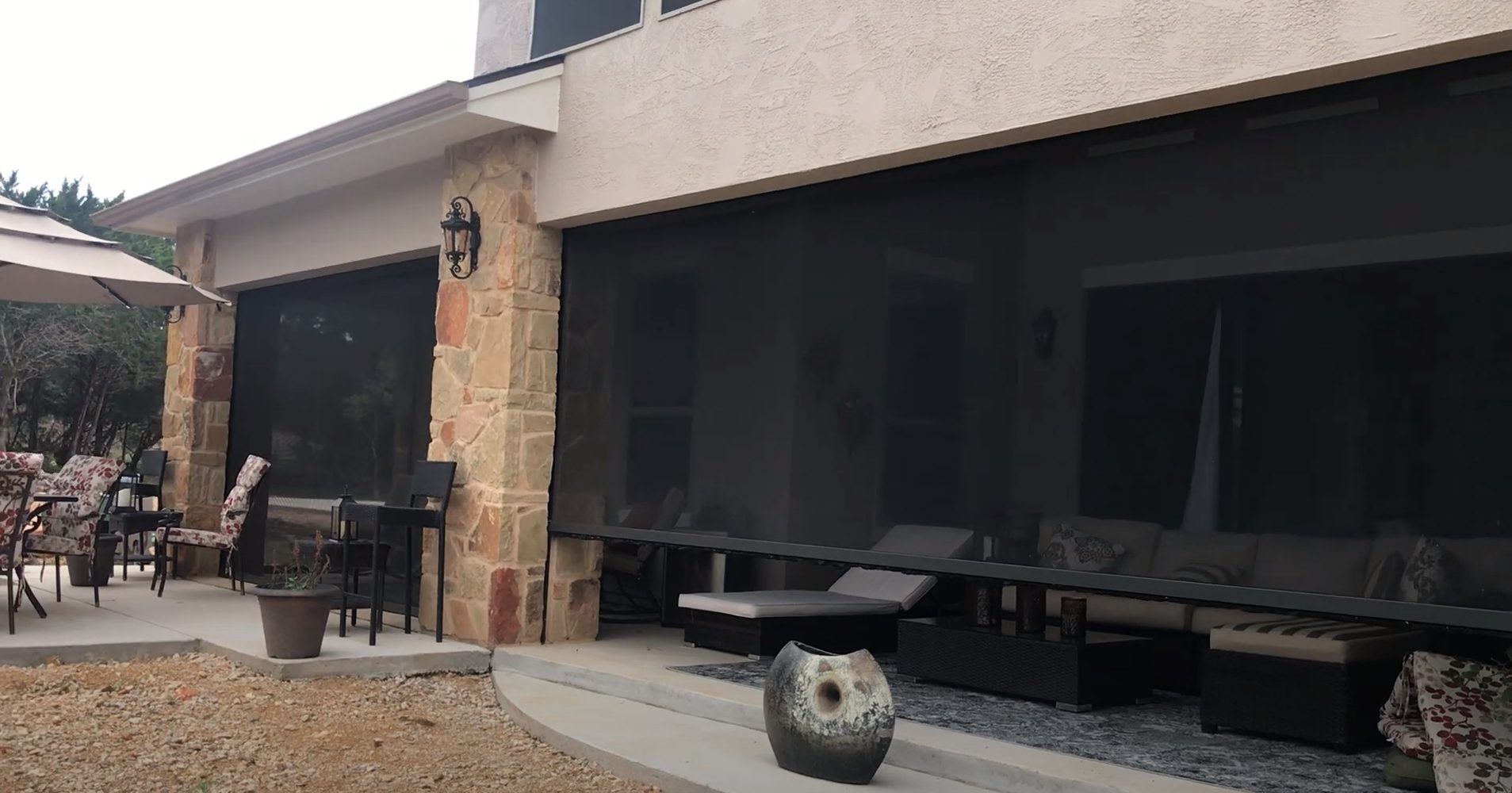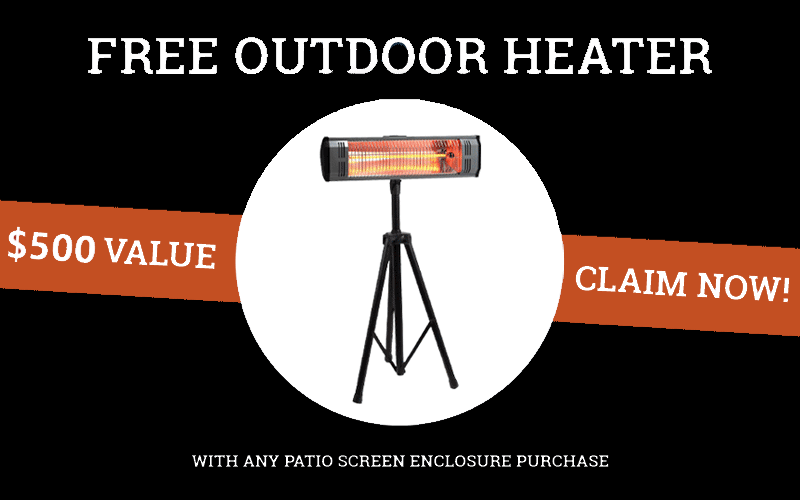 Limited Time Offer:
FREE Outdoor Heater ($500 Value)
Keep those pesky bugs away with our custom motorized patio shades, patio screens and patio enclosures! For a limited time, enjoy a FREE patio heater (up to a $500 value). Sign up for a FREE design quote today.
Why Buy an Insect Screen?
With so many pest control options available in Austin, it's important to know what sets a motorized insect screen apart from the rest. While a patio screen or garage door screen will certainly give you shade, you need bug protection available. A retractable mosquito screen is designed to give you the best amount of security from outside pests in Austin. Our mosquito screens also have the amenities of our awnings, allowing you to customize your bug screen and retract them at the push of a button. Check out our bug screens for sale.
Year-Round Insect Protection
From Austin & Central Texas' Bugs
In the heat of central Texas Summer (and especially after a rainy day), mosquitoes lay eggs in warm, wet environments. Standing water on your lawn is the perfect place to start a new mosquito family, and Austin and San Antonio pests will take full advantage. Swarms of mosquitoes can keep you from enjoying the outdoor areas of your home – until you get a retractable mosquito screen from Shading Texas to keep them at bay.
Austin and the surrounding central Texas area is also famous for cicadas that love to sing in the heat, as well as huge families of grasshoppers and small swarms of pesky gnats that relish the warm weather. In the cold, spiders get frosty and move toward the heat of your home. Stop them at the gates by deploying your motorized insect screen. Beetles and moths also don't do well in the cold and will start moving toward your home the moment they detect heat.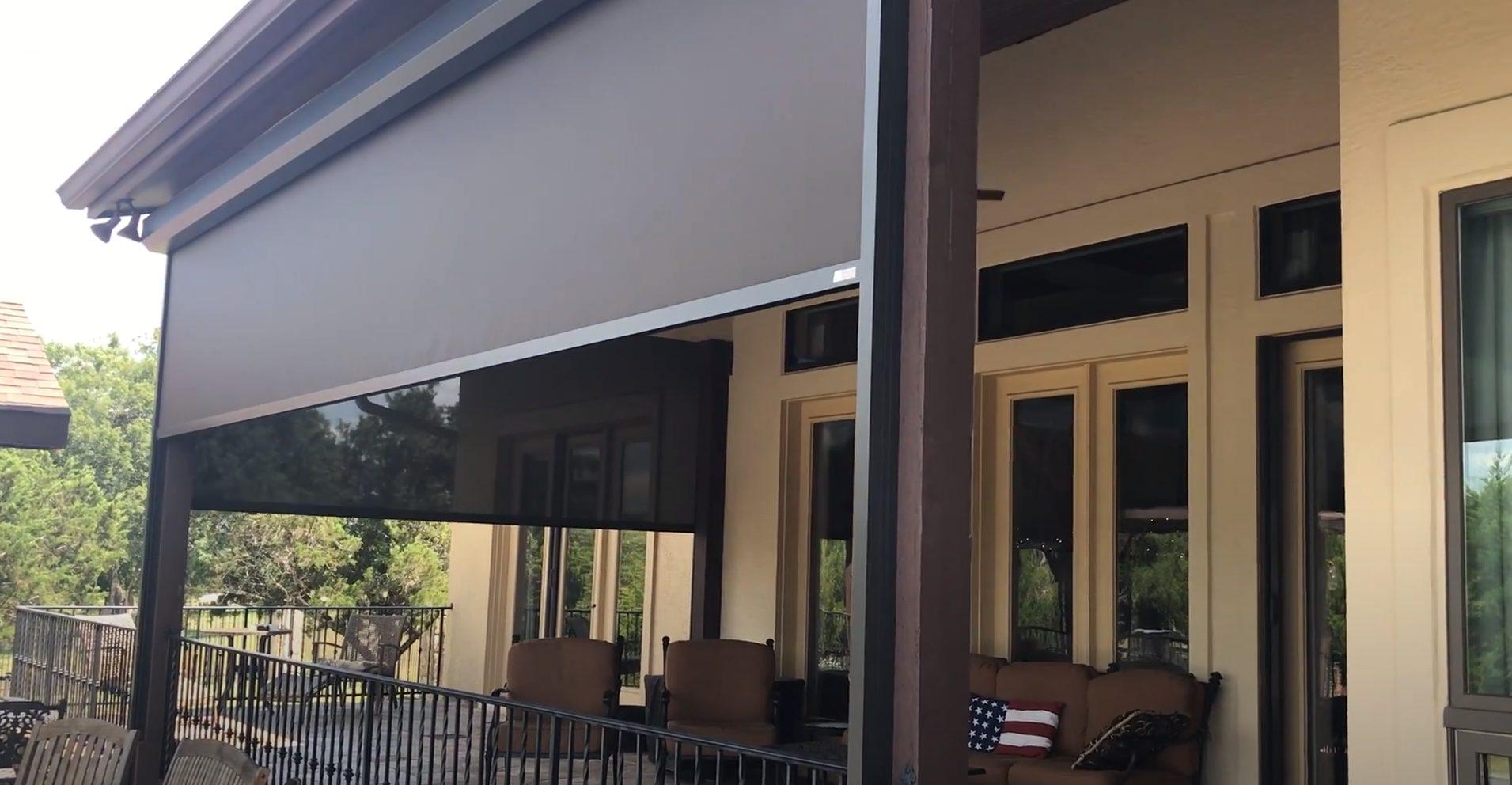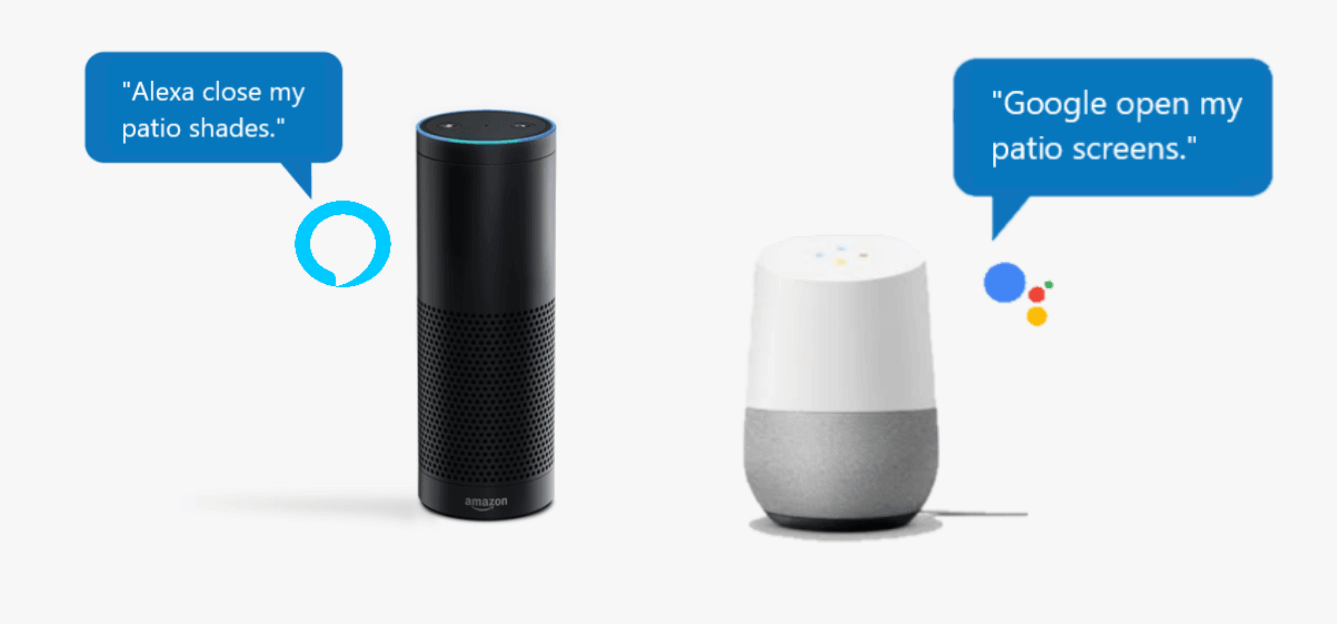 Automate Your Patio Shades, Screens & Awnings
All Products Are Compatible With Amazon Alexa & Google Assistant
If you're looking for a way to easily open and close your patio shades, screens, and awnings, you've come to the right place. With our outdoor living products, you have full capability with Google Assistant & Amazon Alexa. Contact us today to learn more.
REQUEST A QUOTE Call Us At 512-264-1500
As a Bonus, Our Motorized Bug Screens Can Block Out Sun Glare
Our retractable insect screens also block harmful UV rays from entering your home or outdoor recreation areas. While our standard patio shades are made to block the sun and let in light, insect screens are made from a much more dense fabric that blocks entry to insects. This fabric provides intensified protection from the sun and lets in less light than our standard shades.
But don't worry, they don't block all of the central Texas sun. Retractable mosquito screens are made for the enjoyment of the outdoors in mind, and your outdoor views will still beautiful even when the screen is down.
REQUEST A QUOTE Call Us At 512-264-1500
Plenty of Room for Breeze
Mosquito screens are densely woven – but not too densely. Feel the breeze while blocking out insects to enjoy your Austin or San Antonio home or outdoor areas the way they were meant to be enjoyed. Combine insect and sun protection with an Austin breeze to experience true ease and comfort.
Motorized Mosquito Protection
Since our bug screens are motorized, you can choose when to let the bugs roam free and when to shelter your home with a simple touch. Garage door insect screens can be rolled up or down by linking with the Somfy myLink application on your smartphone or tablet.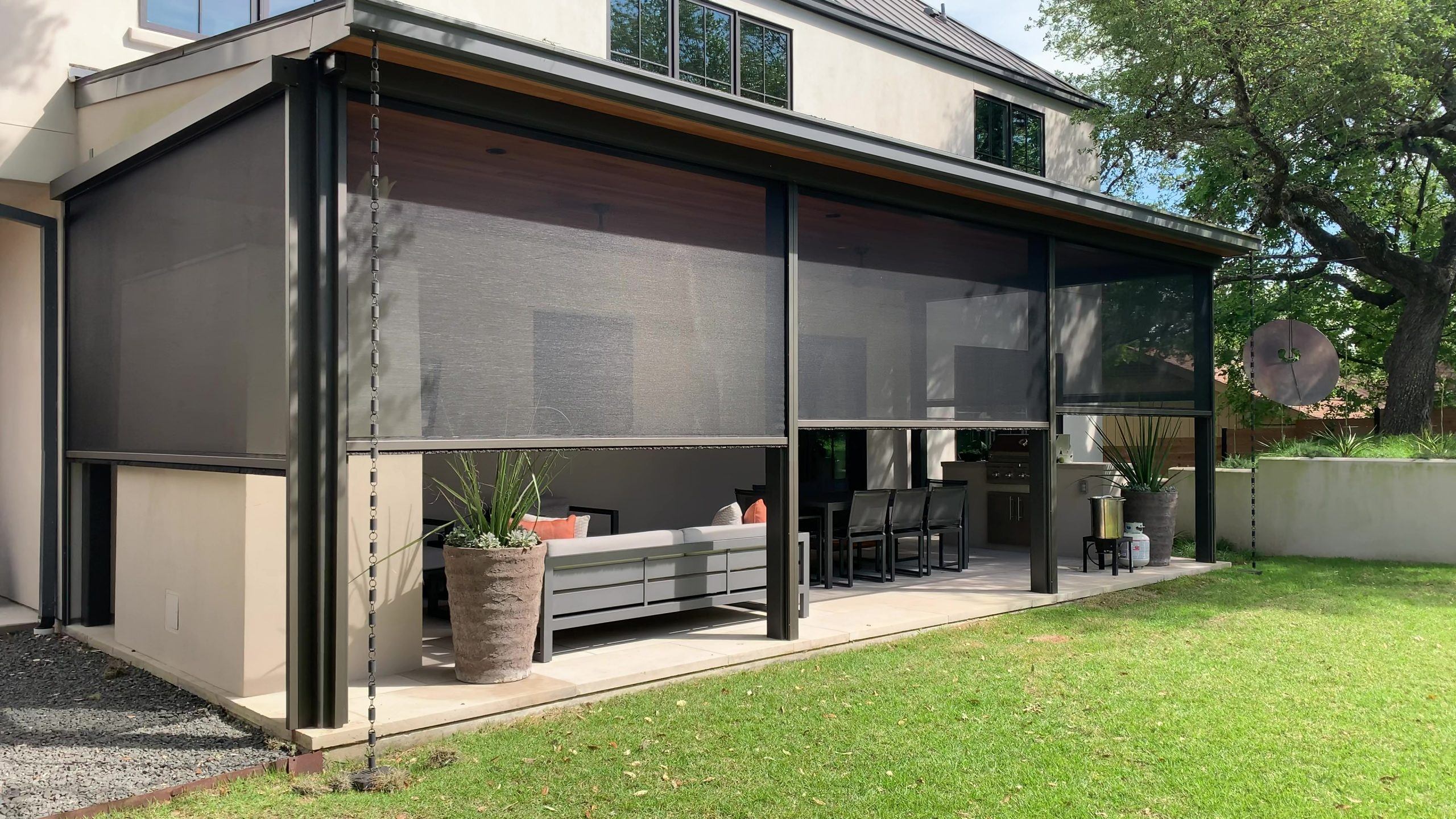 What Bugs Do Insect Patio Screens Protect Against?
The Austin and surrounding central Texas climate is home to a range of insects and pests that are all capable of ruining your time outdoors. With the region's humid summers and warm winter seasons, insects remain in the Austin area all year long, trapping residents inside their homes with the threat of painful bites and stings. Patios and porches also make attractive nesting grounds, inviting colonies of insects to thrive and grow in numbers just outside your windows and doors.
Each of our Austin, Texas, insect screens has a weave dense enough to stop all the insects common to the area, and we'll install yours for a seamless fit to prevent insects from sneaking in around the edges. Regardless of the types of bugs bothering you and your family, we're here to help you stop them from interrupting your time outside. At Shading Texas, our mosquito screens for sale in Austin and the surrounding central Texas area are proven effective against all Texas insects large and small, including:
Mosquitoes: All Texans are familiar with how oppressive mosquitoes can be, and anyone caught outside during a swarm is going to be in for an uncomfortable few days. In Austin, and all of central Texas, these pests can bite all day, and many species carry dangerous diseases like the Zika and West Nile viruses.
Spiders: Texas is home to a wide variety of spiders, and they all have characteristics that likely make them unwelcome in your outdoor space. While many are relatively harmless, venomous black widow and brown recluse spiders are common both inside and outside in this area.
Fire ants: Fire ants are invasive and one of Austin's worst pests, with colonies reaching millions of ants in strength. When fire ants bite, they trigger other ants to start biting too, causing a chain reaction that could lead to health complications.
Bees and wasps: In Austin and the surrounding central Texas area, bees are common from spring through fall, while wasps tend to peak around the middle of summer. These insects all offend with painful stings when they're agitated, and for both children and adults, such stings can cause severe toxic or allergic reactions that require medical care.
Palmetto bugs: Widely known as roaches, palmetto bugs are big and ugly, and they won't hesitate to try to come into your home. The good news is, our insect screens stop palmetto bugs on the ground as well as the ones flying through the air, so you can enjoy your patio without worrying about these hearty intruders.
Scorpions: Central Texas has two species of scorpion common to the area, and both will try to get into your patio and home for warmth. These scorpions are small and difficult to spot, but when they sting, you'll know it thanks to a painful sensation described as worse than the sting of a bee or hornet.
When you buy mosquito screens in Austin or San Antonio, Texas, as an alternative to using pesticides, you're protecting your family and pets from insects and exposure to poisonous chemicals. With so many options to choose from and a wide selection of customizations available, you can create insect screens for every part of your home and promptly stop being annoyed by the bugs.
REQUEST A QUOTE Call Us At 512-264-1500
What Options Do I Have for Insect Screens?
Shading Texas offers a variety of dense fabrics with different weaves to suit your personal needs. Opt for higher visibility or more versatile bug protection – the choice is yours.
Also choose from a diverse palette of cloth colors and take advantage of Shading Texas's custom color powder coating to match the colors of your house with your screen's guide rails.
If you have one of our incredible sun shades already, add extra utility with a bug strip. Made of the same high-quality materials as our motorized bug screens, a bug strip takes your sun shade to the next level of protection.
All of our fabrics are by Mermet. They are fiberglass wrapped with vinyl and formulated to stand against high wind, heavy rain, dust, sand, sun, and snow.
Shading Texas Offers a Lifetime Warranty on All Frames!
We believe so highly in our products that we offer warranties on all of them. Our Mermet fiberglass comes with a 10-year fabric warranty against wear and natural damage. The frames and rails that hold your garage door screen in place and guide its movement are so strong, we give them a lifetime warranty. Breathe easy knowing that your insect screen is made and installed to protect you and your family from Austin and the surrounding central Texas bugs for a long, long time.
To buy bug screens in Austin or San Antonio, Texas, or learn how our retractable mosquito screens can improve your lifestyle, call us at 512-456-3816 or fill out our contact form to get rid of mosquitoes today!
CONTACT US TODAY
Are You Ready to Get Your New Awning or Screen Installed?