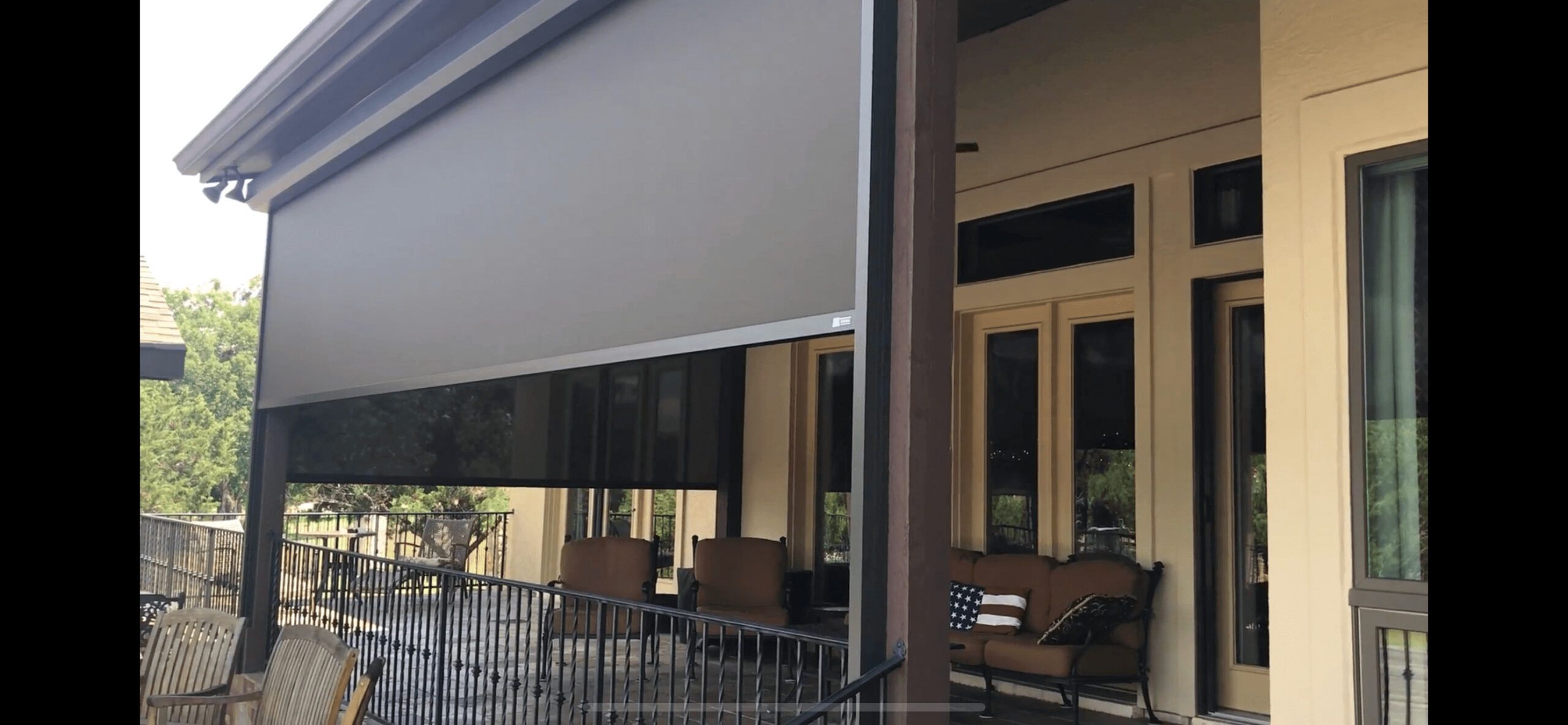 Solar shades prevent ultraviolet (UV) rays from entering your space. When used on patios, solar shades can protect you and your outdoor furniture from the damaging effects of prolonged sun exposure. They also provide daytime privacy. You might wonder if that privacy means you'll have trouble seeing out — or if it extends to the hours after dark.
Before you install solar shades, learn more about the difference in visibility they offer during the day and at night.
Solar Shades During the Day vs. at Night
Solar shades vary in terms of the level of visibility and privacy they provide. A few factors play a role, including the time of day and the tightness of the fabric's weave.
Can You See Through Solar Shades During the Day?
During the day, outdoor solar shades are only see-through from the inside of the patio. They prevent people from looking into your space, offering excellent daytime privacy.
As far as your view from the inside, solar shades with tighter weaves block more light from entering your space. The shade's opaqueness will determine your view of the outside — so be sure to choose a looser weave if outward visibility is a priority. In most cases, you can enjoy a great view of the outdoors without your neighbors or passersby seeing in during the day.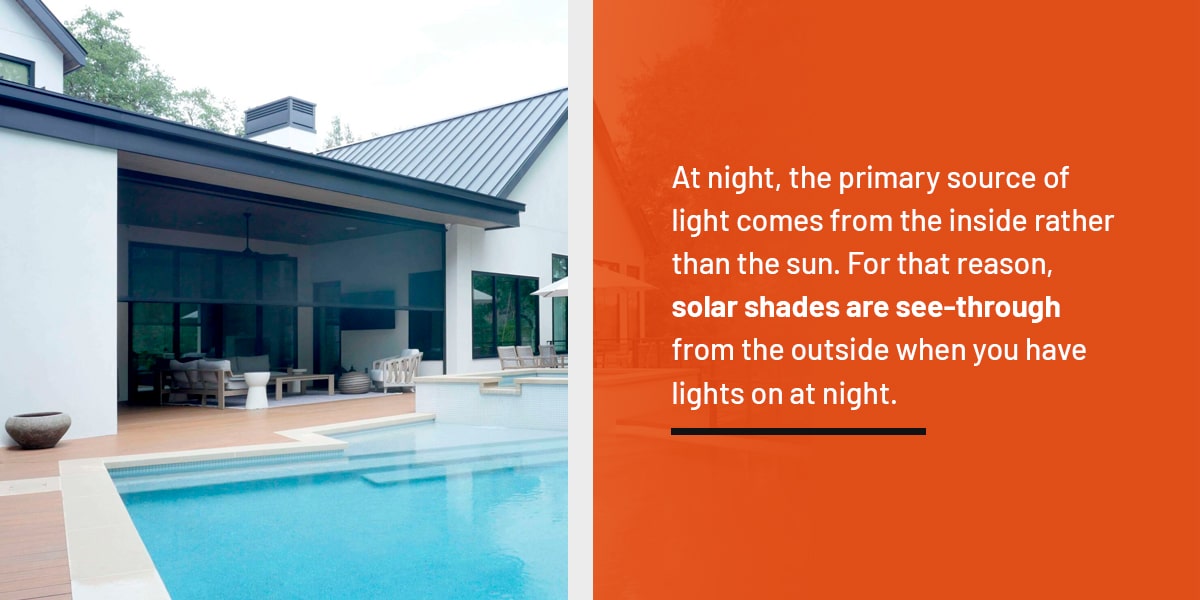 Can You See Through Solar Shades at Night?
At night, the primary source of light comes from the inside rather than the sun. For that reason, solar shades are see-through from the outside when you have lights on at night. The shades will also be more opaque from the inside looking out.
You can prevent people from seeing through your solar shades at night by installing them along with roller shades you can pull down as needed. This combination allows for increased privacy without compromising on UV protection. Another excellent alternative is curtains or drapes. You can layer them over solar screens and easily close them at night.
Trust Shading Texas for Quality Outdoor Solar Screens
At Shading Texas, we strive to help you get the most out of your outdoor spaces with high-quality solar screens and other shading solutions. We carry a variety of solar screens, including motorized options. Our shading solutions go beyond protecting your home from the effects of the sun. They also block out other weather conditions and stop pests from entering. Contact us online to get started.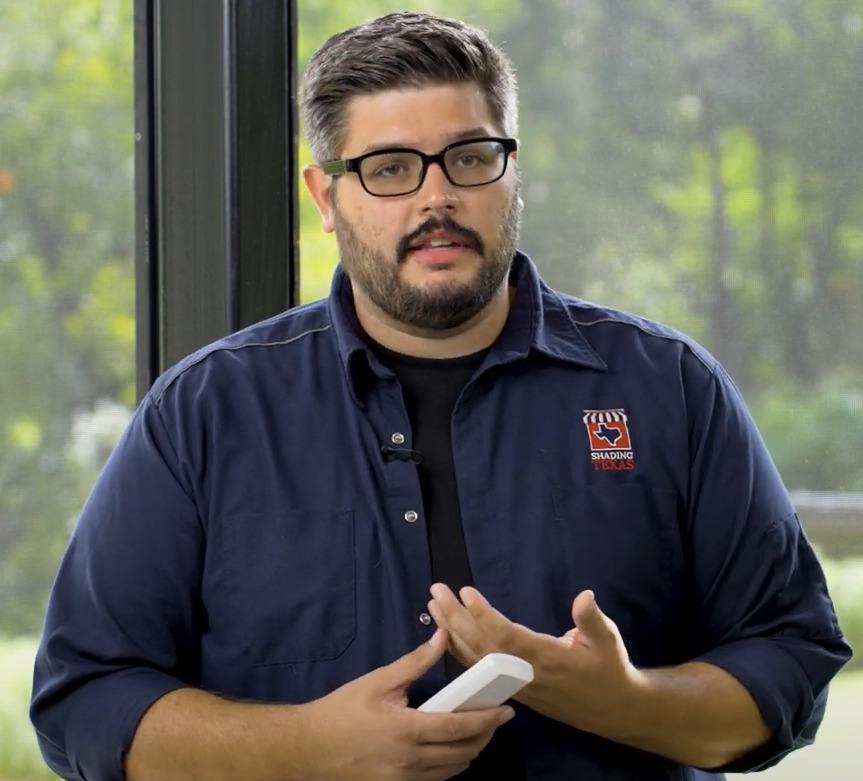 Matt Pierce has been working in the solar shade industry for over 15 years, providing sun protection in the extremes of Alaska and Texas. His dedicated team at Shading Texas will get your the sun solutions you need to enjoy your patios and homes for years to come by blocking out bugs, sun, wind, and rain!