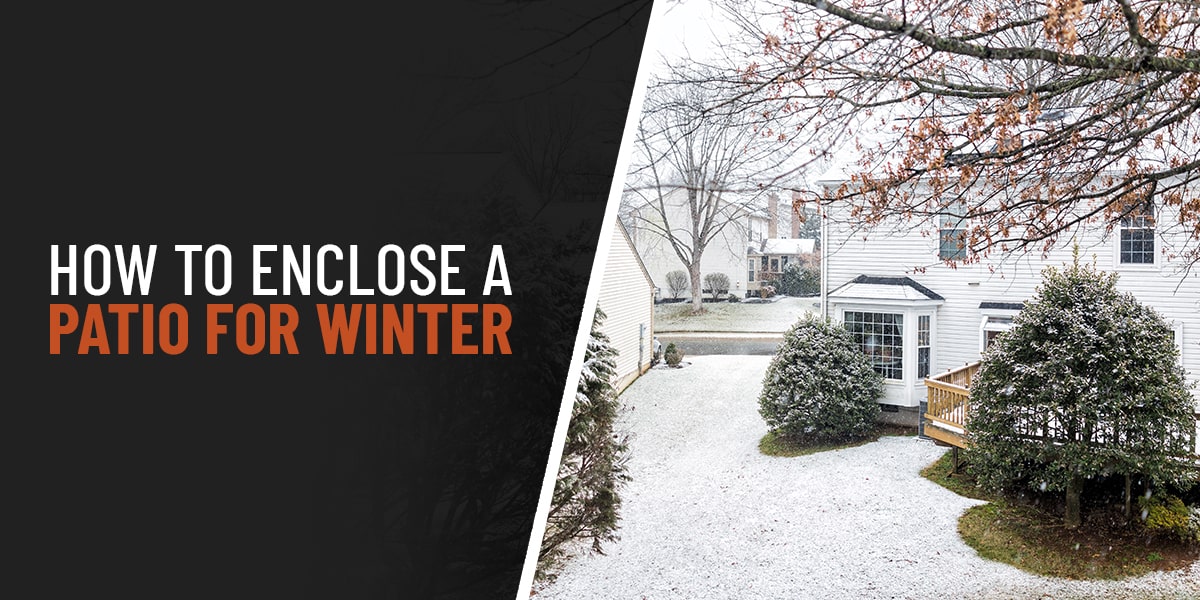 You can use several methods to winterize your patio, including sun shades and plastic walls. Each option has various benefits and drawbacks. You can consider the functionality of each choice to decide what works best for you.
Learn More About Our Products
Patio Enclosure Ideas for Winter
Having a patio in Texas is great for three out of the four seasons. The weather stays warm to extremely hot for most of the year. But winters in Texas can be erratic, leading to colder days immediately followed by oppressively hot ones.
In times like these, it's best to create patio enclosures. That way, you can enjoy the scenic hills and sprawling vistas our great state has to offer but in the heated comfort of home. With a few simple, affordable modifications, you can have an enclosure made for Texas winters.
Use Sun Shades
Retractable sun shades create a partition between you and the outside world. They can also reduce the amount of wind coming into the patio, making winter a lot less brisk. This lets you welcome the winter weather without its chilly reception.
(Note: Shading Texas offers screens for your enclosures)
Install Plastic or Glass Walls
A completely sectioned-off patio enclosure guarantees cold wind, rain and snow will not enter your patio. It also provides the warmest views for cold and snowy days.
This option is the most permanent method for winterizing. If you're committed to using your patio space during the winter, plastic or glass walls may be the way to go. On the other hand, you might prefer the flexibility of retractable sun shades that you can adjust based on the outdoor temperature.
Plastic and glass installations are also the most costly. Estimates for a sunroom or other enclosures like this could range from $10,000, with some rooms costing at much as $40,000 and higher. If you can afford it, go for this option!
Place Curtains
If you've completely enclosed your patio, then you may have created an accidental greenhouse for your home. To keep heat out, adding curtains (or even sun shades) can reduce the temperatures while also providing the view you want.
On the other side of the spectrum, if you don't have a fully enclosed patio, you can install insulated curtains to trap heat. Insulated curtains are a cost-effective way to keep your patio a little warmer. One downside is that when closed, they block out sunlight. Insulated curtains might block your view and cause patio plants to suffer.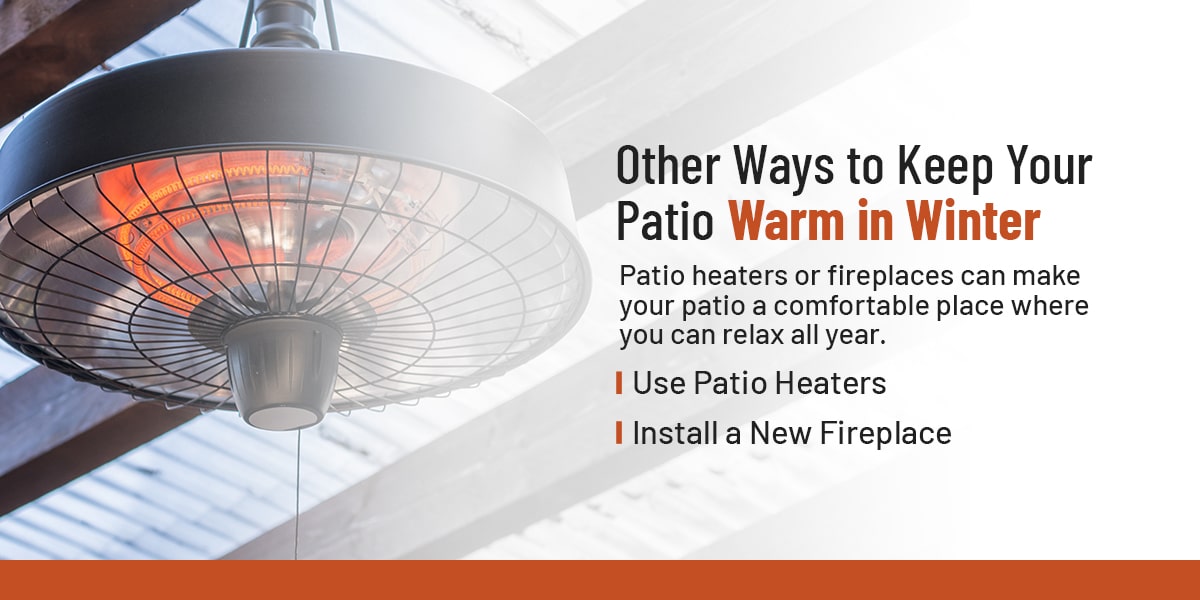 Other Ways to Keep Your Patio Warm in Winter
If you want to prepare your patio for winter, it's a good idea to seek a heating source. Patio heaters or fireplaces can make your patio a comfortable place where you can relax all year.
Use Patio Heaters
Patio heaters are a great way to enjoy the outdoors despite the cold. Outdoor heaters may use propane or electric to heat your patio space. Before purchasing a patio heater, consider the size of the area. Some heaters work well for smaller patios, while others have the power to keep a sizeable outdoor space cozy.
Install a New Fireplace
Chimineas and other light fireplaces can help warm up a screened-in patio enclosure. If you don't want to mess with intensive masonry, chimineas can be purchased and placed anywhere within the enclosure at a fraction of the cost.
These fireplaces also require less tending and are better for providing heat to small spaces. The fire pit you might use on your lawn is great for heating large areas, but it takes a lot of fuel and can let off sparks. It also doesn't burn well in bad weather like wind and rain. The unique design of chimineas makes them perfect for your patio.
Need help enclosing your patio?
Enclosing your patio with retractable screens offers a versatile option that serves you on the hottest days of summer and the most frigid days of winter. While you enjoy a beautiful view in winter, your patio space will be safe from winter weather and chilling winds.
If you're searching for someone who can enclose your patio, look no further. Shading Texas specializes in top-of-the-line patio enclosures that can handle every season. Contact us to learn more.
Learn More About Our Products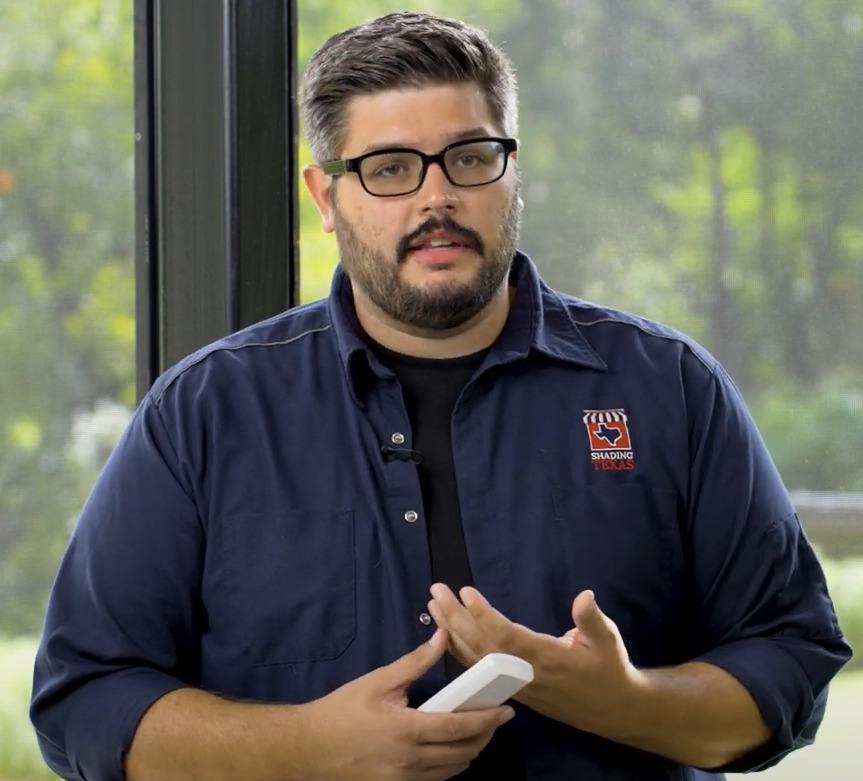 Matt Pierce has been working in the solar shade industry for over 15 years, providing sun protection in the extremes of Alaska and Texas. His dedicated team at Shading Texas will get your the sun solutions you need to enjoy your patios and homes for years to come by blocking out bugs, sun, wind, and rain!