Security shutters can offer complete privacy and protection, but sometimes they can stick out like a sore thumb. If you want to paint your security shutters so they blend in with the exterior of your home, follow these steps:
Choose the right paint
Not all paint is the same. For instance, if you've purchased your security shutters from our company, you'll notice that they are made of a combination of aluminum and foam insulate. In that case, you will want to pick a paint that is good for both aluminum and can withstand severe weather conditions.
Some excellent paints for security shutters include Rustoleum Painters Touch 2X Ultra Cover, semi-gloss paint, and enamel paint.
Note: If you're going from a darker color to a lighter one, you will need to apply a coat of white primer paint. This allows the new coat of paint to shine without being affected by the old paint color.
Choose the right equipment
Spray painting is highly recommended for painting shutters. The spray is more inclined to provide a nice, even sheen on the entire surface of the shutter.
However, some communities don't allow aerosol sprays in the neighborhood. Check with your home association to confirm the kinds of paint you are allowed to have.
Additionally, you will need:
Scrub brush
Large piece of cardboard
Protective wear for eyes, nose, and mouth
Soap and bucket
Cinder blocks (or other elevated platform to prop up shutters)
Remove shutters
Contact Shading Texas on how to remove your shutters before painting. Many experts recommend a simple screwdriver to unmount the shutters, but it's best to double check with your original installers before proceeding.
Clean shutters
Sand the shutters thoroughly with a 220-grit sandpaper. When finished, brush the shutters down with your dry scrub brush. This will get rid of dust and debris on the shutter. After the sanding and brushing, use soap and water to scrub any loose paint chips off. Once dry, your shutters should be ready to receive paint.
Apply paint
Before you paint anything, put on your protective gear.
Mount your shutters on the cinder block and apply the first thin coat of primer. After 30 minutes, the primer should be dry. If the primer has dried, apply 2-3 thin layers of paint on the shutters using wide sweeping arm motions.
Note: Before painting, test paint on a similar object. That way, you can guarantee the quality and color of the paint.
Once the paint is dry, reattach the shutters to your house and you should be good to go!
Need help with your security shutters?
The installation team at Shading Texas can help. Our team has worked with many different types of windows and doors, all needing special requirements for their home's security. If you live in Central Texas and you need security shutters, call 512-264-1500 to schedule your free consultation.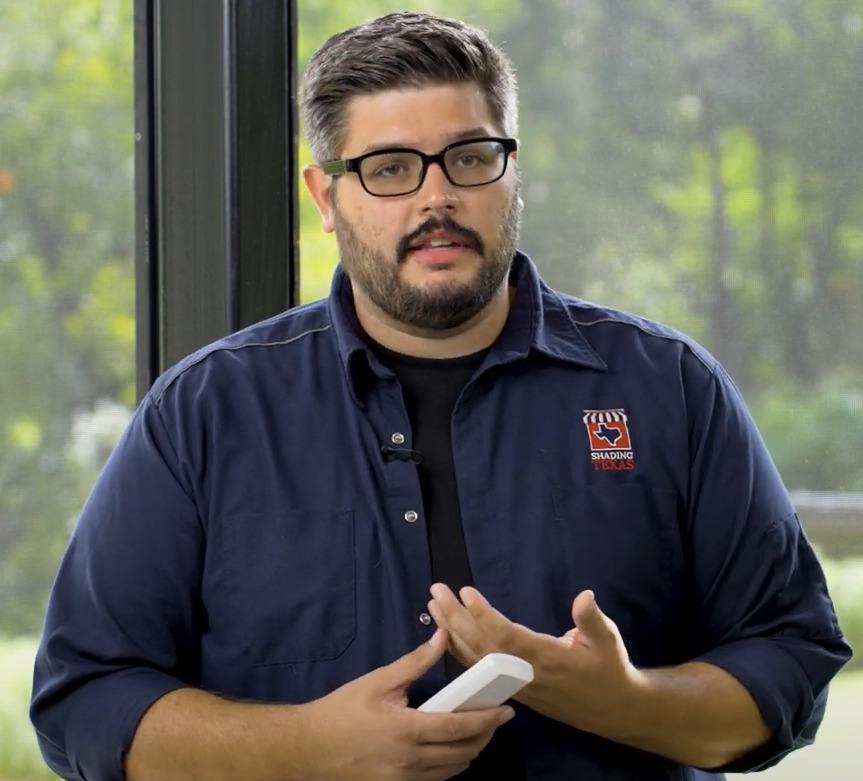 Matt Pierce has been working in the solar shade industry for over 15 years, providing sun protection in the extremes of Alaska and Texas. His dedicated team at Shading Texas will get your the sun solutions you need to enjoy your patios and homes for years to come by blocking out bugs, sun, wind, and rain!