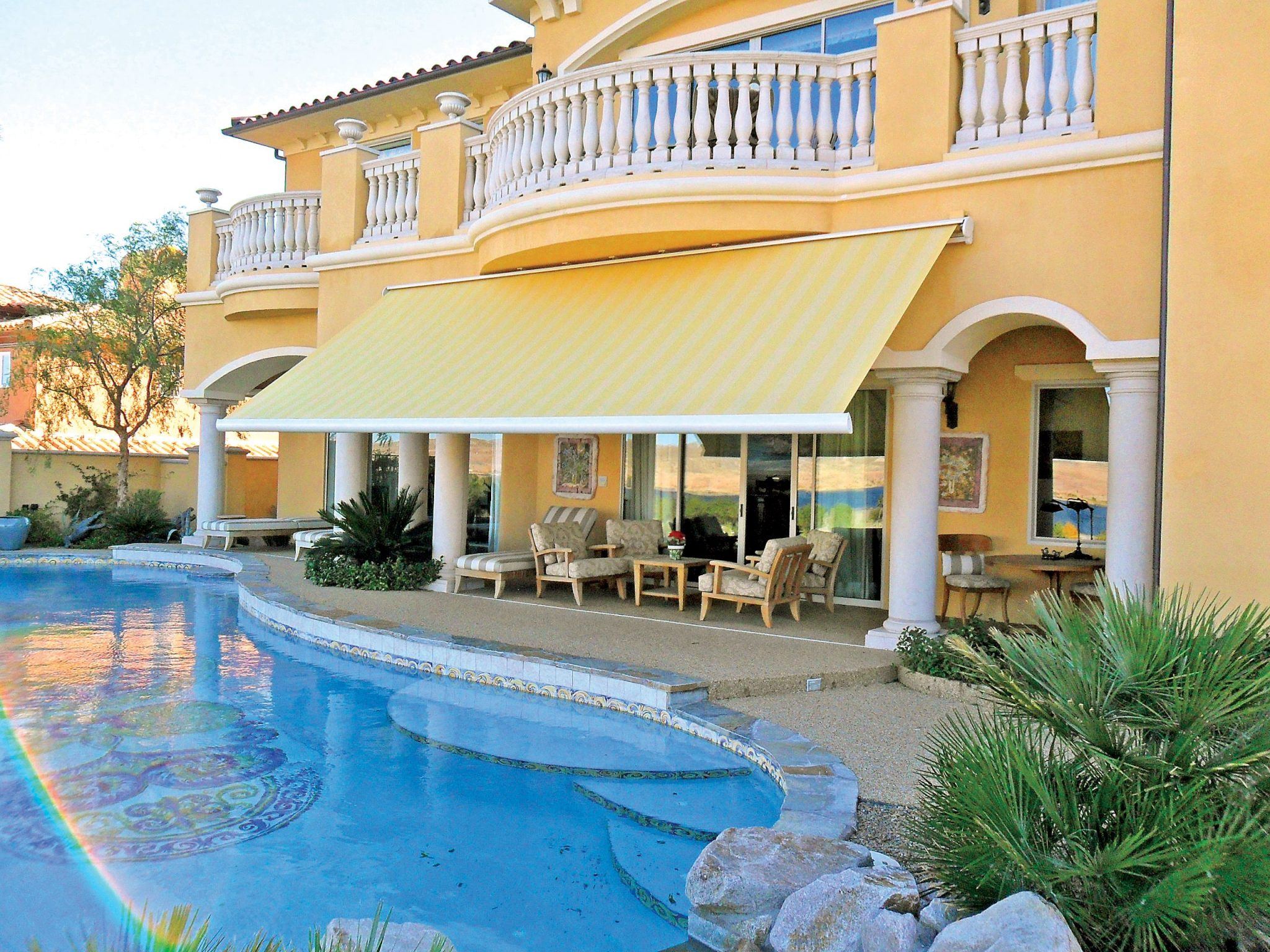 Summer means barbecues, pool time, cool beverages and family fun. However, Texas summers can become sizzling hot and more than mildly uncomfortable, keeping you indoors when you'd rather be out. Here are a few ways to keep your patio cool and comfortable in the summer.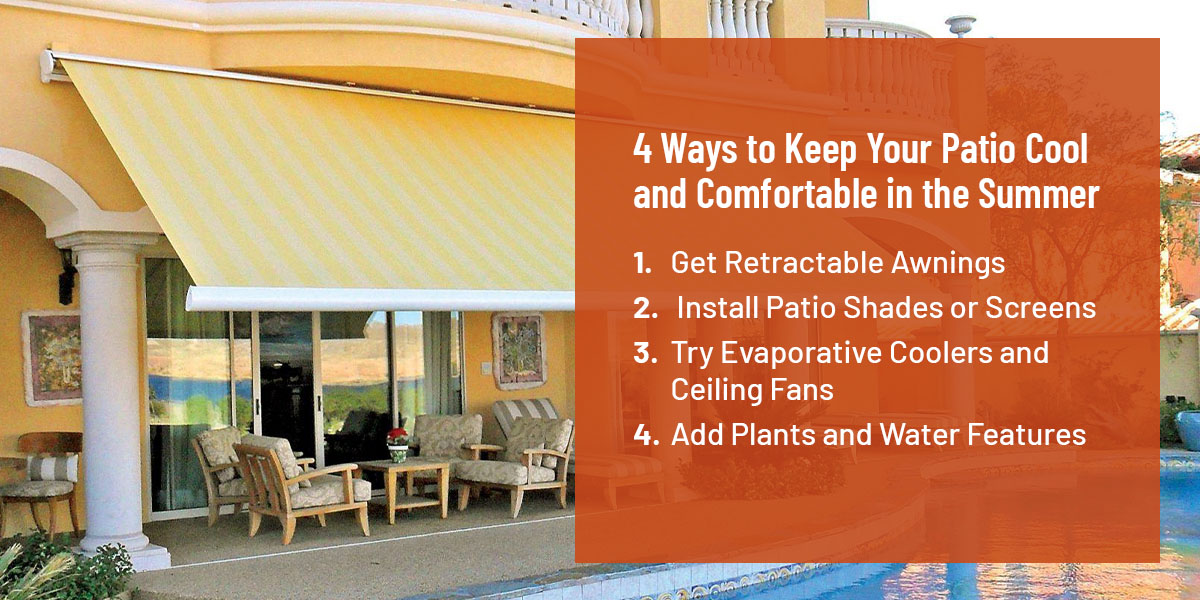 1. Get Retractable Awnings
Retractable awnings offer an ideal solution for keeping your patio cool this summer. They're easy to install and relatively inexpensive. You can conveniently deploy your awning during blistering heat and retract it once the day cools. Awnings provide adequate shade and protection from UV rays while giving you a seamless view of your garden and beyond.
2. Install Patio Shades or Screens
Texans know the summer heat can be stifling. Patio sun shades and screens enable you to enjoy the outdoors without experiencing the blazing sun. Solar shades are perfect for outdoor living spaces — they consist of expertly woven fabric to protect you and your patio furniture from the sun's heat and harmful rays.
Patio screens offer the coverage you need to enjoy outdoor spaces in the middle of a hot summer day.
3. Try Evaporative Coolers and Ceiling Fans
Evaporative coolers and ceiling fans have a cooling effect you'll appreciate when temperatures are high. Although ceiling fans may not be enough to tackle the potent Texas heat, they help circulate air effectively. Evaporative or swamp coolers are a great way to keep your patio comfortable. These portable coolers significantly reduce deck and patio temperatures through evaporation, adding moisture to the air and cooling the space.
4. Add Plants and Water Features
Plants and water features can also help cool your outdoor space. Plants evaporate water into the atmosphere. That process requires energy that comes from the air, cooling it down. Water features and pools keep things cool through evaporation.
Consider investing in your garden by planting and adding water features. And if you don't have one already, a pool may help too.
Contact Shading Texas to Keep Things Cool on Your Patio This Summer
Outdoor patio shades, screens and retractable awnings are the ideal solutions to beat the heat and maximize your entertainment space this summer. Shading Texas has over 40 years of experience helping residents in San Antonio, Austin and the Texas Hill Country optimize their patios with shading solutions. Contact us today to learn how to cool off your deck and make the most of your outdoor areas.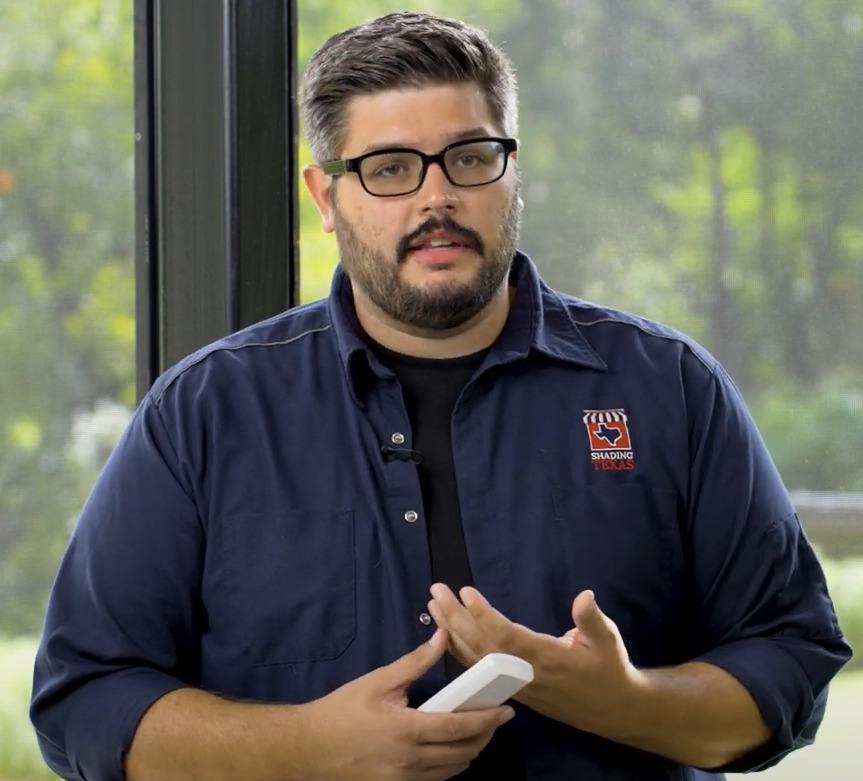 Matt Pierce has been working in the solar shade industry for over 15 years, providing sun protection in the extremes of Alaska and Texas. His dedicated team at Shading Texas will get your the sun solutions you need to enjoy your patios and homes for years to come by blocking out bugs, sun, wind, and rain!