Discover Attractive Awnings And Shades For Tiny Homes in Central Texas
Today, as the popularity of "tiny homes" increases in many areas, homeowners may wonder if awnings and shades are appropriate for these specialized dwellings.
Patio Enclosures For Tiny Homes
Customized fiberglass mesh patio enclosures made of Mermet® Screens are perfect options for tiny homes. These unique products help enclose sliding glass doors and patio areas attractively. Enhance privacy in these locations with our assistance. The fine, strong screen fabric prevents flying insects from disrupting everyone's enjoyment of the outdoors. It also reduces harmful UV light penetration.
Tiny Home Security Shutters
Optimize the security and beauty of windows in tiny homes by using customized home security shutters. They come in a great selection of colors and are primarily used to boost privacy while reducing the penetration of sunlight on hot summer days.
Insect Screens For Dwellings of Every Size
Sometimes pesky flying insects seek to enter tiny homes in Central Texas. Now residents can call upon a useful tool to screen out flies, mosquitoes, wasps, and other pests. Install remote-controlled retractable insect door and window screens and create a happier quality of daily life indoors.
Sun Shades Enhance Comfort in Tiny Homes
Some homeowners prefer tiny houses due to the attractive cost savings these small structures provide. Reduce your utility bills even further with customized fine fiberglass mesh sun shades. These long-lasting solar screens help minimize the penetration of sun glare indoors. Available in an impressive selection of appealing colors, they also contribute to the beauty of residential properties across Central Texas.
Request Retractable Awnings For Tiny Homes
Use motorized retractable awnings on exterior doors and windows to increase the size of available shaded outdoor living spaces and optimize for recreational space. Today, fashionable retractable awnings beautify residential properties of every size in Austin and outlying communities.
Great Product Selections from Shading Texas
Across Austin, San Antonio, and adjoining communities, Texans today frequently select high-quality products from Shading Texas. Ask us to assist you in modifying your tiny house by installing fine custom awnings and shades. We help customers order individually crafted selections.
Visitors and residents alike notice these eye-catching window and door coverings with approval. Our patio enclosures, security shutters, insect screens, sun shades, and durable retractable awnings promote cleaner, safer homes. They help block the penetration of harmful UV light and flying insects, while also increasing privacy and boosting residential security and comfort.
Contact us for a free estimate today!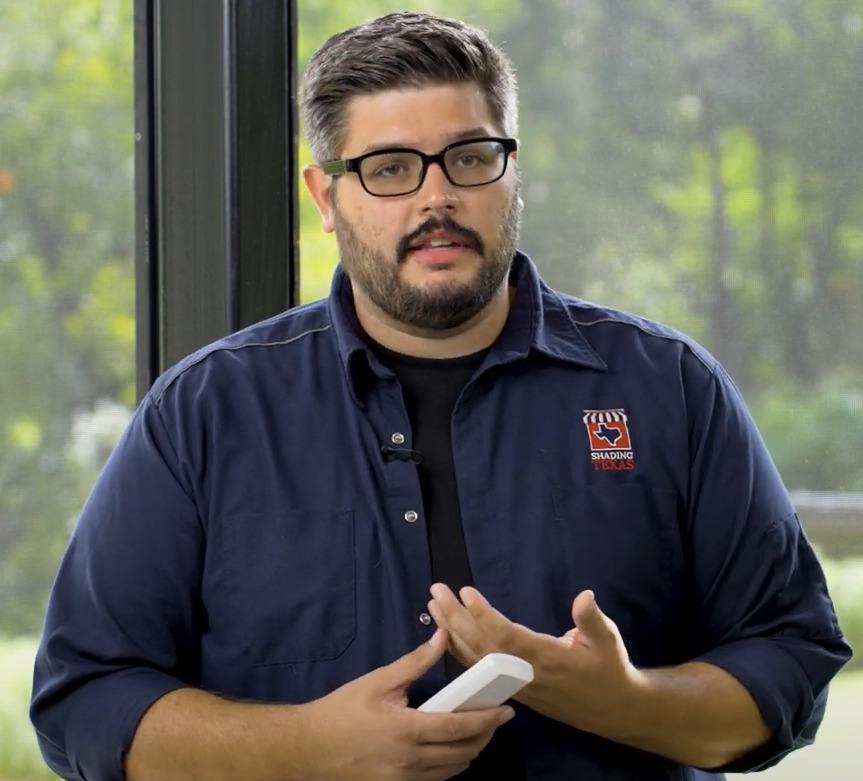 Matt Pierce has been working in the solar shade industry for over 15 years, providing sun protection in the extremes of Alaska and Texas. His dedicated team at Shading Texas will get your the sun solutions you need to enjoy your patios and homes for years to come by blocking out bugs, sun, wind, and rain!