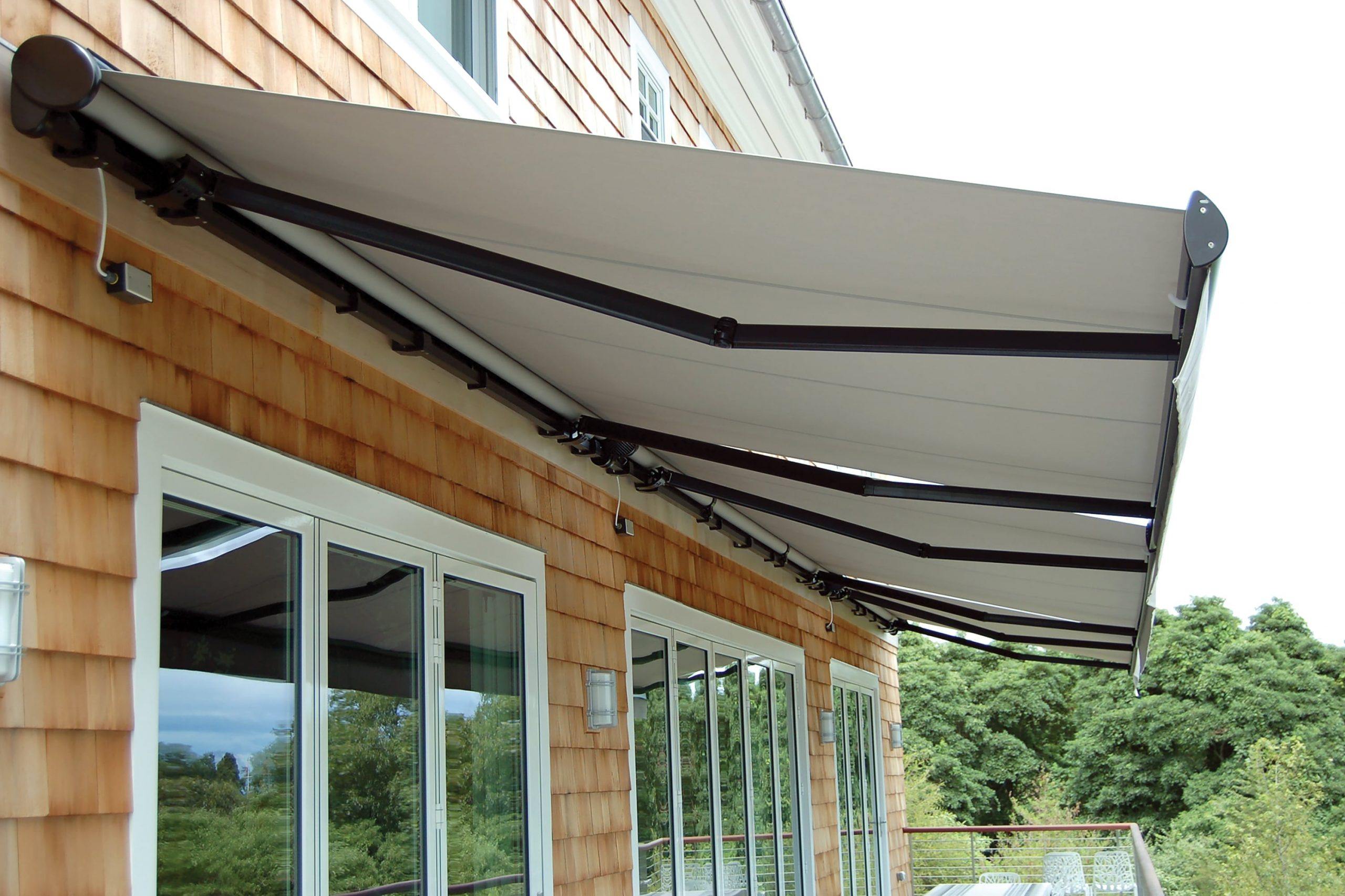 An awning is an excellent way to enjoy shade even when the hot Texas sun is beating down. These fixed or retractable shelters block sun rays and make your patio or deck more enjoyable. Unfortunately, fabric awnings can start to droop or sag over time with constant exposure to the elements.
If your fabric awning looks loose and floppy or pools water, here are some quick fixes that could help.
Why Is My Outdoor Awning Sagging?
A sagging awning can have a few potential causes:
Wear and tear: Time and the elements can lead to wear, tear and sagging.
Wind and water: High winds or water weight from rain and snow can take a toll on your awning, causing it to sag prematurely.
Improper installation: If your awning was not correctly installed to begin with, it will not last as long as it should.
Low-quality materials: Substandard materials mean sagging is inevitable.
Overstretching: Awnings can sag if they are overextended to fit the frame.
Weak tension: Awning fabric should be stretched tight and flat over the frame. Weak tension leads to sagging.
How to Fix a Sagging Awning
The best way to fix a sagging awning is to ensure you have a premium product in place. Retractable awnings from Shading Texas are made to last. But if you're not ready to invest in new awnings in central Texas, here are some ways to troubleshoot a sagging fabric installation.
Tighten the Awning
If your awning is loose, your first step should be to tighten it. This means turning the crank in reverse until the fabric appears more taught. Just be sure that the awning's cloth is rotating correctly. It should be over the roller tube, not spooling beneath it.
Keep in mind that this solution only works for retractable awnings, not fixed ones.
Stabilize the Awning
You can try a few approaches to enhance the awning's support structure so it doesn't sag. However, these fixes are short-term remedies. You can stabilize your awning by:
Pulling it tight with rope or bungee cords.
Stringing a pool noodle across the underside to even out the fabric.
Building your own support system with PVC pipes or wood to reinforce the fabric's weight.
Change the Angle
If your awning is retractable, try adjusting it to a different angle to prevent water from pooling during storms.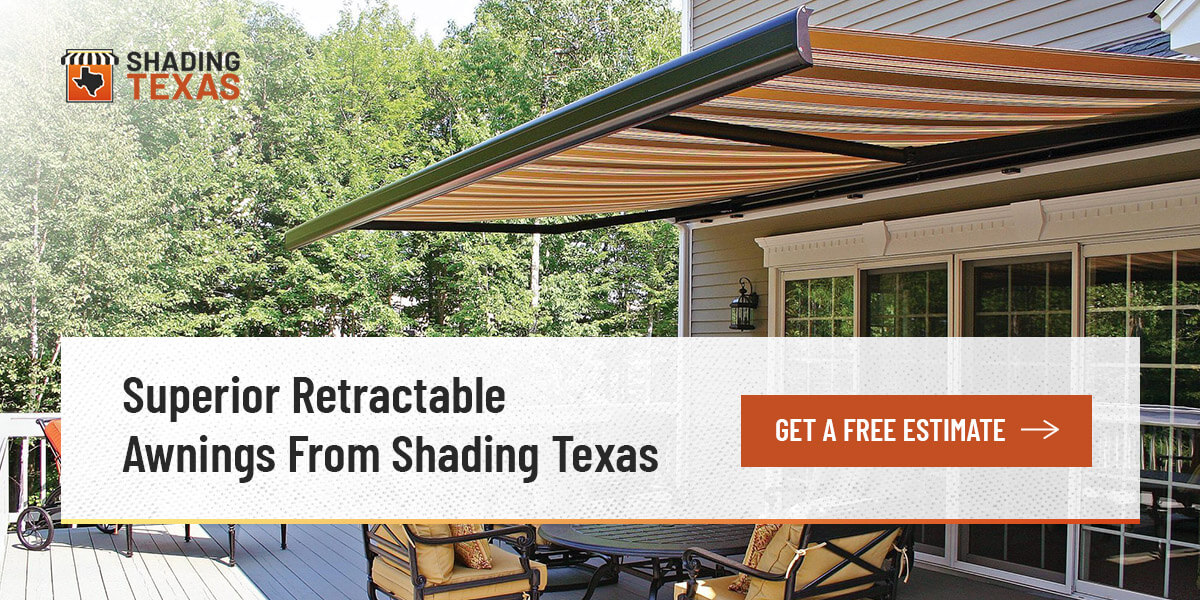 Superior Retractable Awnings From Shading Texas
Shading Texas has over 40 years of experience optimizing shading solutions for residents throughout central Texas. If your awning is sagging, pooling or experiencing issues, know our high-quality awnings are designed to stand the test of time. Learn more about our retractable awnings and outstanding warranties. Contact us today for your free estimate!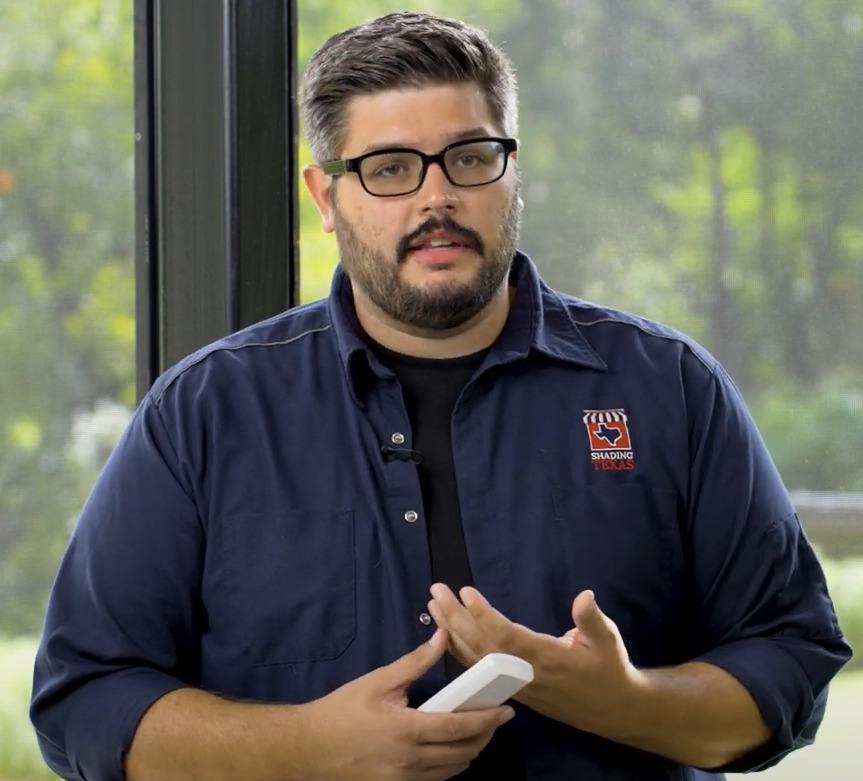 Matt Pierce has been working in the solar shade industry for over 15 years, providing sun protection in the extremes of Alaska and Texas. His dedicated team at Shading Texas will get your the sun solutions you need to enjoy your patios and homes for years to come by blocking out bugs, sun, wind, and rain!