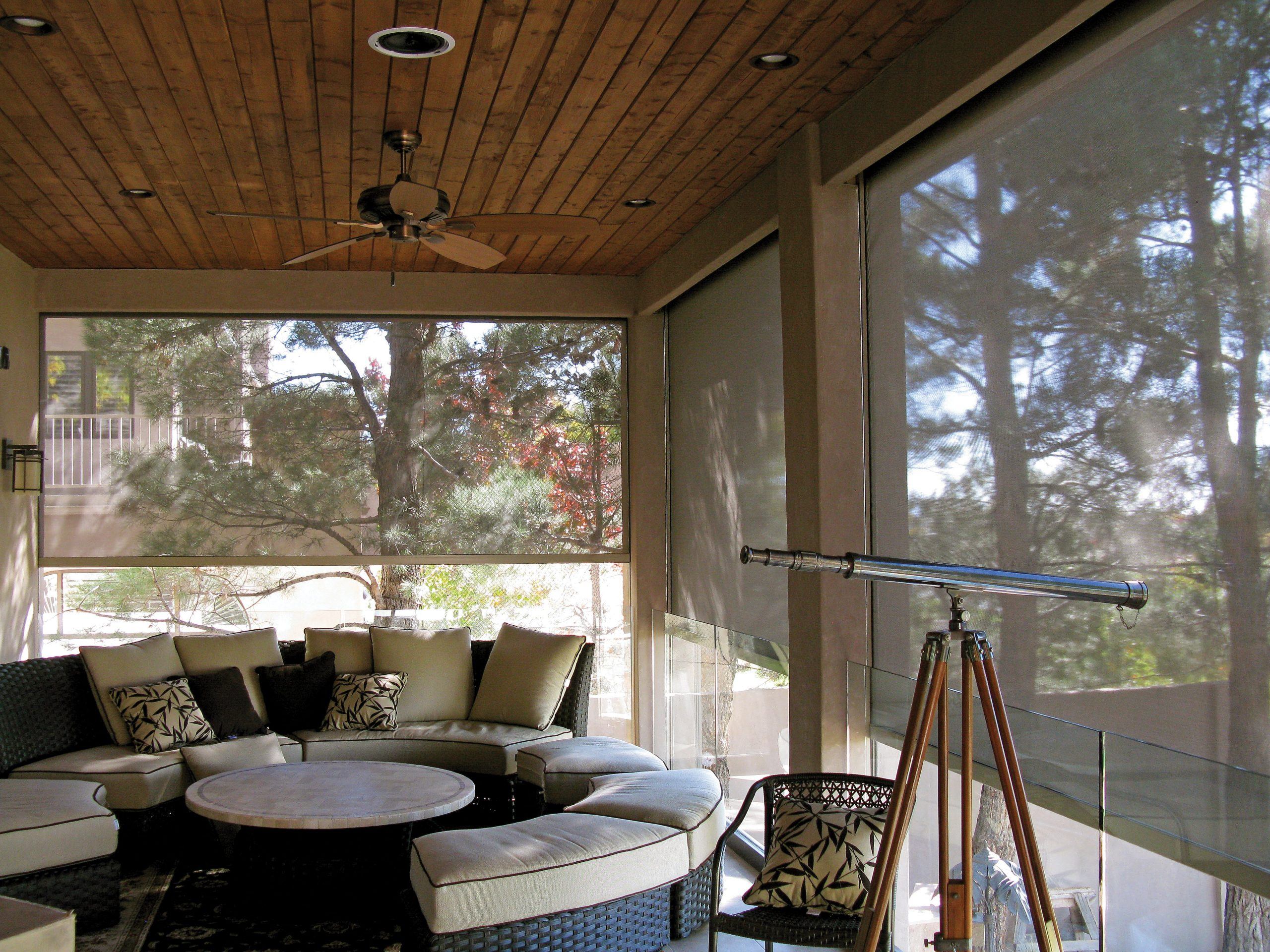 Add cover over your patio, porch or deck with the help of an awning, shade or screen. Read on to learn more about the different types of shading systems to choose from and how they will benefit you!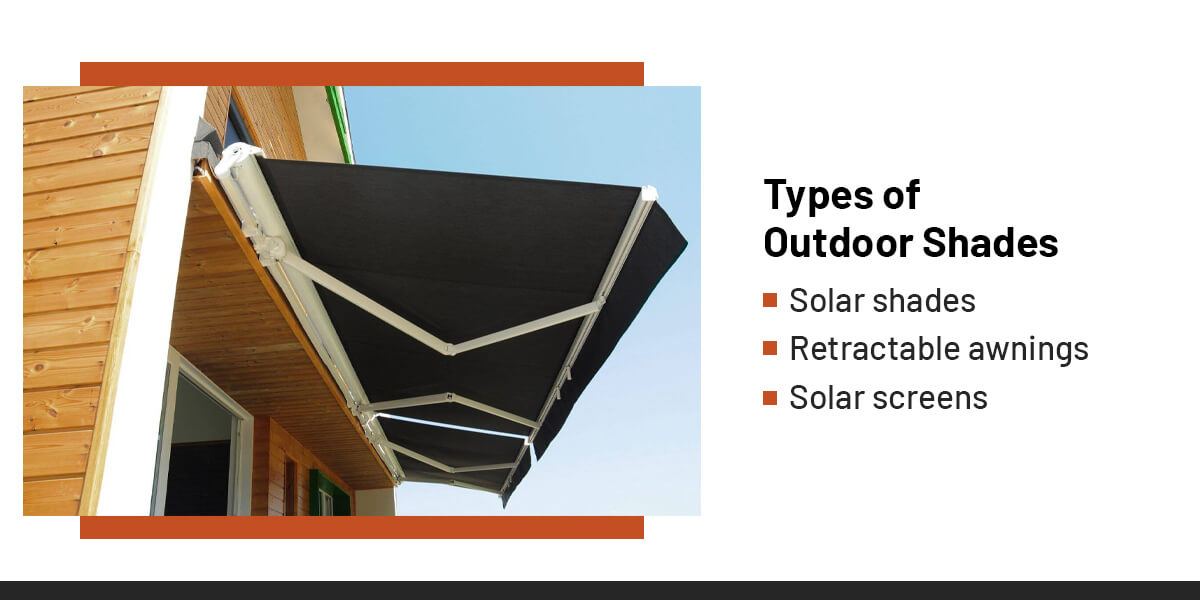 Types of Outdoor Shades
When providing shade for your patio or deck, you have several options to choose from. As far as permanent, durable choices go, you can select between:
Solar shades: A solar shade goes around your porch to limit the amount of light that reaches it. Depending on your preferences, you can decide how much or little sun you want to let through. You can also purchase a motorized roller version that makes putting your cover up or down easy.
Retractable awnings: An awning is an excellent option if you're looking for something that doesn't require an extensive remodeling process. Fabric retractable awnings come in multiple types and sizes to fit your needs, no matter what they are. Whether you want a simple covering from the sun or something that can withstand the thrash of bad weather, these can help.
Solar screens: Solar screens are another option for outdoor patio shade. Keep the sun off your skin and furniture with a screen — and also protect your porch from bad weather and unwanted critters!
Spend time on your deck or porch whenever you want with a cover, awning or screen.
Benefits of Using Exterior Shades
Having an awning or screen installed at your home provides numerous benefits, such as:
Reduced utility costs: Your cover or awning helps give your air conditioner a break during even the warmest days. You can keep your home and outdoor areas cooler without raising your energy bills.
Enhanced protection against the sun: Spend time outdoors with your family or pets while enjoying your shade. It reduces health concerns associated with direct exposure to UV rays or overheating.
Improved property safety: Using a shade can protect your outdoor furniture and patio from the elements, including sun and rain. It can even help safeguard anything inside your home near the windows.
Increased privacy: With a cover, you can enjoy spending time outdoors with additional privacy. You can see outside and enjoy the warmth while other people cannot see in.
Choose Shading Texas for the Best Awning Shades and Screens
If you're looking for a way to enjoy the beautiful Texas weather no matter the time of year, trust us for high-quality shades, screens and awnings. Whether you're looking for extra privacy, sun exposure limitation or insect screens, Shading Texas has the right option.
Browse our product inventory and request a quote to get started today!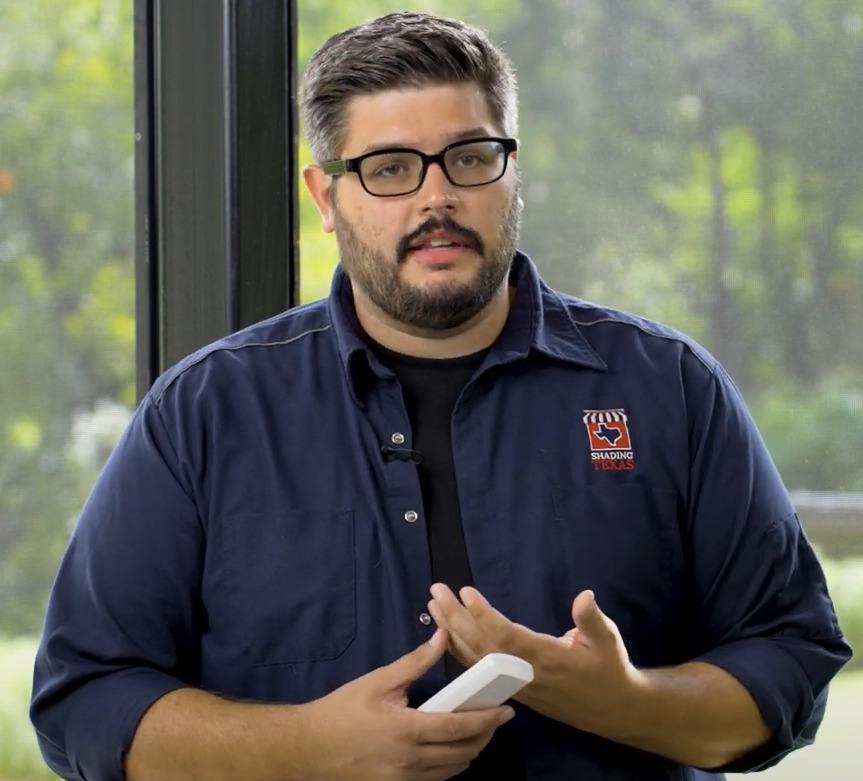 Matt Pierce has been working in the solar shade industry for over 15 years, providing sun protection in the extremes of Alaska and Texas. His dedicated team at Shading Texas will get your the sun solutions you need to enjoy your patios and homes for years to come by blocking out bugs, sun, wind, and rain!