If you have an awning, it's time to make the most of it. Start spending some time outside with real style. These pieces of furniture will have people fawning over your new awnings.
Adirondack chairs
These rustic furniture pieces can make your patio look even more cozy and welcoming. Most Adirondack chairs are built to withstand severe weather conditions, making it an all season addition to your yard.
Quality wooden Adirondack chairs are proofed to prevent fungi, insects, and more from infiltrating the structure and rendering it useless. Nevertheless, placing your brand new chair underneath the awning will help protect it and give shaded seating to your patio.
Adirondack chairs have many different finishes and can provide the perfect accent to your patio. Look at some of the best chair options at Thoroughly Reviewed.
Club chairs
If you're looking for something less rugged and more comfortable, club chair sets can do the trick. Club chairs are heavily upholstered and a common furnishing in country clubs.
Club chair furniture sets are primarily suited for the indoors, but outdoor models are specially designed to hold up against the elements. These heavy, yet comfortable chairs are perfect for sitting outside and enjoying the great outdoors.
Club chairs run a bit pricier compared to Adirondack models, but create an ultra-modern look that can set your entire outdoor area apart.
Rugs
While most rugs might be woven for indoor use, you can get sturdy, beautiful rugs designed specifically for all weather use outside. They are perfect accessories for your home or garden.
Outdoor rugs are more than just the thatch welcome mats of old. Rugs can come in a variety of shapes and materials. These accessories are designed to give you the most elegant or exciting designs.
Use interesting shapes to offset your patio structure. Instead of going for a rectangular shape, a circle can draw the eye in and create an interesting focus on the patio.
Lighting
When the sun goes down, then your patio can really be used. Make the most of your patio by choosing stylish lighting options for enjoying a cold beverage or for a night of entertaining.
---
String lighting
Hanging this type of lighting around your awning will bring non aggressive overhead light to cast a seemingly natural feel across your outside area. Instead of casting harsh lighting, many small wattage bulbs dot the landscape and create a soft hue around the space.
String lighting is also out of the way. It can be hung on your awning, leaving guests to mill about without fear of tripping on a power cord or knocking over a stake light .
---
Standing lamps
If you want to add a little bit more illumination in the area, a standing lamp can help brighten up your patio. Standing lamps can often cast more light than those on a string, giving an edge in terms of brightness.
If you really want to show off your awning, a standing lamp place just underneath can make the fabric glow. Anyone outside your patio will be able to notice your brand new awning.
Call us today at 512-264-1500 or contact us to learn more about our sun shading products and installation services.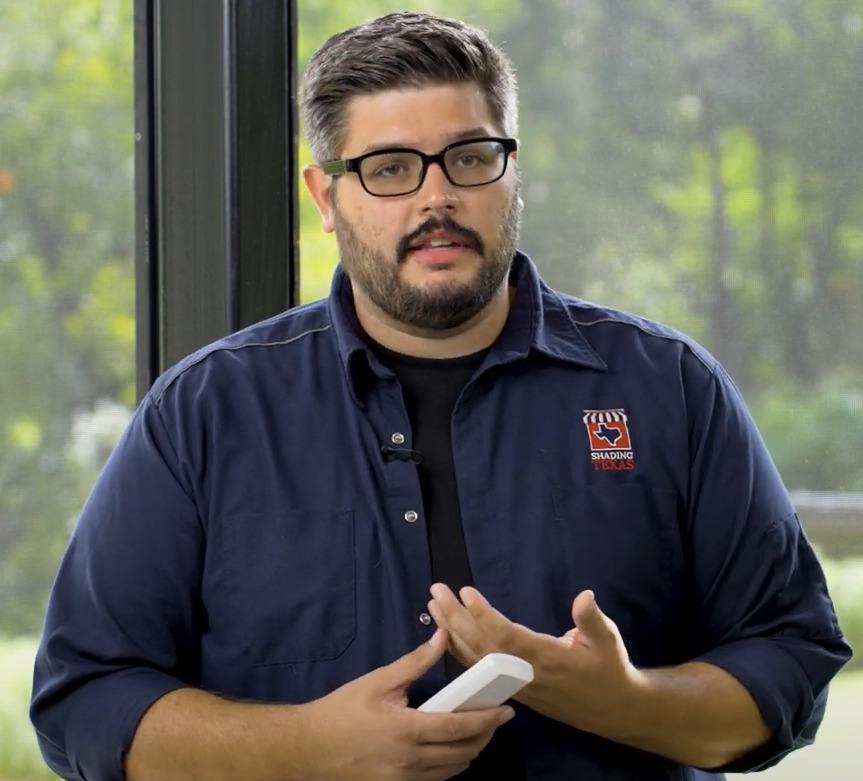 Matt Pierce has been working in the solar shade industry for over 15 years, providing sun protection in the extremes of Alaska and Texas. His dedicated team at Shading Texas will get your the sun solutions you need to enjoy your patios and homes for years to come by blocking out bugs, sun, wind, and rain!