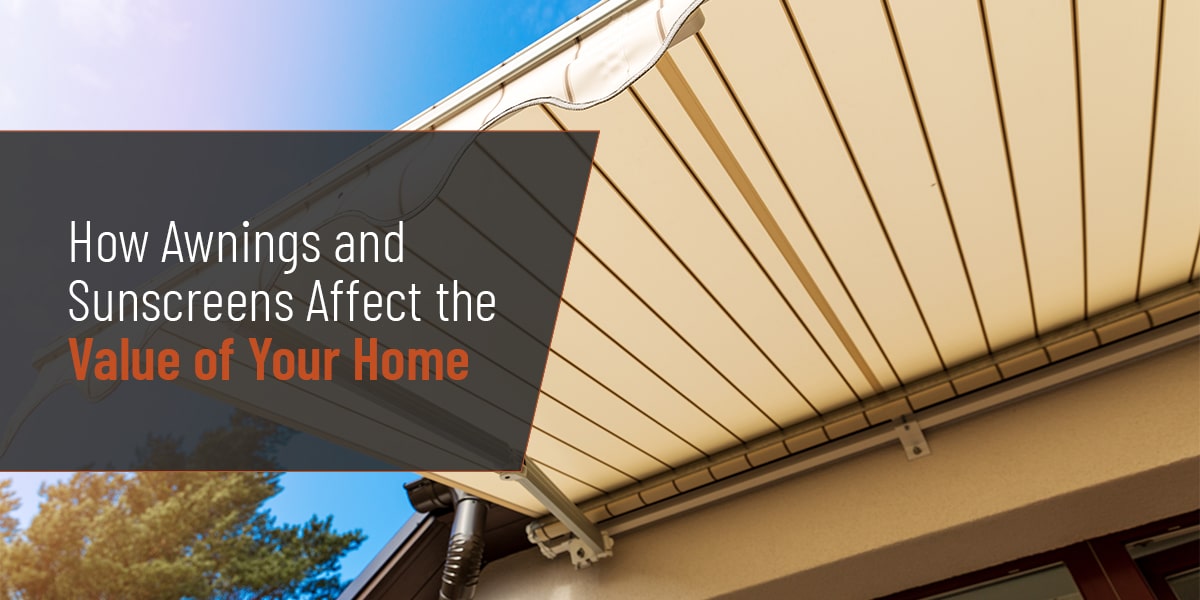 A retractable awning increases your home's living space, creating a comfortable, shaded zone where you can relax and enjoy the landscape. Similarly, sunscreens allow you to freely use the full extent of your home's interior without abandoning rooms to the overwhelming heat of midday sun through bare windows.
Sunscreens protect your privacy and keep your home cooler while allowing some natural light to enter; this is important because you don't want to spend the warmer seasons feeling like you live in a cave.
Learn More About Our Products
Increased Curb Appeal
Awnings add new depth and dimension to the appearance of your home, along with a touch of complementary color. When potential buyers see your house, they have an emotional response within the first few seconds.
Fresh awning fabric conveys the general impression of well-cared-for surfaces, and buyers carry this valuable sensation along with them as they enter your home during an open house.
Added Living Space
Forbes recommends "carving out space for front-yard living" if you're looking to sell your house. The article explains that even space for a simple bench somewhere outside adds to the appeal of a house.
Your retractable awning creates a new, room-like area that the potential buyers can picture themselves enjoying on a nice day. Furthermore, awnings over patios and porches create well-defined indoor-outdoor spaces that expand the usable footprint of your home.
Energy Savings
Awnings add to the value of your home because they contribute beauty to its exterior and lower cooling costs. You can enjoy an annual 25% reduction in energy costs just by adding awnings to your home.
The U.S. Department of Energy notes awnings stop up to 90% of solar energy that comes through windows. The U.S. Department of Energy also notes that awnings can reduce solar heat gain by up to 77%.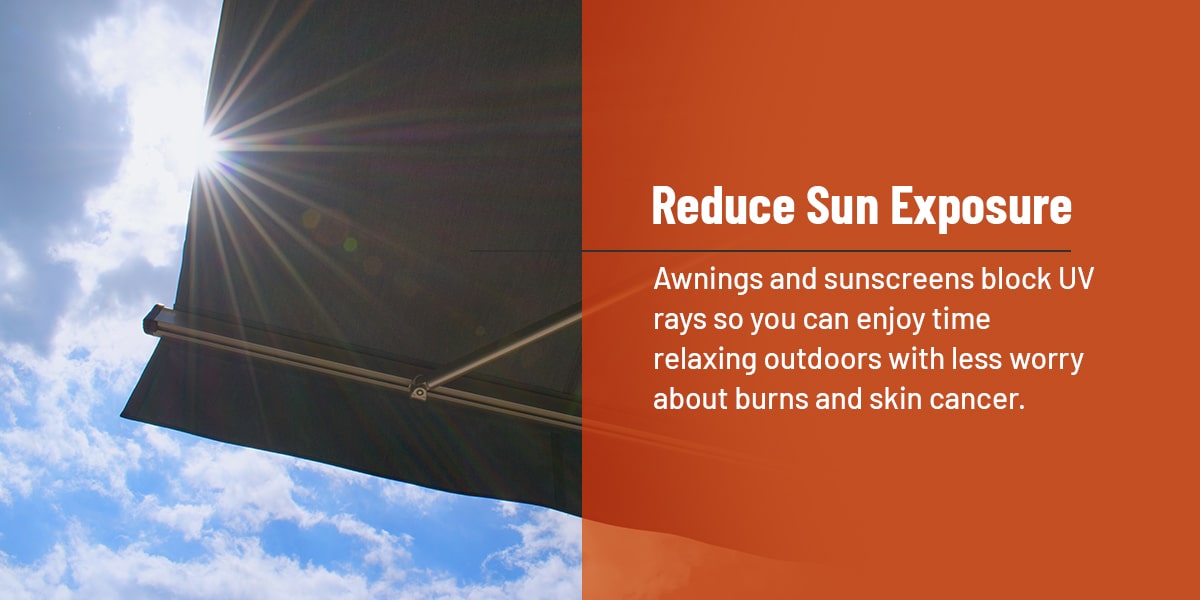 Reduce Sun Exposure
Awnings and sunscreens block UV rays so you can enjoy time relaxing outdoors with less worry about burns and skin cancer. More than 9,500 people are diagnosed with skin cancer daily in the U.S. After five sunburns, your chances of getting melanoma double, so shield yourself from the sun's harmful rays with sunscreens or retractable patio covers.
Eliminate Glare
The sun can shine in your windows, creating an unpleasant glare. For potential home buyers, this glare might cause concern as they think about setting up a TV in the space. Sun shades protect against glare and make your indoor living spaces more attractive to potential buyers.
Sun shades can also block glare from the outside of your windows. When light reflects off your windows' exterior, it can make a patio or other outdoor space hotter. The glare off windows can even cause damage, like melting nearby objects or starting fires. Protect the outdoors from the glare of your windows with sun shades.
Safe Space for Harsh Weather
A new awning can block rain showers so you can still spend time outside, even in wet weather. You don't have to cancel your backyard barbeque when you have an awning to keep your guests dry and comfortable from the rain! While you grill outside or relax on your deck, enjoy the comforting sounds of rain without getting soaked.
During the winter cold, sun shades protect you from extreme lows, and during the height of summer, sun shades can protect you from the harsh heat of the sun.
Whatever the season or weather, sun shades and retractable patio covers benefit your indoor and outdoor living spaces. This weather protection means you can spend more time relaxing outdoors and enjoy a more comfortable indoor experience with less work.
Increased Privacy
Home buyers look for spaces where they can escape the busyness of their lives and relax without distractions. Sun shades can increase the value of your home by adding privacy. Home buyers will appreciate your effort to make your home a haven for relaxation.
Add Value to Your Home With Awnings and Sunshades
If you've been wondering, "Do awnings increase your home value," the answer is a resounding "Yes." Now more than ever, energy efficiency is one of the top attributes home buyers are seeking. Motorized retractable awnings and sunshades make your home more responsive, as well as more attractive, and bring you a great return on your investment.
Get in touch online today or call 737-252-7231 to discuss our shading options and their benefits for your home!
Learn More About Our Products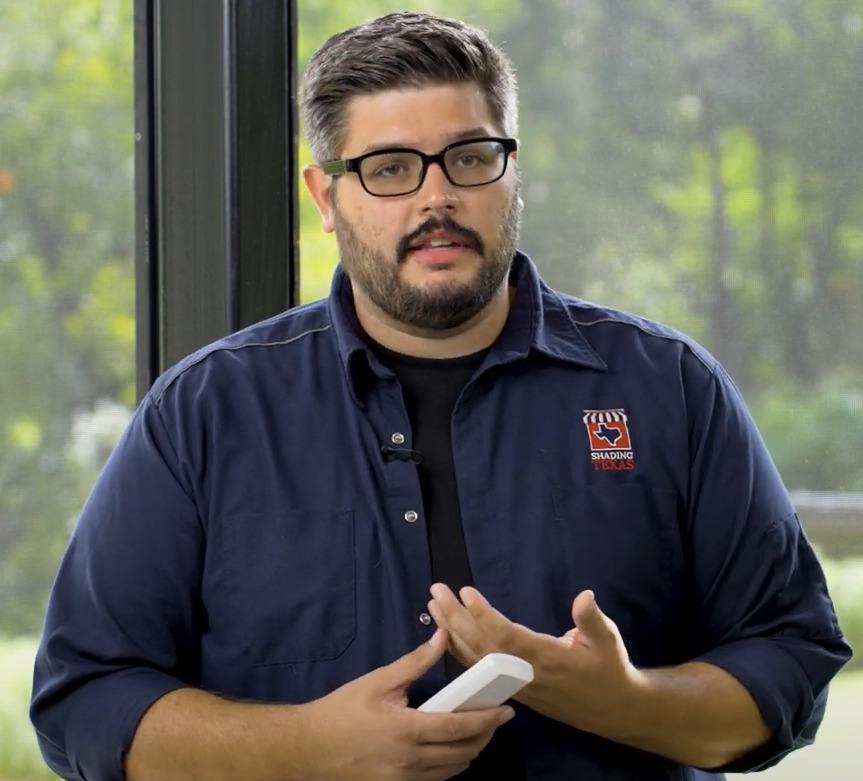 Matt Pierce has been working in the solar shade industry for over 15 years, providing sun protection in the extremes of Alaska and Texas. His dedicated team at Shading Texas will get your the sun solutions you need to enjoy your patios and homes for years to come by blocking out bugs, sun, wind, and rain!