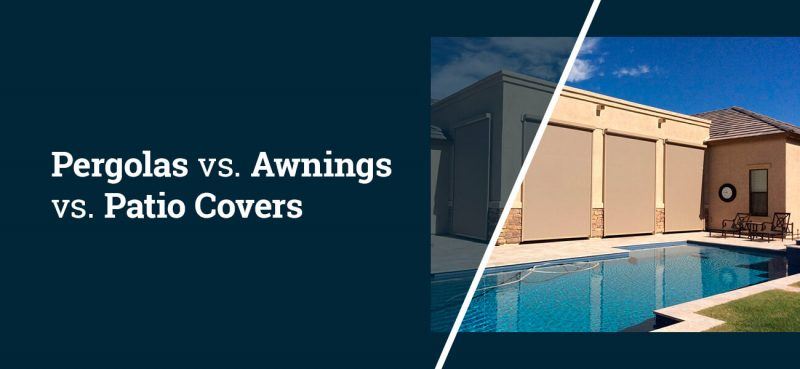 Temperatures can reach almost 100 degrees Fahrenheit on a hot summer's day in Texas. With weather that hot, you're going to want some shade to protect you from the scorching sun. For this, you have a few options — patio covers, awnings or pergolas. But how do you decide between the three? Do you want something that's easy to install, affordable, maintainable or flexible in design? Here, you'll learn more about the similarities and differences between your options to help you pick the best option for you, your home and your budget.
What Is a Pergola?
A pergola is a free-standing architectural element you can install over your patio, pool deck, in your garden and pretty much anywhere else in your yard. It works by creating a roof of horizontal open-lattice cross rafters supported by vertical beams. Although a pergola has an open-top, the cross beams provide added protection from the sun without completely blocking it. You do have the option to add covers or retractable canopies, as well, if you want more sun blockage.
Advantages of a Pergola
Pergolas come with the following advantages:
Work great with gardens: Certain flower and vegetable varieties, such as peas and ivies, work great with pergolas. They wrap themselves around the rafters and beams to create a beautiful garden addition.
Add an aesthetic value: Pergolas allow you to separate a space from your yard and transform it into something aesthetically pleasing.
Prevent you from feeling closed-in: Because they don't have any enclosed walls or ceilings, pergolas feel airy and like you're a part of nature, just with more shade.
Make it easier to use heating, like fire pits: Pergolas are open spaces, which provide plenty of ventilation for heating elements such as fire pits.
Disadvantages of a Pergola
The disadvantages of pergolas include the following:
Offer limited UV protection: You can expect added shade from pergolas, but you won't receive total blockage unless you invest in sun-resistant curtains or canopies.
Create temperature-control challenges: Other methods, like patio covers and awnings, work better at managing temperature than pergolas do. Because pergolas are so exposed to the environment, it's harder to control the temperature underneath.
What Is an Awning?
An awning is a sheet of fabric, usually acrylic or polyester canvas, supported by a frame that suspends over a door or window. It doesn't have any walls. Rather, it works by adding a protective roof that blocks the sun from hitting your windows, doors and whatever else is underneath, such as an open patio.
Advantages of an Awning
Some advantages of awnings are that they:
Have retractable designs: You can find awnings that are retractable, meaning you can put them up and take them down as you please.
Can become compact: Because of their simplistic design, awnings don't take up much space, making them easy additions to the outside of your home.
Are compatible with most spaces: Similarly, because awnings are so compact, they're compatible with many home styles and configurations.
Are waterproof and mildew-proof: The fabric used to make awnings are weather-resistant, meaning they can withstand long hours under the sun or even rainfall.
Disadvantages of an Awning
Some considerations to make before getting awnings are that they:
Require routine cleaning: Because awnings are technically fabric, they'll require routine cleanings to ensure their longevity. Cleaning is easy, however, requiring only an awning cleaner, ladder, scrub brush and hose.
Offer reduced protection from the rain: Your awning provides protection from above, creating shade and protection from the rain. But with no walls on the sides of your awning, there could be limited coverage from rain.
What Is a Patio Cover?
A patio cover is a retractable enclosure that covers the third wall of an exposed patio, blocking any sun or other elements that might seep through and interfere with your recreational activities. A professional will attach your patio cover to the top ceiling portion of your porch. And, by using your smartphone or remote control, you can lower the cover to block out UV rays, insects and pests.

Advantages of a Patio Cover
The advantages of patio covers include that they:
Provide more protection from the elements: Patio covers provide you with protection from the sun, gentle winds, insects and pests.
Lower energy costs: Patio covers provide shade around windows and doors, making it easier to keep your home cool during the summer and saving on AC costs.
Add real estate value: People will appreciate the added amenity of having a patio cover, increasing your home's value if you plan on reselling in the future.
Enhance quality of life: You won't have to worry about high energy bills or uncomfortable outdoor seating environments when you have a patio cover installed.
Disadvantages of a Patio Cover
Some possible disadvantages of patio covers include the following:
Require caution when using outdoor heating: Lighting fires in an enclosed space without ventilation can be dangerous. Luckily, you can raise the patio cover whenever you plan on lighting a fire.
Do not provide extreme wind resistance: A patio cover likely can't withstand wind speeds close to 100 mph. Although it's unlikely you'll experience many wind speeds of that magnitude, patio covers aren't fully resistant to extreme weather conditions. But many warranties will cover any damage caused by such winds.
How to Choose the Right Shade for Your Outdoor Space
Choose the right shade for your outdoor areas by evaluating your goals. Ask yourself:
What kind of space do you have? Pergolas are great for open outdoor spaces, like garden areas, where you want minimal shading. Retractable awnings are good for shaded outdoor seating spaces with an open feel. And patio covers are ideal for patios where you want a little extra protection from the elements.
How large is your budget? Retractable awnings, pergolas and patio covers have different price points. Work with a provider to learn more about what's available for each in your price range, and make your final decision from there.
Do you want more than just protection from the sun? Patio covers block out more than just the sun — you get protection from insects, pests and light winds, too.

Ask Our Shading Experts Which Shade Option Is Best for You
No matter which option you choose, you want a shade solution that is properly designed and complements your home's aesthetic. Shading Texas offers our customers high-quality motorized awnings and screens so you don't have to spend hours surrendering to the Austin sun's UV rays. Browse our products online, like our patio cover options, retractable awnings, sunshades and insect screens. Learn more about how we can help you by contacting us for a free estimate.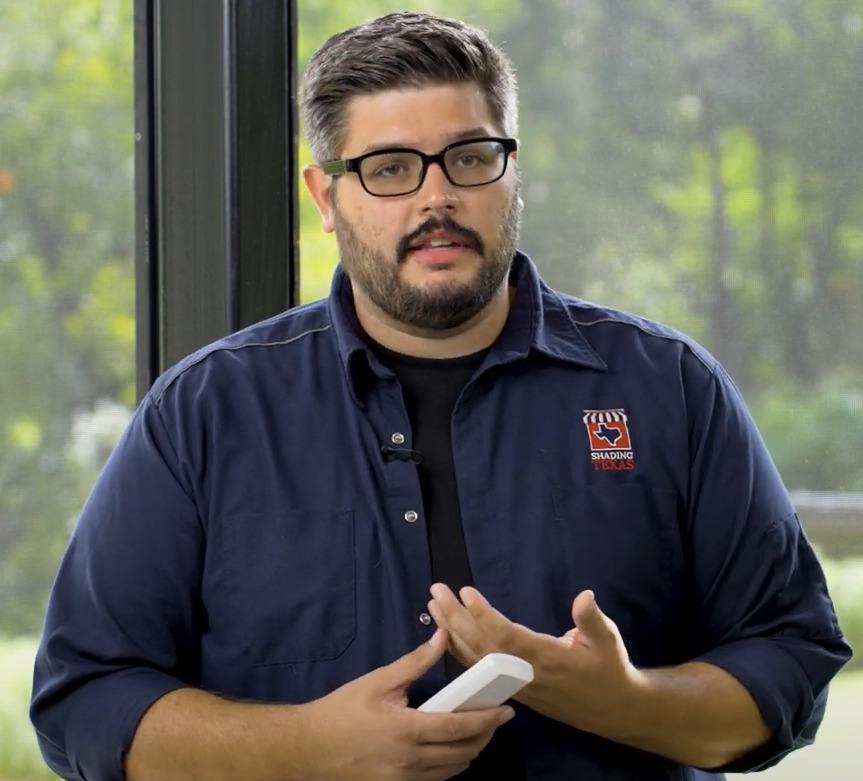 Matt Pierce has been working in the solar shade industry for over 15 years, providing sun protection in the extremes of Alaska and Texas. His dedicated team at Shading Texas will get your the sun solutions you need to enjoy your patios and homes for years to come by blocking out bugs, sun, wind, and rain!