Men have their man caves, so why shouldn't women? She sheds are an ideal place to pursue passion projects, socialize with friends or reduce stress by spending quiet time in solitude. They can be a spot for yoga, meditation, drinks, meals or anything else you love.
A she shed encourages you to focus on yourself. Think of it like a relaxing vacation, without the plane ticket and hassle of travel. Whether you design an indoor or outdoor option, a she shed can be a place for you to unwind and reconnect with yourself.
Best Indoor She Shed Ideas
Indoor she sheds let you create a space for yourself, even if you don't have a yard. Here are a few options:
Private gym: Turning a spare room into an indoor gym lets you focus on fitness. Put in a smoothie-making station and a cool-down and relaxation spot to make the room even more flexible.
Personal spa: Transform an extra bathroom into a space where you can pamper yourself and indulge in the latest beauty treatments at any time.
Creativity studio: Set up paints, pottery, books, writing utensils, cameras or other tools of your creative life to make it easy to find the time for your passion projects.
Wine cave: A wine cave fits ideally in the basement, and with a seating area and some beautiful glassware, it becomes a perfect spot for friends.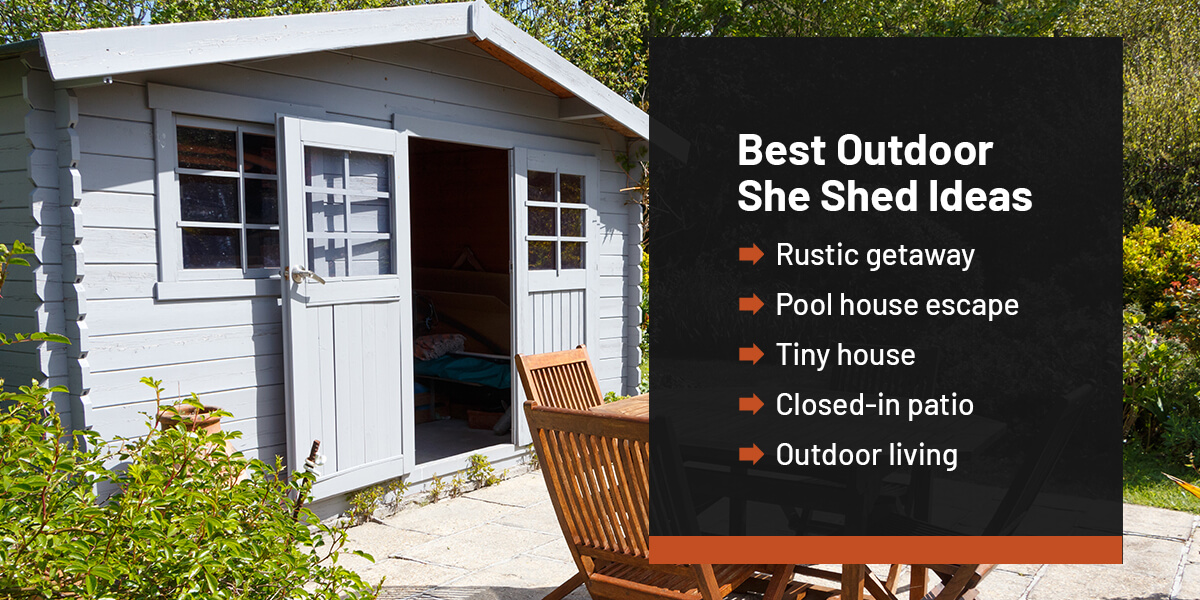 Best Outdoor She Shed Ideas
There's nothing like getting fresh air and taking advantage of natural beauty in your outdoor she shed. Here are some ideas to transform your outdoor spaces into something special:
Rustic getaway: A garden shed or greenhouse can be converted into a gardener's paradise where you can plant and prune all year.
Pool house escape: If you have a pool house, you can claim it as your own space for friends and solo relaxing. Add in a small fridge and coffee bar for entertaining.
Tiny house: Tiny homes have been growing in popularity, and they're small enough to add to most yards. They come with their own bathroom and kitchen and range from modern homes to rustic cottages.
Closed-in patio: Install patio screens or patio enclosures to turn any outdoor patio into an enclosed space. Protect yourself from the sun, weather and bugs while enjoying the luxury of an outdoor area just for you.
Outdoor living space: Retractable awnings provide shade for your outdoor area while giving you full access to pool decks, gardens or any other space.
How Shading Texas Can Help
If you want to create an outdoor she shed, reach out to us or take a look at our patio shading solutions to get inspired. Our team has over 40 years of experience, and we only focus on exterior shading applications. With our products backed by industry-leading warranties, you can make your she shed dreams come true.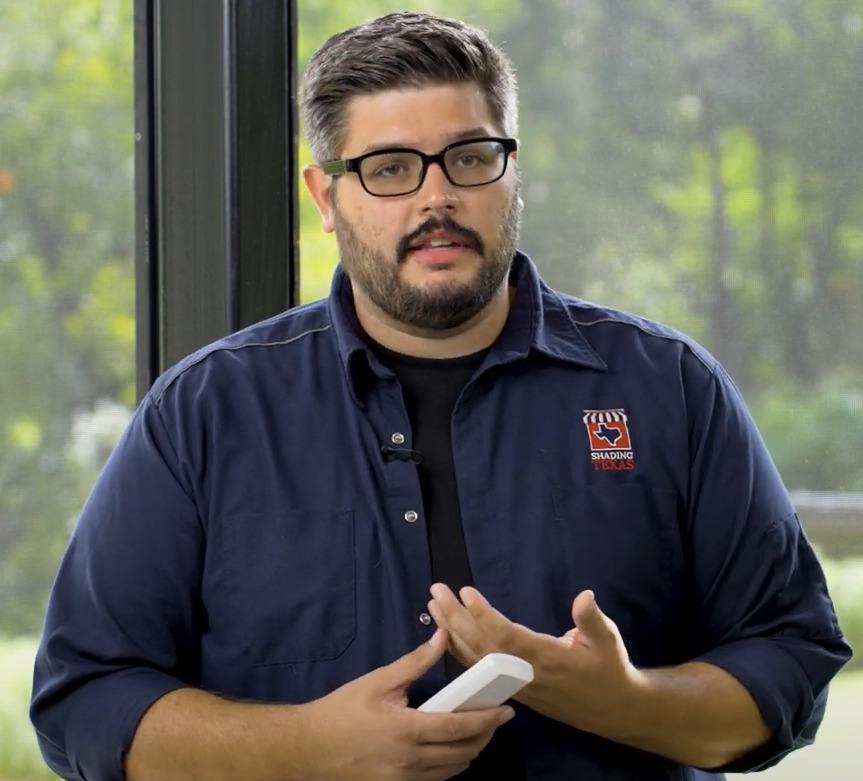 Matt Pierce has been working in the solar shade industry for over 15 years, providing sun protection in the extremes of Alaska and Texas. His dedicated team at Shading Texas will get your the sun solutions you need to enjoy your patios and homes for years to come by blocking out bugs, sun, wind, and rain!