Exterior solar screens are becoming a must-have for the modern home. They can block up to 90% of the sun rays, lowering cooling expenses. Remember, these rays can do a number on your interior design scheme including significant furniture discoloration. If you want to make the most out of your exterior solar screens, use this guide to get started.
Consider Your Sun Shading Objectives in Advance
Make a well-rounded and sensible choice that pertains to exterior solar screens based on your top priorities. Your focus could be on creating a cooler interior space, minimizing energy bills, or privacy. Look for the option that best suits your priorities.
Consider Outward Visibility.
Natural lighting is a must for every living space in a home. Look for exterior solar screens that provide great interior cooling and transparency. Here at Shading Texas, we offer exterior solar screens that provide excellent sun protection and superior weather-resistant fabrics. Weigh the pros and cons of all of the exterior solar screens you find.
Solar Screen Fabrics
Homeowners often forget to inspect the key element of solar screens. The fabric that makes solar screens work. Choosing the wrong solar screen can cause you unnecessary replacement expenses.
This is because solar screens are often sold with cheap, easily damageable fabrics that will become useless in no time. You want your solar screens to last throughout every season of a year to avoid any issues.
Look for the Highest Quality Screens for Great Benefits
Make a point to find exterior solar screens that mention specific highlights that pique your interest. Consider screens that primarily offer optimal UV defense. These kinds of screens are optimal for people who have concerns about furniture fading and beyond.
Contact us at Shading Texas
For everything shading, the staff of Shading Texas are happy to answer any questions or concerns you may. Contact us to get started with a detailed, free estimate, no strings attached!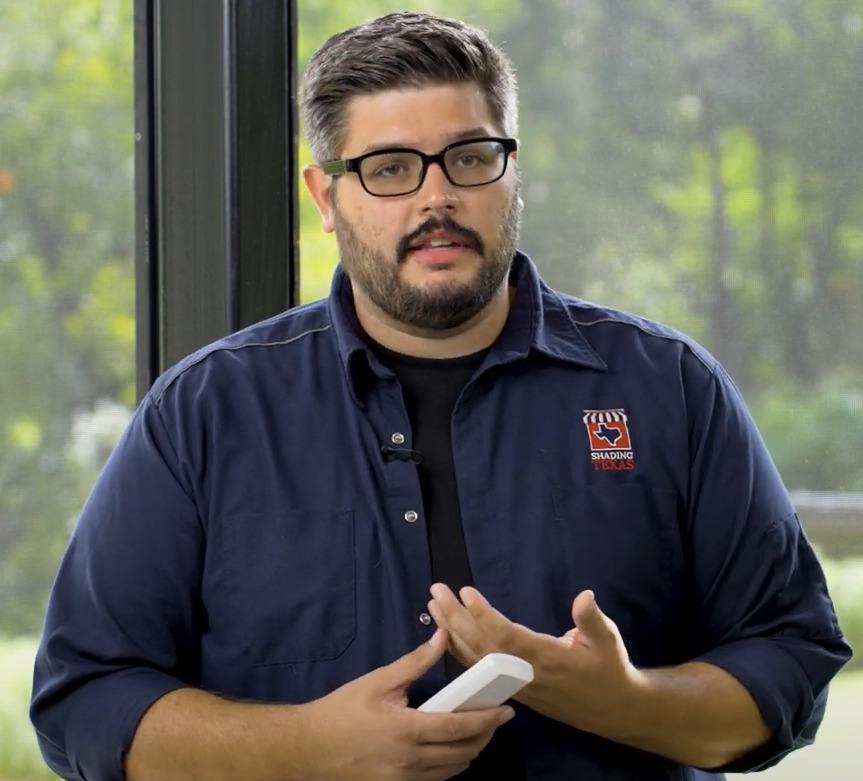 Matt Pierce has been working in the solar shade industry for over 15 years, providing sun protection in the extremes of Alaska and Texas. His dedicated team at Shading Texas will get your the sun solutions you need to enjoy your patios and homes for years to come by blocking out bugs, sun, wind, and rain!