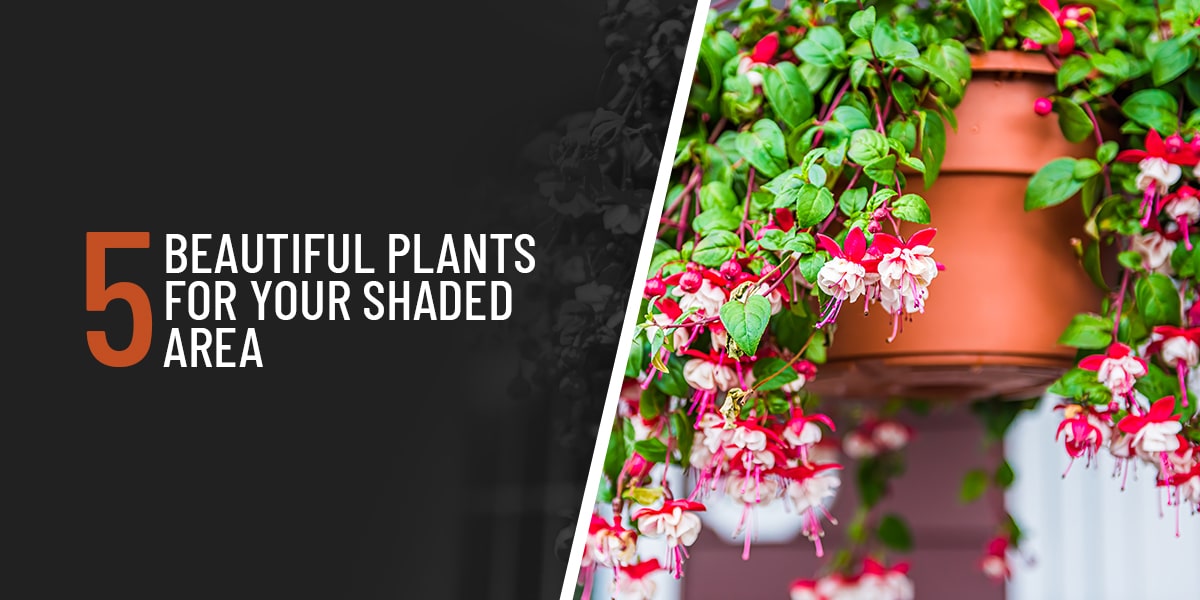 Once you've created an outdoor oasis that protects you from the heat of the Texas sun, you have a new challenge on your hands: landscaping. Whether you plan to maintain a shade garden in a bed bordering your patio or just want a few hanging baskets to brighten up your outdoor room, choosing plants that are built for shade is crucial. These are our top plants for the shade in Texas.
Try these hardy, attractive shade plants for your shaded area:
1. Hosta
Also known as plantain lily, hosta is America's favorite shade plant for a reason. It's heat tolerant, drought resistant and can stand up to full shade, all while coming in a remarkable rainbow of variegated leaf patterns. Fragrant sprays of pale purple flowers appear in summer, but the leaves look great throughout the growing season.
2. English Ivy
Another carefree plant for deep shade, English ivy makes a great ground cover, but it also works well when allowed to cascade over the sides of containers. It can be invasive, though, so don't try to pair it with another plant in your garden bed, and be sure to trim it back if it starts to spread beyond its borders.
3. Ferns
Ferns naturally grow in the woods beneath tall trees. They enjoy cooler temperatures and require a fair amount of moisture, so they are a more challenging landscape plant. Ferns are great for areas with intermittent sunlight or dappled shade.
4. Fuchsias
To add a bright burst of color from a hanging basket, nothing beats fuchsias for warm, shady conditions. These plants will appreciate daily watering in hot weather, but will reward patient gardeners with a curtain of colorful blooms over a long growing season. Fuchsias are the perfect flowers for shade.
5. Impatiens
If you prefer bedding plants to hanging baskets, try impatiens for color instead. These bright, flat blooms glow against a backdrop of glossy leaves and come in shades of pink, orange and white. They thrive in deep to partial shade.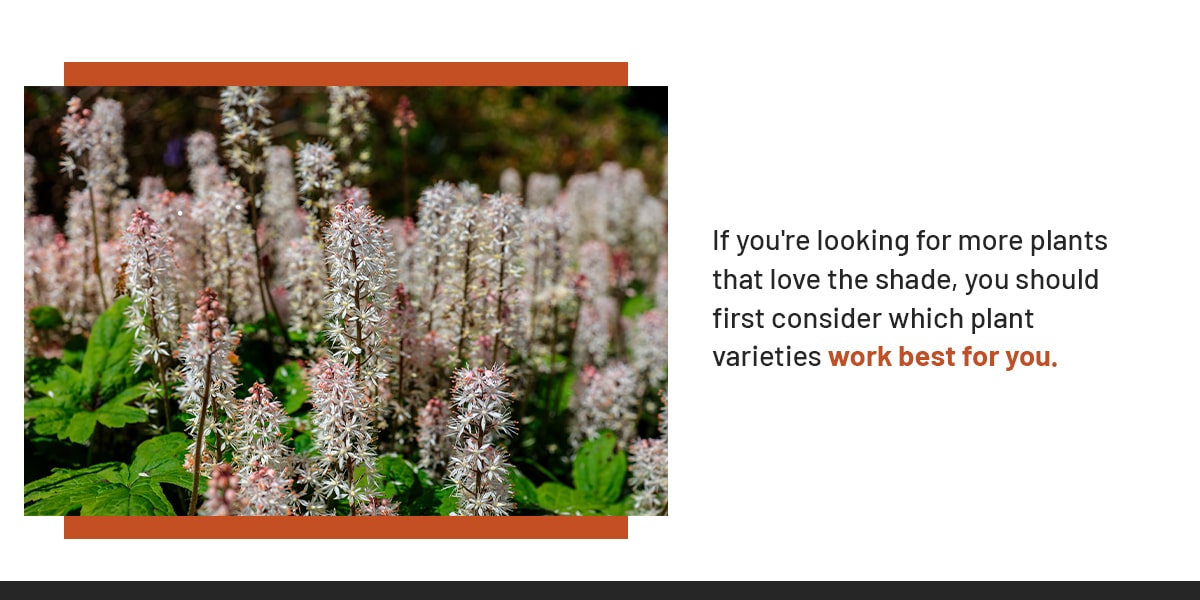 Types of Shade-Loving Plants
If you're looking for more plants that love the shade, you should first consider which plant varieties work best for you. Perennials are hardy plants that can survive colder temperatures, while annuals typically only last a season. Here are some shade-loving perennials and annuals you can consider for your garden or patio.
Shade-Loving Perennials
Since perennials usually only bloom for a short period, they work best when combined with annuals or other perennials that have a different growing schedule. Here are a few shade-loving perennials you can add to your patio space:
Alumroot (coral bells): This plant has small green leaves and drooping flowers.
Lungwort: Plants with speckled leaves and small flowers.
Hellebore: Enjoy unusual multicolored flowers.
Astilbe (goat's beard): Contains plumes of bright flowers.
Heartleaf foamflower: Plants have large leaves and tiny blooms.
Shade-Loving Annuals
Annuals can fill your patio space or garden with color for an entire season. Their longevity makes them a great staple piece among your perennials. You might consider the colors of the perennials you have already planted so that when your perennials come up, they complement your existing annuals.
Here are a few shade-loving annuals to try:
Coleus: A leafy plant with brilliant red and green centers.
Pansies: Flowers with heart-shaped petals in a variety of bright colors.
Lobelias: These plants contain tiny flowers in a variety of colors.
Jasmine nightshade (potato vine): A vine plant with deep green leaves and star-shaped white blossoms.
Browallia americana (bush violet): A large bushy plant with small purple or blue flowers.
Learn More About Our Shading Options to Keep Your Plants Cool
If you keep plants out on your patio or deck, they often endure direct sunlight. While they need sunshine to grow, direct sunlight also brings heat and takes moisture from your plants. If you want to grow plants in the Texas heat, your best option is to choose shade-loving plants that you can keep under an extendable awning or inside a shady patio.
Call us today at 737-252-7231 or contact us to learn more about our sun shading or insect repellent products and installation services.
Learn More About Our Products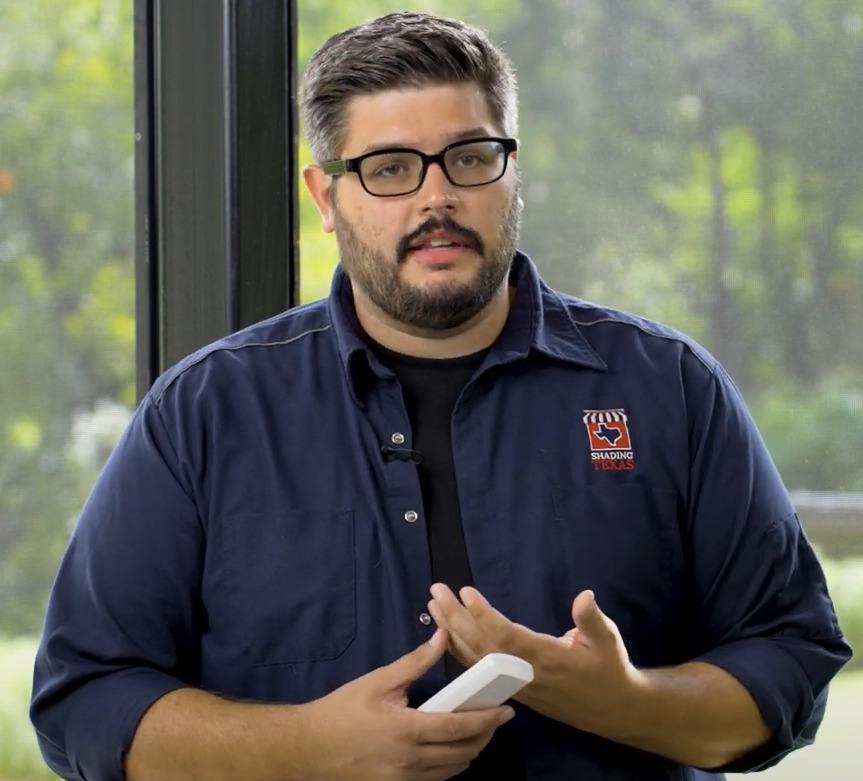 Matt Pierce has been working in the solar shade industry for over 15 years, providing sun protection in the extremes of Alaska and Texas. His dedicated team at Shading Texas will get your the sun solutions you need to enjoy your patios and homes for years to come by blocking out bugs, sun, wind, and rain!