The Best Awnings For Decks
Umbrellas, trees and other objects are strategically used around the household in order to shade a deck or patio. Although these strategies are certainly viable, they may not be as effective as you first thought. It's time to think out of the box with an installation of retractable awnings. These investments make the property more comfortable and add value at the same time.
What Makes Retractable Awnings Ideal for Deck-Cover Purposes?
Your outdoor deck is an extension of the interior space. Its installation may have been one of your previous projects. The glaring sun, however, is making the deck too hot to be functional each day. Covering your deck with a retractable awning makes sense for these following reasons.
Year-Round Deck Use
Awnings for decks make them comfortable to use as a reprieve from the indoors. Shade can drop temperatures by 10 or 20 degrees in some cases. Roll the awning out when the sun is particularly hot. In contrast, retract the awning when loved ones want to sunbathe or warm the home during the winter. The deck will get more use as a result.
Versatility With Grilling
If you've installed a grill on your deck, clearance above it is paramount to cooking success and safety. Add a deck cover that can be retracted whenever you want to cook. The smoke and heat can escape without hindering the shade that can cover the rest of the deck.
Protecting the Outdoor Furniture
Some decks are incredibly large, so you want comfortable furniture for lounging purposes. These items will quickly fade, become hot and dry out without the shade protecting them. Try an awning that shields the fabrics from the sun. The furniture will look fresh season after season.
Patio Cover Ideas for Your Decks and Patios
The awning industry is anything but boring. There are numerous styles of awnings that will thrill homeowners today. Explore these patio cover ideas that might work for your outdoor aesthetic.
Cover it All
Try porch awnings that effectively cover an entire patio or deck. They're installed in either a flat or angled position. Extend the awning between two buildings, such as your main home and the garage. The shaded space cools the patio while helping the buildings with their interior temperatures.
Tight Spaces
If you have a narrow or tight space above your patio, this factor isn't a limitation. Most retractable awnings can be configured for nearly any space. The installer merely measures the area, and suggests an awning style. Installers use the retracting mechanism to control the fabric covering the space. Shade is possible in the tightest areas around the home.
Front and Back
Don't limit yourself to just a backyard awning. Think about retractable awnings in the front yard too. They can hang above your front porch, which might receive a lot of sun in the summer.
Conclusion
Retractable awnings allow you to use your deck no matter the weather. They'll keep you and your outdoor furniture protected from sun and rain damage, covering your entire deck or patio. When you don't need the shade, closing them is as simple as a push of a button. Contact Shading Texas today for a look at the latest models and styles. Our team is happy to quote an awning system that's right for you. At Shading Texas, we'll keep your outdoor spaces cool year-round.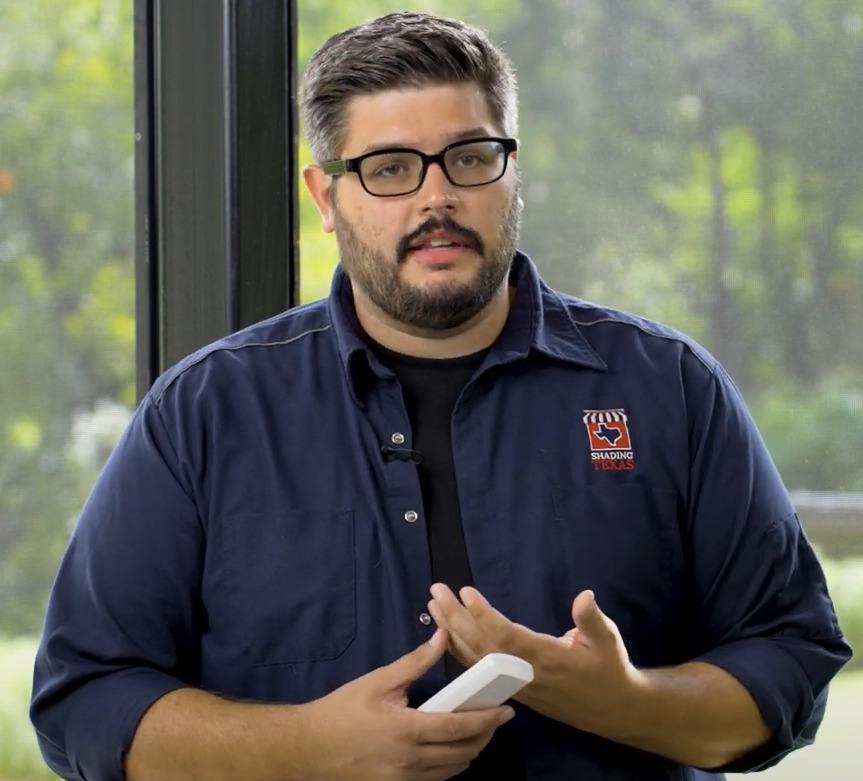 Matt Pierce has been working in the solar shade industry for over 15 years, providing sun protection in the extremes of Alaska and Texas. His dedicated team at Shading Texas will get your the sun solutions you need to enjoy your patios and homes for years to come by blocking out bugs, sun, wind, and rain!