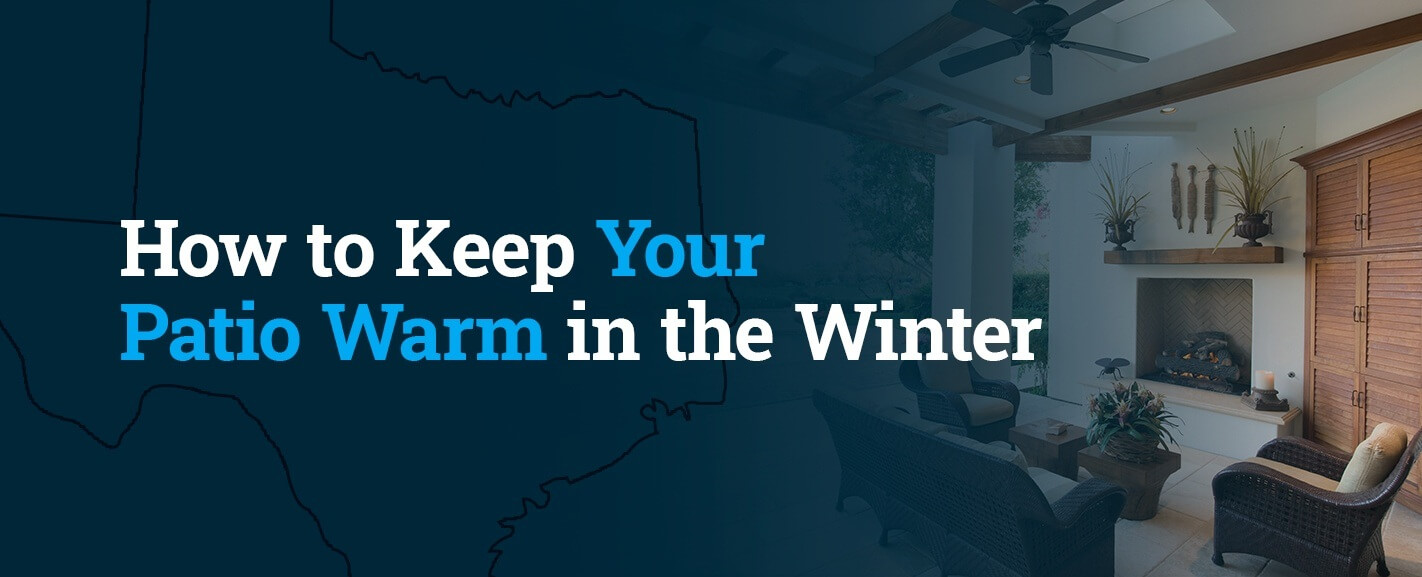 A patio is a safe, inviting place to spend time with your family and enjoy the outdoors together. You may want to use your outdoor living space all year long, but winter wind and snow can make hosting the holidays outside a challenge. If you'd like to use your property even when it's cold outside, you need some good outdoor solutions to stay warm.
Tips for Keeping Warm on a Patio
Even though the winter can be chilly in Texas, here are some ways to keep your outdoor patio warm.
1. Use an Outdoor Heater
A patio heater brings hot air into your outdoor living space. It can be portable or mounted, and it uses either electricity or propane as a power supply. Electric patio heaters tend to be more expensive, but propane is more popular. If you decide to use electric heaters, make sure you have a power connection outside. You can get hanging, free-standing or tabletop options to go with your design and budget preferences. Consult the manufacturer about how to secure a mounted heater to your property to prevent damage. If you need a cheap, short-term solution for an upcoming gathering, you can even use indoor portable space heaters. Just make sure you keep them in an enclosed area to prevent damage from precipitation.
2. Put up Windscreens
If you have an outdoor sun porch or gazebo around your patio, you can set up windscreens that protect your space from snow, rain, and wind. These protective additions come in various colors and materials to complement your outdoor living space style. Since they don't block your view from the outside, you can enjoy the snow or natural beauty around you while staying warm. Besides keeping your property safe from harsh winter weather, windscreens also help keep your space private. If you're near your neighbors, windscreens can help you enjoy your gatherings, giving you peace of mind that no one is watching you. Windscreens can roll up or down, so when the weather is pleasant again, you can leave your patio open.
3. Install a Fire Pit
A fire pit is a practical option for enhancing patio warmth and creating an inviting atmosphere in your backyard. You can find them in different colors, designs and heat sources. Some fire pits even use warm rocks and propane instead of fire and sticks. You might want to purchase a portable or free-standing fire pit to accommodate your budget or style preference. Portable fire pits are easy to buy and are ideal if you need a last-minute solution for a party that's coming up soon. If you'd like a more permanent fire pit, you can have one installed in the ground. It will need professional installation, but it can enhance your property's aesthetic and can increase its resale value.
4. Install a Fireplace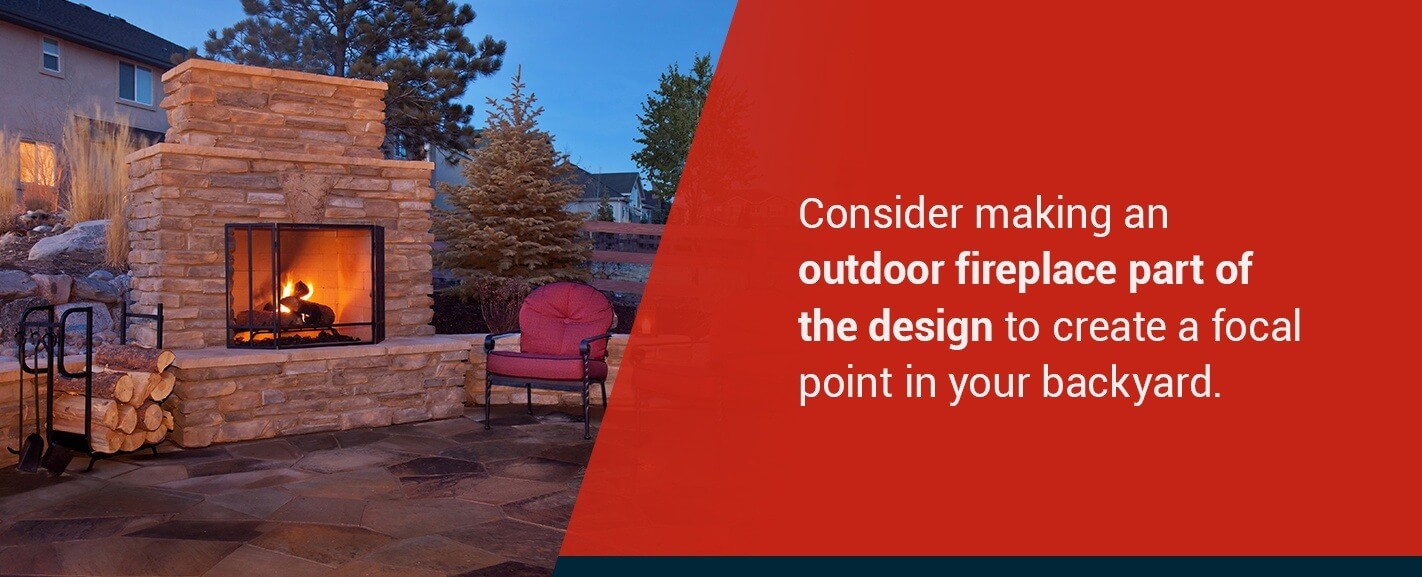 One step above a fire pit is an outdoor fireplace. Even though fireplaces can be expensive, they're attractive and can add value to your house. If you plan on renovating your patio soon, consider making an outdoor fireplace part of the design to create a focal point in your backyard. An outside one is an excellent heat source for enjoying your patio in the winter. You can find several fireplace designs to complement your property's aesthetic and stay within your budget.
5. Soak in a Hot Tub
If you want to create a spa-like retreat in your backyard, consider setting up a hot tub on your patio. The hot water can relieve your cold body after walking around in the winter snow and wind. You can wear a swimsuit in the middle of winter and stay warm in a soothing hot tub. Even when you're inside your warm, cozy house, you may want to go outside and relax in the hot tub on your patio. The water will stay warm, even in the snow. Its warmth can help soothe your muscles after you've shoveled snow or hung up holiday decorations.
6. Set up Heated Flooring
You can use your patio all year long when you install radiant heating underneath it. Heated floors are more common inside the home, but they can also make your outdoor living space more enjoyable. They can warm up your patio and even melt snow, so you don't have to shovel. If you decide to go with this option, you might consider putting radiant heating under porcelain tiles because tiles are excellent heat conductors. Also, keep in mind that you'd need to have your floors installed by a professional.
7. Cover Yourself in Blankets
If you'd like to use your summer patio furniture in the cold winter, you can dress it up with blankets. These cozy coverings are a simple yet effective solution for staying warm when it's windy and snowy in your backyard. You can get a set of outdoor blankets that are less likely to get dirty or wet. Blankets come in various colors and materials to add a touch of warmth to your outside living space. Have plenty of blankets on hand for you and your loved ones to cuddle up in. Store them on top of your furniture or put them in an outdoor ottoman for additional weather protection. Before using your blankets, you can place them in the dryer for a few minutes to warm them up before bringing them outside.
8. Enclose Your Patio
The best way to heat your outdoor patio and protect it from winter is to put permanent walls or screens around it. A patio enclosure, picnic shelter, or sunroom can protect your property from wind, rain, and snow. You can also install screens or permanent walls to turn your patio into a sunroom. Screens can help guard against extreme precipitation and winter wind on your patio. Depending on your style and budget preferences, you can also get glass walls to give you a clear view of your backyard while staying warm indoors. Another option is motorized patio screens, which allow you to open and close them with your mobile device or remote control. A patio enclosure gives you the protection you need to enjoy your outdoor living space all year long.
Contact Shading Texas for Your Winter Patio Needs
If you'd like to enjoy your patio in Austin or San Antonio in the winter, our team at Shading Texas can help meet your needs. Our mission is to provide shading products and accessories to make your outdoor living space more comfortable in unpleasant weather conditions. For more information about what we offer for patio protection, you can get in touch with us online or call us at 512-264-1500.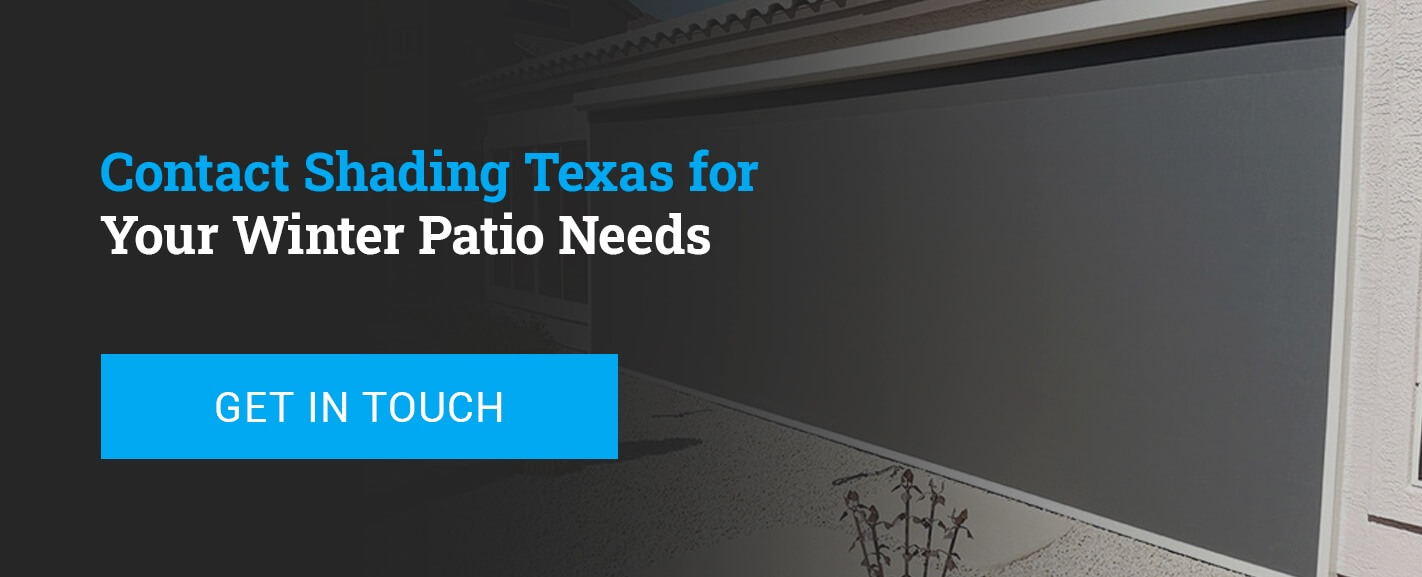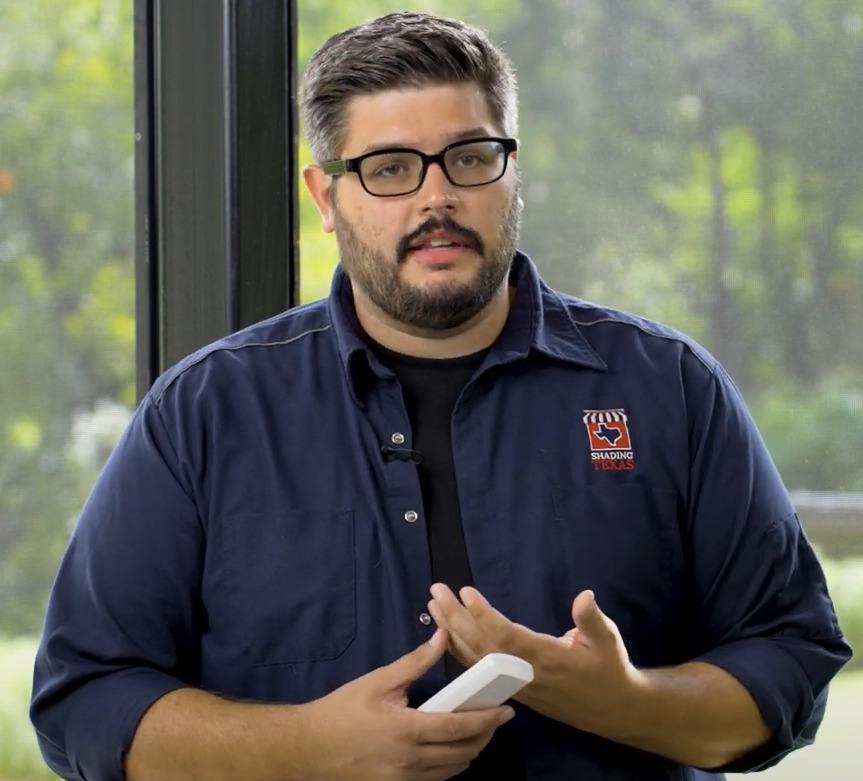 Matt Pierce has been working in the solar shade industry for over 15 years, providing sun protection in the extremes of Alaska and Texas. His dedicated team at Shading Texas will get your the sun solutions you need to enjoy your patios and homes for years to come by blocking out bugs, sun, wind, and rain!