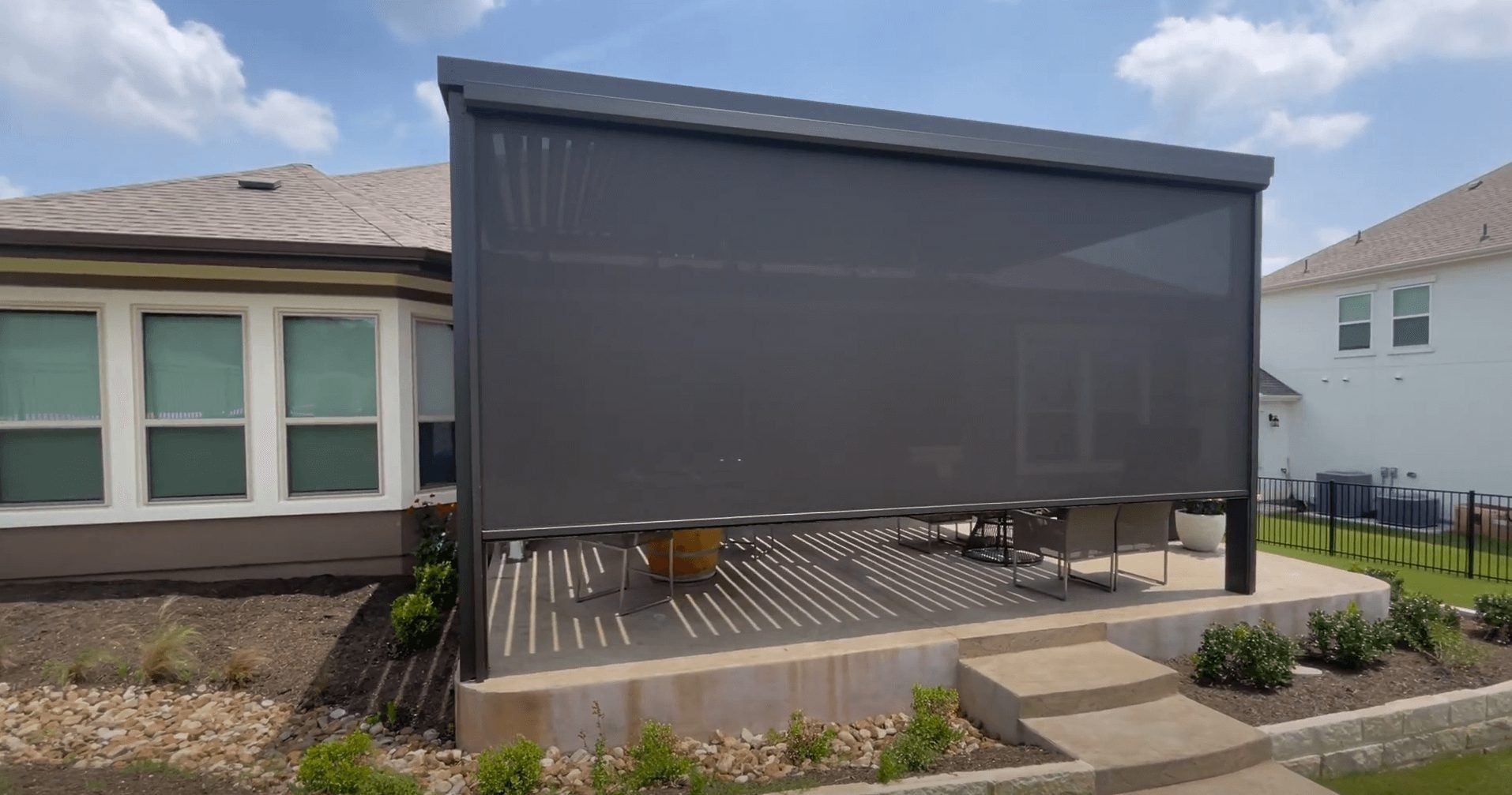 If you have patio or porch screens, cleaning and maintaining them will help ensure you can use them longer. Dirt, debris, pollen and dust accumulate on your screens, which can be unsightly and bothersome. Read our guide to learn the best way to clean yours today!
Learn More About Our Products
Cleaning Process
Washing your porch screens is a simple process that requires equipment you likely have at home. Start by following these tips:
Remove everything from the patio, keeping about 6 feet or more between your items and screens.
Use a duster on your screens and porch fans, if applicable.
Vacuum the screens starting with the sides facing the outside, working from top to bottom. You can use an upholstery or other soft-bristled attachment. A crevice tool works well for the edges and corners.
Spray down the screens from the inside, going from top to bottom. Use a light setting to ensure no damage.
Fill a bucket with warm water and some dish soap. Wash the inside of the patio screens with the solution and a soft-bristled brush.
Rinse the screens with the hose from the inside, top to bottom, and let them dry.
Wash or wipe down any furniture to clean it of dust and dander. Put cushions in the washer if possible, and wipe down any hard surfaces.
Remember not to use a pressure washer on your screens because they may become permanently damaged.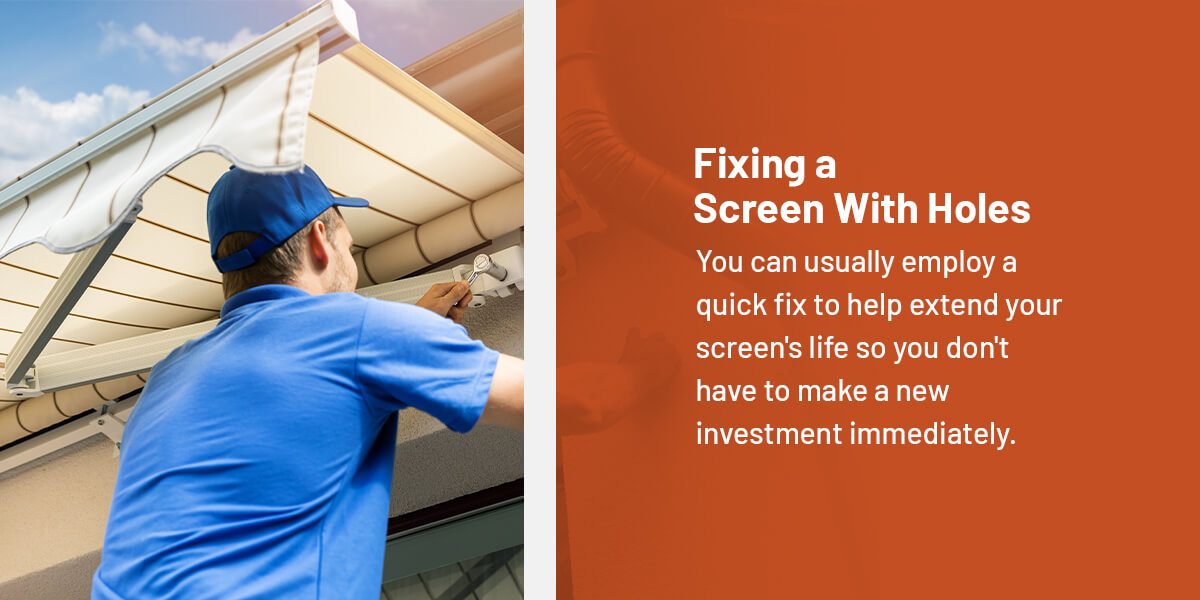 Fixing a Screen With Holes
When a hole appears in your patio screen, you might think it's time to replace the whole screen — and in some scenarios, it might be! However, you can usually employ a quick fix to help extend your screen's life so you don't have to make a new investment immediately. If you're good with handiwork, you can fix it by:
Trimming the damaged area to create a square with clean edges.
Measuring the hole.
Cutting a new piece of screen, which you can purchase in a repair patch kit. Add a 1-inch margin around all sides when measuring and cutting.
Using an upholstery needle and heavy-duty thread to sew the new patch on, leaving the 1-inch margin evenly around each side of the hole.
Stitching the new patch onto the screen tightly and double-knotting the last stitch.
You can try an adhesive patch if you don't know how to stitch or don't have time. These bond to your existing screen through heat, like the air from a blow-dryer.
Update Your Porch Screens With Shading Texas
If replacement is a better option in your situation, upgrade your screens with high-quality replacements from Shading Texas. Browse our selection and get a quote from our team today!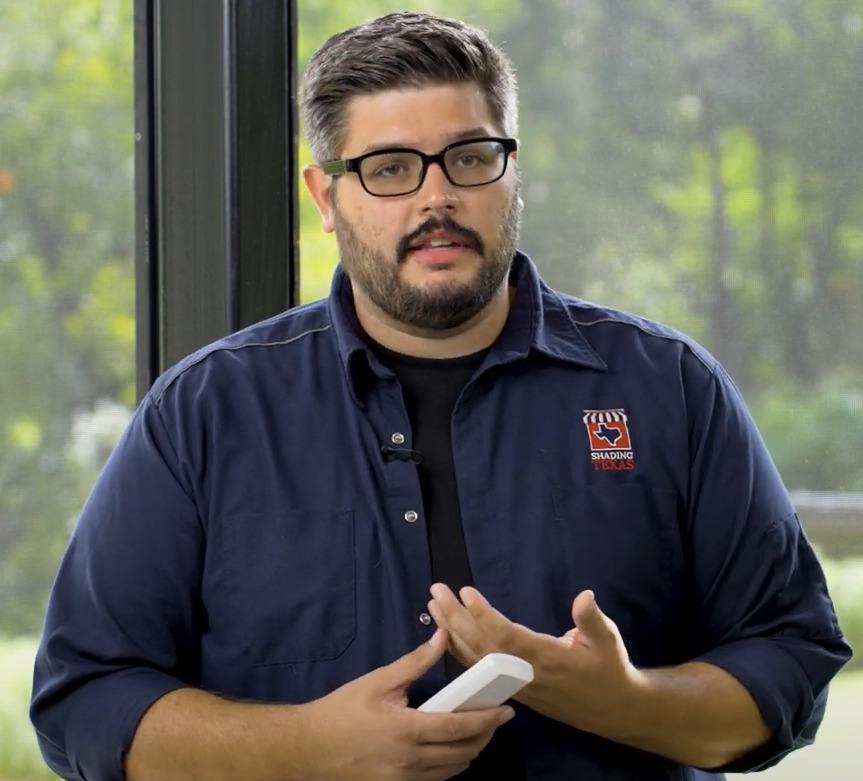 Matt Pierce has been working in the solar shade industry for over 15 years, providing sun protection in the extremes of Alaska and Texas. His dedicated team at Shading Texas will get your the sun solutions you need to enjoy your patios and homes for years to come by blocking out bugs, sun, wind, and rain!