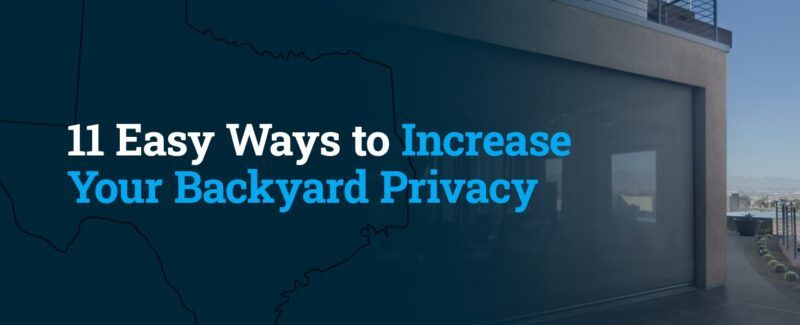 Do you spend a lot of time in your backyard or on your patio? Whether you enjoy playing with your kids or lounging with a good book outside, backyard privacy is important to you. As much as you love your neighbors, your backyard or patio is an extension of your home, and you don't want watchful eyes invading your space.
In this post, we'll talk about how to add backyard privacy to your enclosed patio or open backyard.
Why Is Backyard Privacy Important?
Backyard privacy is more than obstructing your neighbor's view of your property. The tools we'll mention help carve out areas in your backyard, protect you and your belongings from the elements and add to your property value.
More specifically, backyard privacy is important because:
1. Property Value
Having a private backyard can increase your property value. When selling your home, prospective buyers will appreciate your investment in privacy. Plus, many of the privacy methods outlined later in this post add aesthetic value to your home, earning attention from prospective buyers.
Some methods, like a privacy fence, may also lower your home insurance rates. That means you pay less monthly, and your investment will pay for itself over time.
How Much Value Does a Nice Backyard Add?
According to a Coldwell Banker study, over half of participants said they were more likely to purchase a home if it had a fenced-in backyard. Some professionals estimate that a nice backyard can add 5.5% to 12.7% to your home's existing value. So, if you have a $350,000 home, you could be adding anywhere from $19,250 to $44,450 to your property value.
2. Seclusion
One of the most notable benefits of increasing your backyard privacy is seclusion from unwanted viewers. Your backyard festivities won't disturb your neighbors, and your neighbors won't disturb you.
Some privacy methods also allow you to separate different areas of your backyard. As an example, if you have a vast backyard and a small, relaxing patio, you can separate the two areas using retractable awnings when used separately.
3. Boundary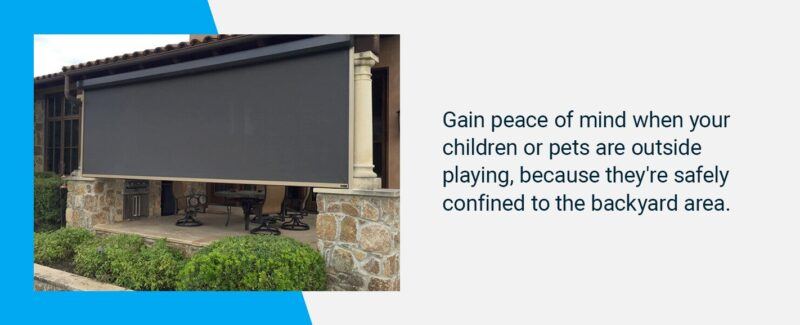 Many backyard privacy methods set up a boundary along your property line. Gain peace of mind when your children or pets are outside playing, because they're safely confined to the backyard area. They can't roam around into outside territory, and outside threats can't wander in to disrupt your child's or pet's safety.
Plus, a boundary sets a clear distinction between your property and neighboring properties. This can help when making insurance claims or in other instances when the distinction is necessary.
4. Protection
Some of the privacy methods we'll mention offer protection from the elements and safety threats. Methods like installing privacy fences and metal walls make it difficult for intruders to enter your property. And, things like patio enclosures or sun shades protect you from the elements like sunshine or rain.
5. Decoration
There's no shortage of backyard privacy options. Each will add monetary value to your property and pleasing visual elements to elevate your backyard. If you enjoy a modern appearance, then you may enjoy metal walls or elaborate fountains. Or, if you enjoy a natural look, then trees, shrubs and hedges are good options. Whatever your style is, there is a backyard privacy method for you.
How to Create a Private Backyard
Some ideas on ways to create backyard and outdoor privacy from your neighbors include:
Planters: One inexpensive backyard privacy idea includes using planters. You can find planters at your local nursery or home improvement store. Place them on your patio for added privacy. This works especially well in tandem with other methods on this list.
Trees and shrubs: If you have a full backyard, invest in long-term trees and shrubs to act as a natural fence. Talk to your local nursery about your options and choose trees and shrubs that grow naturally in your area.
Hedges: A cheaper alternative to trees and shrubs, hedges are another idea on how to block out your neighbors' view into your backyard. Hedges also work as a natural fence, and your local nursery can help you find a hedge that works well for you. For your patio, there are plenty of potted hedges that can work in your space.
Wall gardens or living walls: Wall off your patio or backyard with wall gardens to get privacy without a fence. Wall gardens, also referred to as living walls, embody miniature gardens. You can grow herbs or flowers or have a wall completely made of greenery.
Lattices or trellises: Trellises double as a fence and living wall. They're great for separating garden spaces or as a horticultural element to your patio or backyard space.
Partitions: Portable partitions are great for separating spaces in your home's exterior and interior spaces. You can move your exterior spaces to block the view from your outdoor activities, like performing outdoor yoga or lounging on your patio furniture.
Fences: Of course, there's always the traditional method of fencing your backyard. Fences come in various heights and appearances, and some neighborhoods have a preferred style of fencing.
Metal walls: If you enjoy a more modern appearance, consider building metal walls to enclose your patio or backyard. Heighten their elegance by adding lighting to them.
Retractable awnings: Add protection to your patio with a retractable awning. A retractable awning branches over your patio to provide shade and protection against the elements and watchful neighbors.
Sun shades or solar screens: Sun shades, also referred to as solar screens, are made of tough fabric that protects you from harmful ultraviolet (UV) rays. These tinted screens are suited for your patio or deck and double as effective ways to add privacy to your backyard.
Patio enclosures: Patio enclosures are retractable screens that form an airtight seal around your patio. When you want privacy, lower the enclosure and enjoy peace and quiet.
When you're looking for protection and privacy in your backyard, rely on a trusted professional in the field, like Shading Texas.
Contact Shading Texas for Your Backyard Privacy Needs
At Shading Texas, we focus on shading products and accessories with a few goals in mind — protect you from the elements, add privacy to your home and make enjoying your porch or patio easier, just to name a few.
Are you looking for added privacy? Our shading products and accessories can give you some of the solitude you're looking for. Find out more by contacting us online or calling us at 512-264-1500. We look forward to learning how we can help you!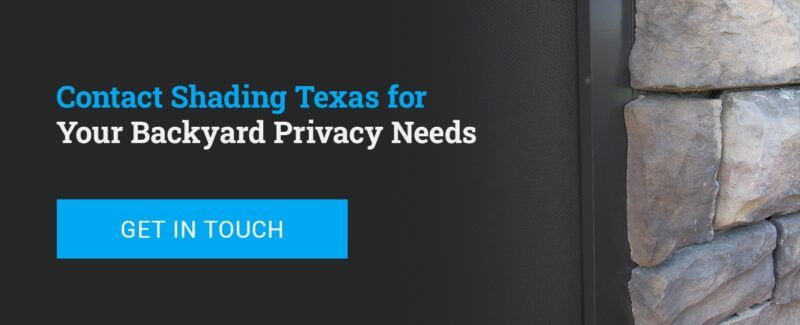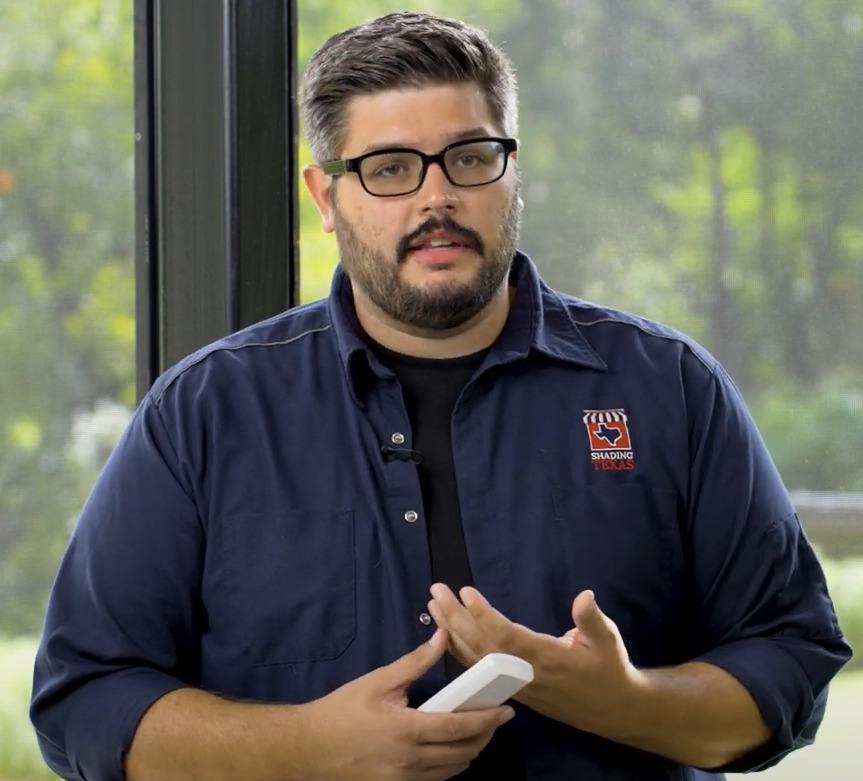 Matt Pierce has been working in the solar shade industry for over 15 years, providing sun protection in the extremes of Alaska and Texas. His dedicated team at Shading Texas will get your the sun solutions you need to enjoy your patios and homes for years to come by blocking out bugs, sun, wind, and rain!